If you're just getting into the welding world, its certain stick welding will be among the first electrodes you try out.
Stick welding is achieved with electricity which melts the electrode creating a fuse that bonds two metal pieces together.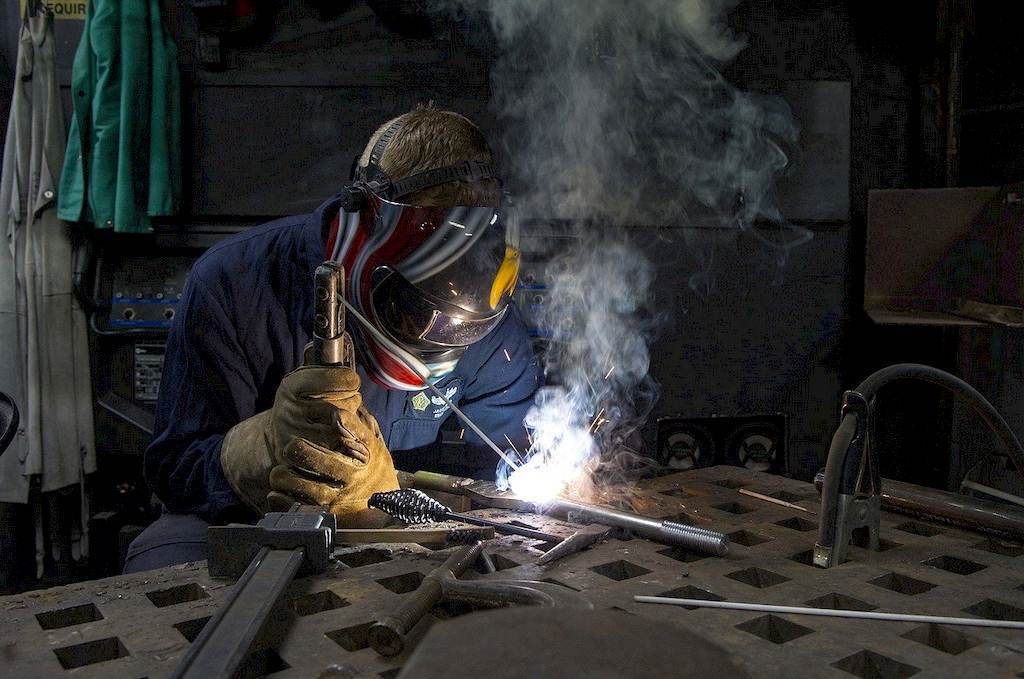 It's one of the less tricky types of welding, so knowing how to use a stick welder won't be much trouble.
Even if you've got the best stick welder for the money or the best multi process welder, you still need hints on how to use it properly.
And it's certain you'll need other stuff to help you weld like a pro, and that's exactly what you'll get here!
I've got a lot of experience over the years, and it's best to share all this vital info with you. So keep your eyes peeled and learn all you need on how to use a stick welder, and lots more!
Steps to Use a Stick Welder like a Pro
Plug in your main unit to a power source
Your stick welder comes with a power cord attached. Plug this into the appropriate power outlet for supply to your machine.
Without an adequate power supply for your welder, it won't produce the constant voltage for the perfect weld.
Connect your clamp to the main unit and on metal
Use the cord provided in plugging in your clamp to the main welder. After this, get the clamp fitted on your base metal.
Get your electrode holder connected
Connect electrode holder to the main unit. When you're done with this, get the holder fitted with an electrode.
When placing the electrode, ensure both sides of the holder contact its base. Without the right contact, there'll be no reaction in the metal.
Test
Get the electrode a quick test by moving it closer to your intended join area. If you notice a reaction from the electrode, it's perfectly placed.
The next step is to string together any weld you need for that perfect metal join!
After all this, there's still more you've got to know, especially if you're a newbie.
Stick Welding – The Basics
If you're not learning welding full-time, it's a perfect choice to get a hold of the basics. With these basic facts, you'll be able to weld professionally with a stick welder.
Tools Needed
Your stick welder has to come with the following;
A power supply unit
It's the main unit through which stick welding is possible. It normally comes in a constant voltage build, meaning a stable energy supply is achieved.
It has several knobs for the proper welding operation. It also has connectors for your electrode holders and ground clamp.
Holder for electrodes
This features a holder and transmits the required current to heat up electrodes. It usually comes with a plastic handle and is only active when an electrode is placed in its grasp.
For the electrode holder to function, it has to be connected to your power supply unit.
Clamp
For the welder to create a perfect arc, your ground clamp has to be connected to your main unit. Also, the clamp end has to be fitted on the metal you wish to get welded.
With this connection properly done, your electrode will heat up and merge both ends of any metal piece together.
Electrodes
This is a metal rod in the form of a slender stick coated with powders and compounds. These compounds get their cohesion from a binder which ensures the metal is completely covered.
The reaction from your clamp and electrode holder causes these electrodes to melt at very high temperatures. With this heat, the metal within these compounds melts, binding two metal plates together.
There're different types of electrodes, and each work based on your preference. Your choice for an electrode mainly depends on the results you wish to obtain.
Safety Equipment
Before you get that stick welder set up, you've got to know what you need for protection. Without protective equipment, your welding operation could cause some serious injuries.
Here's what you need to have on;
Helmet
A welding helmet is a must for protecting your face and eyes from getting burnt with a hot metal splatter from your arc processing.
There are much older welding helmets with a basic feature for face protection, but more advanced models are now available.
These helmets offer correct protection for your eyes when you're welding. Some brands also come with a neck guard for increased protection.
Welding apron
With an apron, you've got a full torso and leg protection from an unfortunate welding injury.
Welding aprons come designed with sturdy materials that prevent hot metal and gases from getting in contact with your skin.
Welding jacket
With a welding jacket, you're more secure from any harsh effects of a welding splatter. These clothing are made with very thick, fire-retardant materials, and provide you full protection.
Other Helpful Stuff
Welding demands a certain level of skill to achieve great results. But that's not all you need! For the perfect weld, here's what you've got to have a handle on;
Arc Length
Getting the current arc length is crucial to attaining the perfect weld. When you're using a specific type of electrode, there's a particular length you've got to hold it off the base material.
If you don't get it right, your stick may not produce the desired result.
Setting Current
When welding ops are in play, there're two current settings available – AC and DC. Alternating current (AC) is preferable for many industrial welding applications, but direct current (DC) is still a favorite.
Most stick welding machines come with both current settings, but DC is preferred for more DIY operations.
Conclusion
Now that you've got all the helpful tips without hassle, there's nothing between you and getting the best welds with ease. It's best you make use of this info at all times, as they'll keep you welding like a pro!