Painting Over Varnish: How to Paint Over Varnished Wood Trim — Painting over varnished woodwork requires good surface preparation to achieve proper adhesion.
How to Paint Over Varnished Wood Trim (Painting Over Varnish)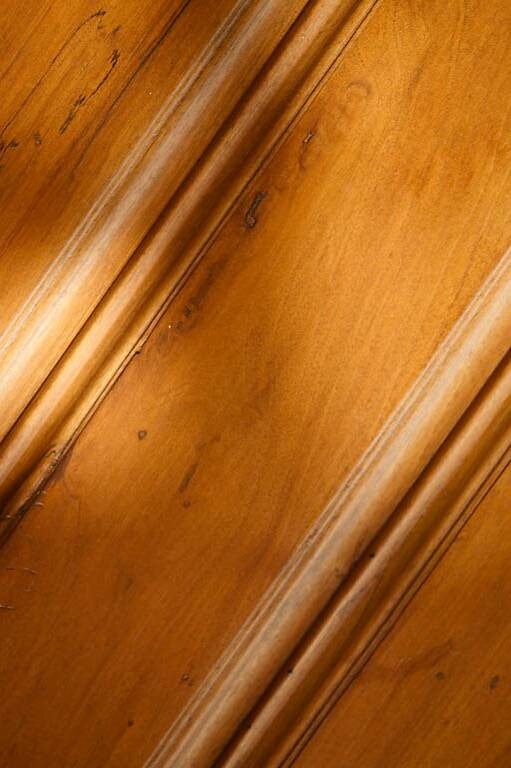 Cleaning
Years of built up Pledge, cleaners and other paint repelling contaminants will need to be removed with a good thorough cleaning method. A good all purpose cleaner that works well on a wide variety of contamination is a product called "Krud Kutter".
Krud Kutter comes in a pump spray bottle with which you can spray it on the trim, then I use a Scotch Brite scouring pad to scrub and degloss the varnish in the same step. Use a paper towel to wipe the trim clean as you go.
Sand Lightly
I follow up the cleaning with a light (but thorough) sanding, this will further "etch" the varnish and provide even more tooth for the primer to adhere to. Sanding will also "resurface" the substrate by removing some of the outer varnish (thus exposing clean, fresh and "grime free" varnish).
+ Note: If your house was build before 1978 do not sand or otherwise disturb the substrate – you may want to have a trained and competent professional painter do the work as there may be lead present.  See EPA information here to learn about lead paint cautions and concerns.
Vacuum and Solvent Wipe
Next I vacuum off the sanding dust, and then follow that up with a solvent wiping down using denatured alcohol or paint thinner (mineral spirits), which leaves me with a clean and dull substrate.
Only use mineral spirits if you will be priming with an oil based primer, otherwise use denatured alcohol.. (When finished, hang cleaning rags contaminated with solvent outside, or spread them out to dry on a nonflammable surface – outside away from your house and other outbuildings. Solvent saturated rags may become spontaneously combustible.)
Must Read:
Priming
Now that the varnished surface is clean and dull you can actually prime it with a variety of bonding primers. I always play it safe by priming with an oil or alkyd bonding primer just in case I have missed a spot here or there with my deglossing or cleaning.
Oil will be more forgiving than latex if your surface preparation is not absolutely perfect. Don't do a careless preparation job hoping that the oil primer will save the day – you may be disappointed with poor adhesion if you go that route.
Do a complete and thorough preparation job and then use the oil primer and you should not have a problem with adhesion. My preferred bonding oil primers are XIM 400 white and / or ZInsser's Coverstain.
Once primed, you can finish with either oil or latex (see waterborne enamels) as you wish.