Varnish, Oil-based-Varnish — Varnish is the generic term given to an oil based clear finish. Characteristics of oil based varnish are the exceptional adhesion properties and tough chemical resistance of the cured films.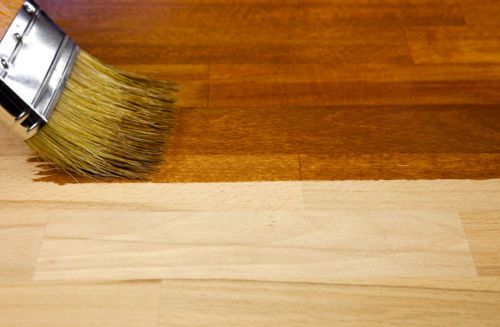 Varnish, Oil-based-Varnish
Oil based varnishes will yellow with age so they are not good clear coats for faux marble finishes or oak pickling.
Oil based varnish is the one clear coat that you can usually use over shellac (test first before coating the whole project – see cross cut adhesion test).
You must sand between coats of oil varnish for proper adhesion. Unlike shellac in which each coat melts together to form one homogeneous film, oil varnish does not melt together and each coat is a separate coat. If you sand through one coat of oil varnish, you will be able to see that you have done so as there will be a border or edge where the two coats merge together.
Must Read:
Oil varnish is not reversible after curing. But on the positive side, oil varnish does not water mark as does shellac. Varnish is also resistant to most chemicals, for this reason it is used over quick drying shellac to form a clear coat system that is both quick drying and durable.
Oil varnishes come in different lengths of oil. The short oil varnishes dry very quickly often within 30 minutes. Slower drying oil varnishes allow for more working time, these medium oil varnishes often require overnight drying before you can sand and re-coat them.
Quick 15 manufactured by Zinsser, is a quick drying ( 15 – 30 minutes), oil based varnish that comes in a satin or gloss sheen finish.