The kitchen is the heart of the house. Many activities take place here in a day.
The beautiful kitchen layouts and designs look pleasing to the eyes. Every kitchen lover thrives for kitchen layout ideas here and there just in case to make its kitchen more gratifying with different designs and layouts.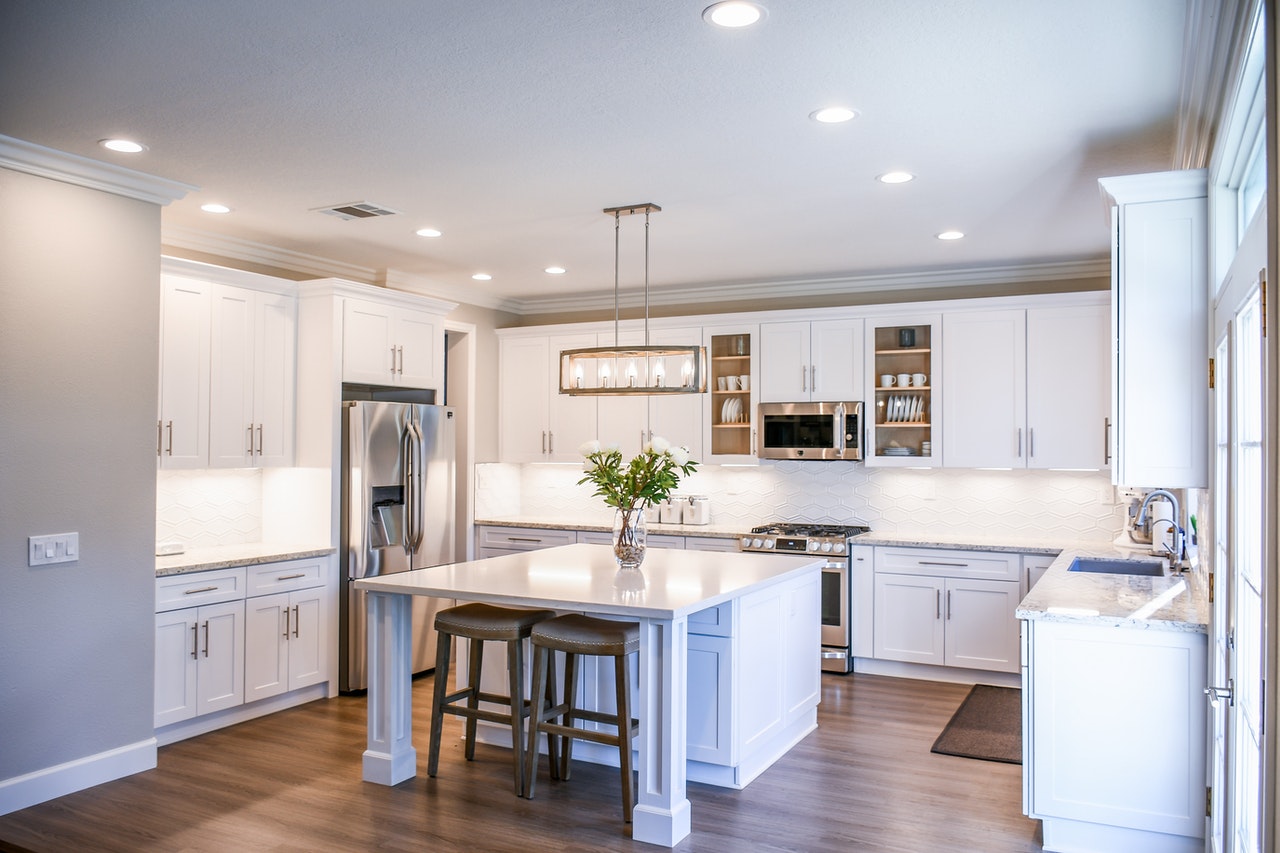 Are you looking for kitchen layouts? Are you confuse about choosing the best suitable design for your kitchen? Not to worry!
Here you will get all details of kitchen designs, different shapes, and pros and cons in detail, just to make your kitchen more and more attractive.
Let's discuss kitchen outline first;
---
Read Also:
---
Single Wall Kitchen
If you have a small home and want to design it in a decent way then this layout is perfect for you. A sophisticated cut in which all appliances, cabinets, and counter spaces are positioned along a wall.
Benefits of Single Wall Kitchen:
It is a small but efficient space that can be personate as needed in a small space Ingredients, appliances, and food prep space that tends to be easily attainable in a single wall kitchen setup.
Disadvantages of Single Wall Kitchen:
The challenge in the single-wall kitchen can face is because of its small size. Handling all the appliances and working at the same time can be challenged in this style.
Single Wall Kitchen Tips:
Consider selecting compact devices to maximize limited space. Also add an island in front of the single cabinet wall for a nice option for storage, efficiency, and people gathering.
Work Triangle Layout Style
It is the most basic and old designed layout. Everyone is familiar with this kitchen layout. A classic kitchen design that is ideal for work.
It has all the main and most used appliances at the corner points of a triangular workspace for maximum efficiency. This will help in minimizing the time and effort spent moving between kitchen devices.
Advantages of the Work Triangle:
It makes moving very systematic and easies from the refrigerator to the sink to the stove. The whole idea of this classic layout is to make the kitchen working well ordered and that makes it unique from all other kitchen setups.
Disadvantages of the Work Triangle:
This layout design can become tricky and difficult to handle the affair at the same time.
Work Triangle Tips:
Be active to work in this time type of layouts Keep the work triangle tight enough, no matter the size of your kitchen.
Galley Kitchen
One of the most coherent kitchens is known as Galley kitchen. It is also named as Hallway kitchen because of its peculiar design.
This hallway shaped kitchen is one of the most efficient kitchen arrangements for cooking. A basic long and narrow, with two straight tracks on one side.
Benefits of The Galley kitchen:
The prime benefit of this style kitchen it generally amplifying small space with alternative appliances, cabinetry, and counter space. The galley kitchen is the central kitchen design for most restaurants.
Disadvantages of The Galley kitchen:
This kitchen layout tends to derange the flow. It leaves no space to eat or "hang out" with family and friends, as provided in many other kitchen layout designs.
Galley Kitchen Tips:
Place the sink and cooktop on one side of the pantry to contain the mess. Try to keep both ends open to bring in more natural light and make connections to the rest of the house.
L-Shaped Kitchen
The L-shaped kitchen is modern style corner kitchen that is inclined to cut down on traffic in the kitchen. This kitchen layout usually involves the main wall of cabinets and a sink adjacent to another shorter wall.
Benefits of the L-Shaped Kitchen:
The nature of the L-shaped kitchen provides innate privacy for food preparation, resembling a hidden nook. It tries to offer interaction with open-concept spaces, as it inherently opens up into adjacent spaces An excellent choice for entertaining so far.
Disadvantages of L-Shaped Kitchen:
This shaped kitchen leaves less space that results in limiting the space in the kitchen. This layout could also work clumsily, depending on the length of the L.
L-Shaped Kitchen Tips:
It helps in maximizing space and interaction without having too many cooks in the kitchen with an L-shaped kitchen. It purposely designs to provides enough central storage so that the legs of the actual L-shape do not expand.
U-Shaped Kitchen
This kitchen design to praise the pantry kitchen, with one closed end. The U-shaped kitchen is considered a fairly modern concept that has evolved over time.
U-Shaped Kitchen Benefits:
The U-Shaped Kitchen offers plenty of space, tons of counter space as the cabinets surround three of the kitchen's four walls. This type of kitchen layout also connects to the rest of the house by keeping one side open.
Disadvantages of the U-shaped kitchen:
The U-shaped kitchen is traditionally quite small and is not suitable for catering arrangements. In this type of kitchen placing the dishwasher near the sink can be difficult.
U-Shaped Kitchen Tips:
This type of kitchen layout is flexible to use because it allows great flexibility in the layout of the kitchen. An island works well in the U-shaped kitchen to uplift interaction and provides catering capabilities.
Kitchen Zone
This type of kitchen is divided into different zones before Kitchen Remodeling in San Jose for the proper functionality The idea behind a "zoned" kitchen layout is that the kitchen will perform better. It is divided into zones with different functions.
Advantage of Kitchen Zones:
It is a zoned kitchen and the areas could be food storage, food preparation, cooking, eating, cleaning, and kitchen storage.
The disadvantage of Kitchen Zones:
It could be difficult in reality. There will always be an overlap between zoning functions so it can be a disturbance in the smoothness of kitchen functions.
Tips for Kitchen Areas:
Try to adopt the principles of the work triangle between the areas themselves. Try to pan the food prep area near the food storage and cooking areas to work well near the kitchen storage area.
Tips to Follow While Implementing Kitchen Layouts
There are some standards and important tips that are to follow while outlining the kitchen styles
Make sure about the good lighting don't consider sharp light colors in the kitchen
There must be taken care of storage and space counters in the kitchen otherwise it will be a big failure
Calculate your budget first didn't go more than budget try to arrange dream style in the calculated budget.
If you are confused about your style and get confused while outlining designs. Hire a professional and take their advice They are experienced in their work. They work properly and guide you in each way.