The bane of your existence this year should not be spring cleaning.
It is the time of the year that is not only packed with love, birds, and the sun but also good for a clean-up.
It is particularly important to clean up after winter, and our homes haven't had a chance of breath the entire winter.
It is time to wake up from cold dingy winter and let in some fresh air and cool breeze. It also the time of getting rid of what we do not need and breathe new life into our homes.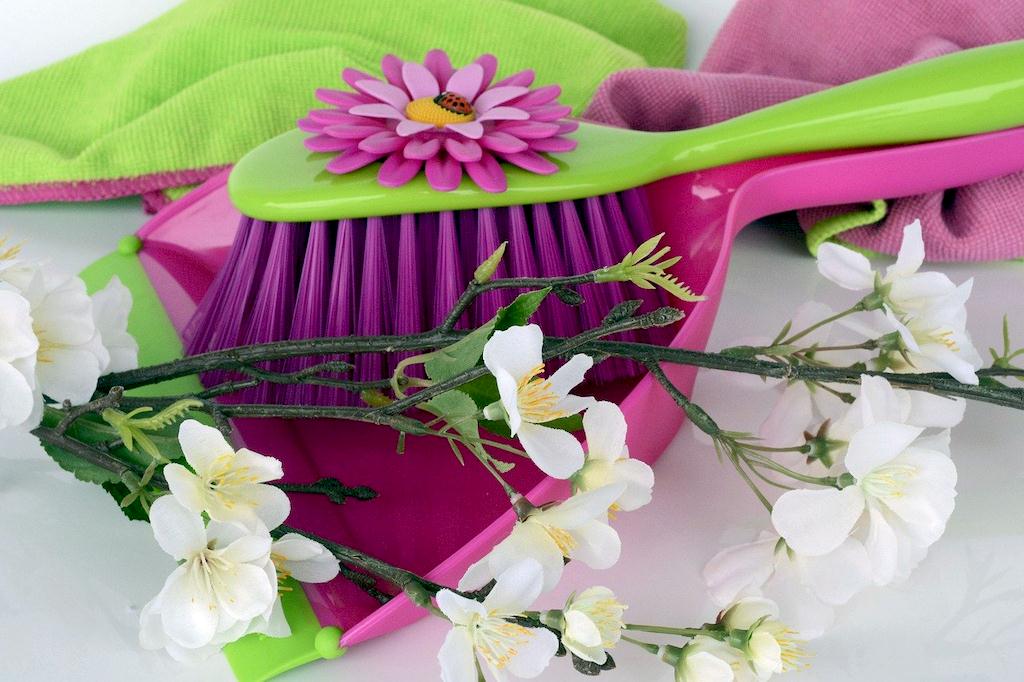 For those who dread this time, it is made easier and fun with some of the hints we have put together.
---
Read Also:
---
Plan Your Work
With a plan, everything becomes more manageable. Divide your work into portions and stages, do not try clean and shine everything all at once. Do not overwork yourself in one day and end up super exhausted and frustrated.
Also, remember not to overschedule yourself, carve out time to do a particular part of the cleaning to avoid feeling under the gun. Have a priority list.
Have Visual Goals
Have visual goals about the job and set a particular amount of time for the accomplishment of specific tasks. This helps in seamlessly achieving a clean and friendly environment in no time.
De-clutter First
Before you begin cleaning up space, check to see if it is cluttered. An area that is cluttered can be tough and frustrating to clean, and most likely, you take longer to clean too.
Make Cleaning Fun by Making it a Workout
Chores like raking, window cleaning, and pressure working can help build your biceps. Cleaning is therefore good exercise for you.
Do squats while cleaning baseboards and storage spaces that are relatively lower. Burn those calories!
Cleaning Games
Get family members to help you clean by turning the work into games. Have a little friendly competition to get everyone excited and motivated to do something good.
From racing who collects the most toys from the floor to pairing mismatched socks, there exists an array of games to play while working to keep the motivation and focus alive.
Using Home Cleaning Solutions
Some home product recipes are equally more effective and easier to work with than those bought from the stores. Please make your own products and reap off the many benefits they accord us.
Ensure to check at the ingredient list and avoid using toxic products, also ensure that the surfaces you intend to use the products in are also safe. The product should match your particular intended purpose.
Have Cleaning Zones
Some key areas in the house need special scheduling time during the big spring clean. These zones are the bathrooms, kitchen, garage, windows, outdoor spaces, and storage units.
Budget your time well and have more time allocated to cleaning these areas. Everything else can be cleaned up some other time.
Having these zones helps you work smartly and even finish in time to work on your essay if you are a student.
Plan out your work and get time to study, you can check out these ratings of college writers who can help you deal with your essays in case the cleaning takes longer than expected.
Rid Yourself of Stuff You No Longer Need
A grave mistake you can ever make is to begin spring cleaning without throwing out stuff you no longer need.
Since a lot of things have accumulated since the last cleaning, it vital that you get rid of the useless ones. The broken utensils, old furniture, or the buggy jeans have to now go into the dumps.
Working on Surfaces
Cleaning surfaces in your home should get more comfortable. Clean up and down to avoid dust clinging to already washed surfaces.
Also, you want to brush in a slightly wet mop and frequently rinse the mop to prevent dirty blotches remaining in the surfaces. Use fabric softener to polish your furniture. It leaves your surfaces gleaming and dust-free.
To make your polished furniture look new again, dust them with a cloth soaked in tea and then polish with a flannel cloth or velvet. Make your furniture look as good as new.
Cleaning Floors
Use vinegar to clean your floor. Add 2-3 tablespoons of vinegar to a liter of water to be used to wash the floor. Wash the floor at least twice, making sure to change the water each time.
You can use kerosene to wipe off stains from linoleum floors and then wash it with alcohol.
Vinegar, kerosene, and alcohol work better than cleansers bought from the store.
The Bathroom
Clean off water stains and mold on your shower curtains by throwing in some chlorine-free bleach to your washing machine.
For your sinks and bathtub, use bleach to remove rust stains. Ensure the bleach you are using is chlorine-free.
For the mirrors, cover them with a solution of gelatin dissolved in a glass of water. This should do the magic.
Coca-Cola can be used to clean faucets and make them sparkle again. This is due to the acidic nature of Coca-Cola.
The Last Touch
After the cleaning is done and you still have some energy left, you can do something nice for your living space to spice it up.
You can change the cushion covers with new ones, get bright towels and hang them in the bathroom, or even get a new tablecloth. Spray some air freshener in the air and have a glass of juice calmly seated in your new cushions.
Reward Yourself
Whether it is a cone of ice cream or a bar of chocolate or even both, you deserve to be rewarded after crossing off a cleaning item in your list.
Acknowledging your achievements leaves you feeling better and even more motivated to keep up with the work.
With all these tips on how to make cleaning fun and more comfortable in the spring, cleaning should never be a thing to be dreaded.
With some home tricks and fun games thrown in, cleaning should be just as much fun as any other activity.
Just have a clean concrete schedule and plan your time accordingly, ensuring to allocate more time for the individual zones like the kitchen and the bathroom.
Make your home clean again and relax. Rest easy and even anticipate the next spring-cleaning season.