The industrial sector encompasses a wide range of facilities, each with its unique set of demands and intricacies.
Be it a warehouse, factory, or power plant, these massive structures require an approach to maintenance that matches their scale and complexity.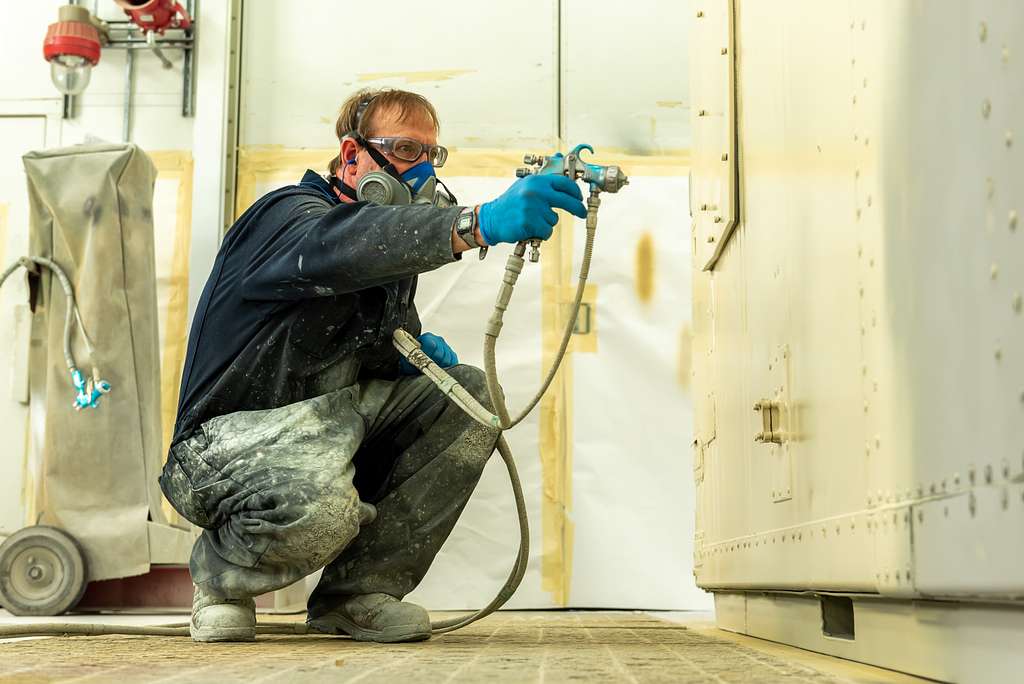 Painting is a critical aspect of this process, serving not only an aesthetic function but also a protective one, safeguarding the structure from environmental elements and potential corrosion.
Choosing a professional to undertake this enormous task is not a decision to be taken lightly. Selecting the right person or team can be the difference between a paint job that stands the test of time and one that deteriorates quickly, costing time and money in rework.
This article aims to guide you through the selection process, outlining key factors to consider to ensure the successful completion of your industrial painting project.
1. Licensing and Certification
Before anything else, confirm that the potential professional is licensed and certified to provide industrial painting services. They should comply with local and national regulations, ensuring safety standards and quality of work.
Certification by professional bodies like the Painting and Decorating Contractors of America (PDCA) can serve as an additional guarantee of competence.
2. Experience and Expertise
The breadth and depth of experience matter significantly when it comes to painting industrial facilities. A team that's well-versed in tackling similar projects can anticipate potential challenges and efficiently deal with them.
Furthermore, specific industry knowledge, such as understanding the effects of certain chemicals or conditions on paint, can be invaluable.
---
Read Also:
---
3. Insurance
Insurance is crucial in any construction or maintenance-related industry. It serves as a safeguard against potential accidents or damages during the project.
Make sure that the service provider you choose has adequate insurance to cover the scope of your project.
4. Safety Protocols
Industrial painting projects often involve working at heights, handling hazardous materials, or working in challenging environments. Thus, adherence to strict safety protocols is not just preferable, but a necessity.
An adept service provider should be able to detail their safety policies and procedures, proving their commitment to the well-being of their crew and the integrity of your project.
5. Project Planning and Management
Industrial painting projects can be vast and complex, requiring meticulous planning and competent management. When selecting a service provider, look into their approach toward project planning and management.
Do they set clear timelines? Do they have contingencies in place for potential delays or issues? The way a service provider handles project planning can be a solid indicator of their professionalism and reliability.
6. Materials and Techniques
When it comes to industrial painting, one size does not fit all. The type of paint, application method, and equipment used can vary depending on the nature of the project.
The right professional should provide insight into the most suitable materials and techniques for your specific project, justifying their choices based on their expertise and past experiences.
7. Quality Assurance and Warranty
Every professional service should come with some form of quality assurance. Ask potential service providers about their quality control procedures during and after the project.
Also, inquire about their warranty policy. Will they rectify any issues that might occur post-project, and if so, under what conditions?
8. Client References and Reviews
Customer feedback can offer valuable insight into the quality of work and professionalism of a potential service provider. Ask for references and check online reviews to gauge previous customers' satisfaction.
While a few negative reviews are normal, repeated complaints might indicate deeper issues.
9. Timeliness
In an industrial setting, delays can lead to significant losses. Therefore, punctuality and the ability to adhere to a schedule are crucial attributes of a potential service provider.
Ask about their track record with meeting deadlines and their policy on project delays. How they've handled past timing challenges can give you a good idea of what to expect.
10. Team Size and Skills
The size of the professional team and the skill level of each member is an important factor to consider. For large-scale projects, a small team could lead to delays, while an inexperienced team could compromise the quality of work.
Ensure that the service provider can field a team that's suitably sized and adequately skilled for your project.
11. After-Service Clean-Up
A quality industrial painting service should also take responsibility for the clean-up once the project is completed. Ask potential service providers about their after-service clean-up policy.
This step not only ensures a clean work area post-project but also indicates the service provider's commitment to comprehensive, professional service.
12. Pricing and Payment Terms
Have a clear understanding of the pricing and payment terms. Get detailed quotes from multiple service providers to ensure competitive pricing. However, be cautious about choosing based solely on cost.
A significantly cheaper service may cut corners, leading to inferior quality work. Also, understand the payment terms—are there upfront charges, progressive payments, or is it a pay-on-completion deal? This information will help manage your budget and expectations.
13. Proactive Communication
Open and clear communication is key in any business relationship, particularly when it involves complex projects like industrial painting.
The service provider should be proactive in providing updates, answering queries, and addressing concerns promptly. Their communication style and responsiveness can significantly influence the smooth execution of the project.
14. Environmental Commitment
In an era of growing environmental consciousness, it's important to consider a service provider's commitment to sustainable practices.
Ask about their use of eco-friendly paints and their strategies for waste management and energy efficiency. Opting for a provider with a strong environmental commitment can be good for your project and the planet.
Selecting the right industrial painters for your project is a decision of significant importance, influencing the project's success and the longevity of your facility. With the provided guidelines, you're equipped to make a selection that matches your specific needs, budget, and schedule.
The right choice is not just about aesthetics—it's about safety, asset protection, and optimal operational conditions. So, consider your options carefully, ask the right questions, and make an informed choice for the best results.