For a bar to be considered truly modern, it is crucial that it meets certain criteria.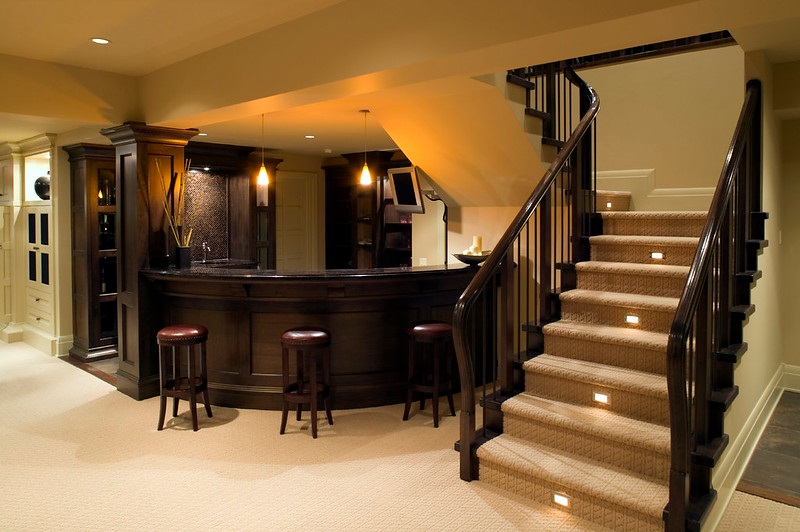 For example, this design should have a contemporary industrial feel with clean lines and simple shapes. Industrial interior design is very sleek and offers the benefit of being modern without having to sacrifice style or comfort.
Industrial design has been making a comeback in recent years as more people want to furnish their homes with practical and functional pieces.
Many people have even applied the same principles to their bars and pubs, turning them into charming industrial spaces that look both modern and rustic. Keep reading to learn more about how to turn your bar into a modern industrial interior design with no fuss.
What is an Industrial Interior Design For a Bar?
As mentioned above, industrial interior design is a trendy and functional style perfect for bars. It uses simple, sleek shapes and flowing lines usually made from dark materials such as wood or metal. Many of these designs will have cool, somber colors such as black, dark brown, or gray.
Industrial interior design is an excellent choice for a bar because it has a strong visual appeal, which means that the space will look more modern and interesting to your guests. It is also practical because you can create many different areas in the same room using different furniture layouts and color schemes.
Why is Industrial Interior Design So Popular?
It is important to note that industrial interior design works not only for bars and pubs but also for shops, restaurants, and other places that want to appear stylish but practical simultaneously. The primary reason why it has become so popular is that it embraces both of these trends at once.
You will notice that the design offers a warm and inviting look, but it also has a clean and minimalist appeal. This tends to be very popular among modern homeowners. The design layout is also practical because it allows you to add extra pieces of furniture if you need more seating or storage space.
---
Read Also:
---
How to Upgrade Your Bar With a Modern Industrial Interior Design
If you are planning to turn your bar into a space with a modern industrial interior design, the first thing that you should do is look for inspiration.
The internet offers countless examples of bars and pubs with this style, so you can preview what the design will look like in real life before you start working on yours.
Splash Of Colour
If you do not want your bar to look too grey and boring, try to add splashes of color by using brighter furniture. You can opt for a more muted color scheme with bright accents such as bright red chairs and tables or funky designs with the same red shade. Colour can also be used in other ways, such as using negative space to create a unique atmosphere for your place.
Industrial Style Furniture
After you have chosen colors that complement each other, think about what kind of furniture you will need to make your bar look modern and industrial at the same time.
If you are a fan of the rustic look, choose industrial bar stools in Canada that feature plenty of wooden materials and metal. If you prefer sleek and modern designs, go with metal or glass chairs and tables. The design will also benefit from a few retro furniture pieces, such as lounge chairs.
Industrial Style Lighting
Another element that will make your bar look modern is lighting. Fortunately, industrial interior design allows you to use different kinds of lights in the same room. You can opt for hanging spotlights or chandeliers. You can also use ambient lighting for a less focused beam of light.
Chrome Bars
If your bar features a lot of dark elements, consider adding chrome bars and stools so the space will not be too dull and dark. The shiny surfaces will also make it easier for guests to find their way around the place. Just make sure you choose furniture with a small footprint so that it does not take up too much space in your establishment.
Exposed Brick
Exposed brick is great for a bar because it pays tribute to the original look of your establishment. Many people prefer brick interiors because they are very affordable and durable.
Natural Materials
If you want to add an industrial touch to your bar, try using natural materials. You can opt for woods such as dark walnut, dark oak, or cherry wood.
You may want to use an adhesive such as contact cement so that the furniture will not scrape the floor or get damaged, especially if you have a concrete finish.
Industrial interior design offers practical solutions that are perfect for bars and pubs because they help create a unique and interesting look without losing sight of your establishment's most important function.
Some people may prefer more traditional designs, but if you are planning to turn your bar into a trendy space, industrial interior design is definitely worth considering.
Use Leather
Another great way to add a sophisticated feel to your bar is by using leather elements such as soft chairs and stools. The soft feel will complement the furniture that is made from metal, wood, and glass.
The Bottom Line
If you are considering the industrial interior design style, think about what kind of furniture you want to use. Be sure to choose colors that complement each other and designs that offer a clean and modern look.
The final touch is adding some chrome bars and chrome stools to the bar so guests can easily find their way around. You can also use exposed brick as a focal point in your establishment by using plain bricks or bricks with attractive patterns.