Unquestionably, the quest for an impeccable kitchen often prompts us to make compelling decisions concerning materials and design.
Among these choices, the selection of worktops is crucial, and the emergence of wooden worktops, specifically those crafted from premium solid oak, iroko, maple, and walnut, has been nothing short of a revelation.
Beyond their aesthetic appeal, these worktops play a significant role in shaping indoor air quality, which unequivocally affects the health and well-being of residents.
The distinct properties of these robust hardwoods positively influence the ambient air, creating a healthier, more pleasant environment.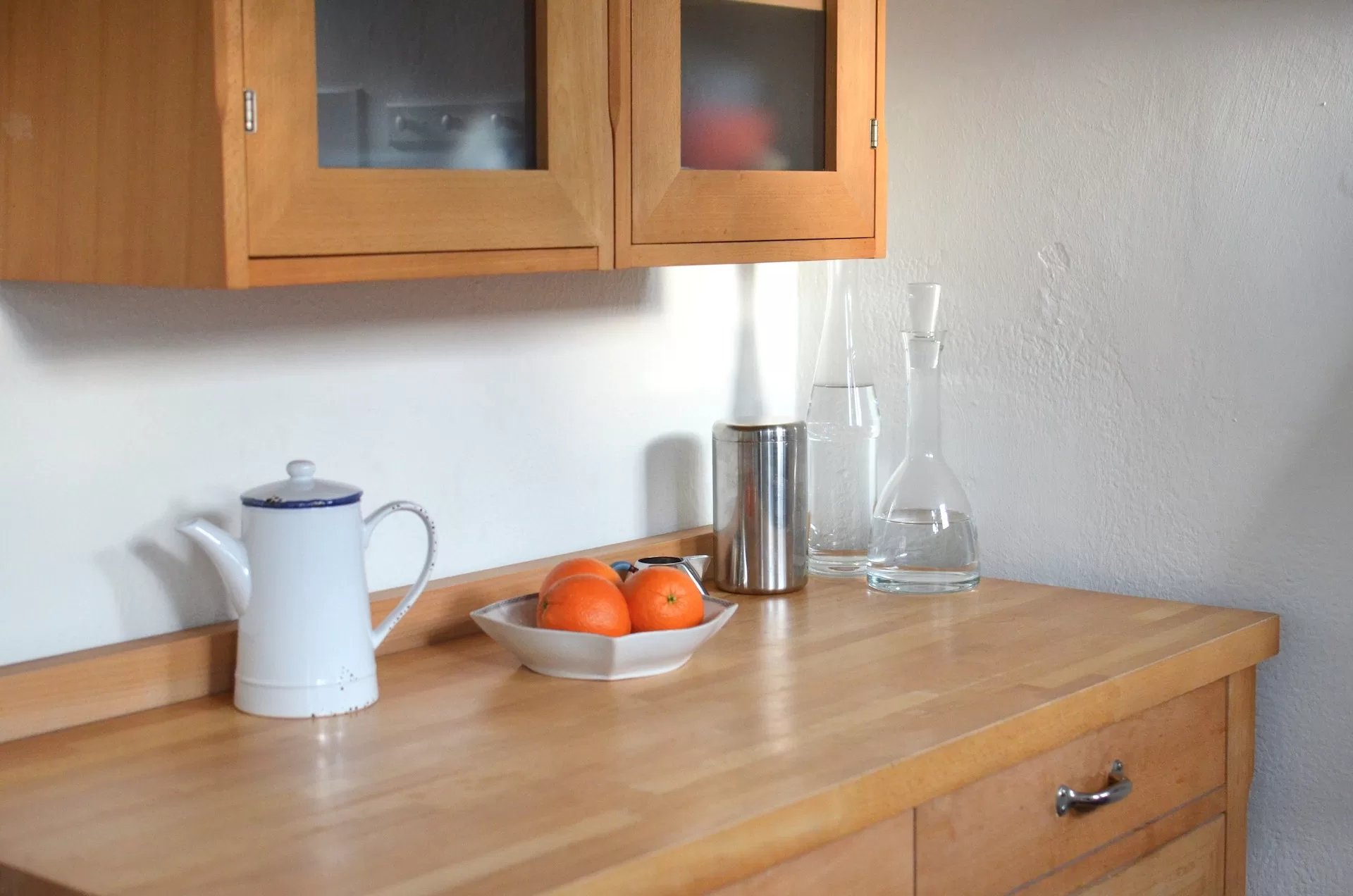 By taking a meticulous look at the impact of these wooden worktops on indoor air quality, we reveal the underrated importance of material selection and how it contributes to sustainable and health-conscious living.
Notably, an enlightened understanding of this relationship between wooden worktops and indoor air quality is essential for both retailers and trade professionals looking to improve the quality of life within kitchen spaces.
Understanding Indoor Air Quality: The Silent Contributor to Health
The quality of indoor air, although invisible, has a profound influence on the overall health and comfort of dwellers.
It is influenced by a multitude of factors including temperature, humidity, ventilation, and the presence of various pollutants such as volatile organic compounds (VOCs).
Indoor air pollutants, particularly VOCs, can cause a plethora of health issues ranging from mild discomfort to severe conditions such as asthma and other respiratory diseases.
Hence, the reduction of such pollutants is paramount in maintaining a healthy indoor environment.
Furthermore, constant exposure to poor air quality can lead to long-term health consequences such as chronic obstructive pulmonary disease (COPD) and cardiovascular problems.
Thus, the choice of interior materials, especially in frequently used spaces like the kitchen, becomes a vital consideration.
The use of low-emitting materials, such as quality wooden worktops, can significantly enhance indoor air quality, creating healthier, more sustainable homes and workspaces.
The Unique Properties of Solid Oak, Iroko, Maple, and Walnut: An In-Depth Exploration
Each of these hardwoods – oak worktops, iroko, maple, and walnut – brings a unique array of properties that contributes to improving indoor air quality.
Their dense structure and innate capacity to absorb humidity help in maintaining an optimal indoor atmosphere.
---
Read Also :
---
Moreover, these hardwoods are naturally low in VOCs, minimizing their contribution to indoor air pollution.
Not only does this protect the occupants from potential health issues, but it also renders the hardwoods an excellent choice for those sensitive to allergens.
Additionally, these woods are renowned for their durability and resistance to microbial growth, further enhancing their contribution to a healthy indoor environment.
They are not only aesthetically pleasing but also offer functional benefits, including heat and sound insulation, further contributing to the comfort and tranquillity of the space.
This fusion of style and functionality, underpinned by an environmentally responsible choice, makes them a highly sought-after solution in contemporary kitchen designs.
The Role of Wooden Worktops in Regulating Indoor Air Quality
Wooden worktops have an innate ability to moderate indoor air conditions.
Their hygroscopic nature allows them to balance moisture levels within the room, preventing the build-up of excess humidity which could lead to mold growth and a consequent increase in airborne spores.
Furthermore, as natural materials, they don't emit harmful substances or particulates that could contribute to indoor pollution.
This not only enhances indoor air quality but also creates a healthier, more comfortable living environment.
In addition to these attributes, wooden worktops also have the unique property of absorbing and releasing water vapor, helping to moderate extremes of relative humidity.
This capacity for equilibrium moisture content makes wooden worktops a valuable addition to mitigating fluctuations in indoor humidity levels, which is essential in maintaining the integrity of other materials in the kitchen, thus prolonging their lifespan.
Thus, wooden worktops not only improve the quality of air within a kitchen but also contribute to the durability and resilience of the space as a whole.
Unveiling the Health Benefits of Superior Indoor Air Quality
High-quality indoor air reduces the risk of many health issues, including respiratory conditions, allergies, and diseases caused by mold and dampness.
The presence of wooden worktops, by aiding in the regulation of humidity and reduction of pollutants, contributes to this overall health improvement.
This translates into fewer sick days, improved productivity, and an elevated sense of well-being for occupants.
Further to this, it has been found that a reduction in indoor air pollutants can contribute to better sleep quality, thus promoting overall mental and physical health.
Moreover, living in a space that features wooden elements has been linked to reduced stress levels, demonstrating the role that wooden worktops play not just in air quality, but also in promoting a calm, serene atmosphere that can lead to significant health benefits.
Therefore, the use of wooden worktops in a kitchen not only adds aesthetic value but also promotes a healthier lifestyle, making it a strategic and thoughtful choice for homeowners, architects, and interior designers alike.
Sustainability: Wooden Worktops at the Forefront of Green Design
Emphasizing sustainability, wooden worktops not only contribute to a healthier living environment but also align with green design principles.
Their production requires fewer energy-intensive processes compared to alternatives like steel or plastic.
Moreover, they are biodegradable, leaving a minimal environmental footprint at the end of their life cycle.
This positions wooden worktops as an environmentally friendly choice, marrying aesthetics, functionality, and sustainability in kitchen design.
In conclusion, wooden worktops, particularly those made from solid oak, iroko, maple, and walnut, present a transformative solution for improving indoor air quality.
Their inherent properties help regulate humidity, minimize indoor air pollution, and contribute to healthier living spaces.
Furthermore, their integration aligns with sustainability principles, encapsulating a responsible approach to design.
For both retailers and trade professionals, understanding the relationship between wooden worktops and indoor air quality will prove invaluable in promoting a healthier, more sustainable lifestyle.