Corian sometimes slips under the radar when it comes to choosing a high-quality kitchen worktop that amplifies both the aesthetic and productivity of your space.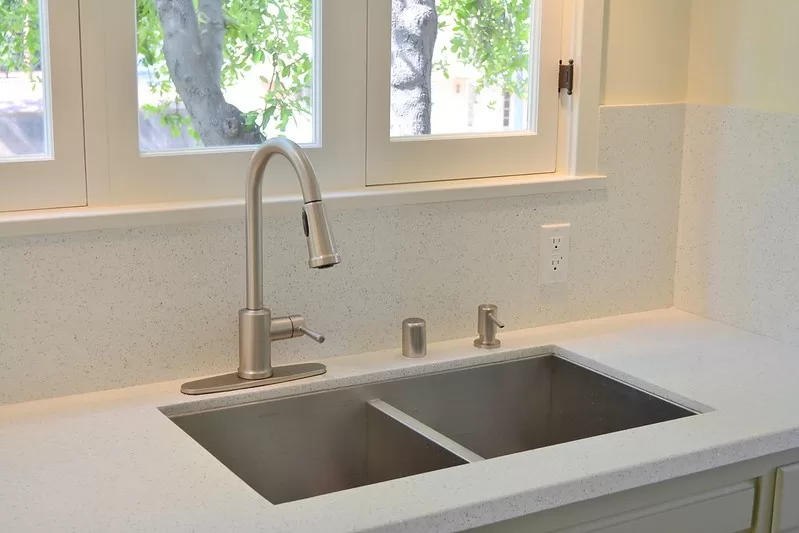 Compared to classic luxury worktops options such as granite and marble, Corian is a relatively new material manufactured by the innovative DuPont company; a sleek, stylish, and modern alternative to traditional, expensive kitchen surfaces, retaining the very essence of elegance that inspired it all.
As a contemporary creation, Corian kitchen worktops were designed with modern lifestyles and luxury in mind, crafted to handle any common kitchen pressures with ease. Its engineered suitability for modern kitchens is found firstly in its unique composition of natural minerals, combined with acrylic polymer and colorants.
In the same way, concrete is strengthened by an intricate composition of fragmented stone glued in cement, this modern technique of producing Corian through the combination of quartz and polymer ensures an outstandingly solid surface that fails to crack under the pressure of even the busiest kitchens.
Corian's innovative engineering technique is reflected through its ultra-modern aesthetic. During manufacture, Corian is pigmented in a vast range of shades, shimmers, speckles, and grains, complying with and inspiring every aesthetic under the sun.
Needless to say, its polished, contemporary allure makes it the perfect choice for homes and commercial spaces seeking a sleek, modern refresh, by inviting a clean, consistent modern look unobtainable through purely natural materials such as marble.
To top it off, Corian is available at a surprisingly low cost compared to more natural, traditional, and expensive alternatives which might not fare as well over prolonged periods. But what if your vision sways towards the timeless and traditional? Corian's endless color range covers these tried-and-true aesthetics too, with swatches ranging from soothing solid shades to delicately patterned pieces.
---
Read Also:
---
A contrasting selection of bright and bold shades from fiery red to seagrass green bestow an adventurous splash of color to any vibrant, artsy space, or if you're looking for something a bit more natural and earth-toned, Corian worktops can be crafted to mimic rich mahogany wood and natural stone surfaces, all for a much gentler cost than the authentic materials.
While Corian is renowned for its versatile adherence to an array of classic and quirky interior styles, this worktop isn't all about the beauty. Corian work surfaces surpass modern standards and increase expectations when it comes to maintaining impeccable kitchen hygiene. After its solid quartz and polymer combo is set and solidified, Corian is sanded, polished, and finished to be completely non-porous and satin smooth to the touch.
This unique, non-porous aspect allows a number of benefits to unfold. Corian's sealed surface prevents the absorption of any spills, liquids, or food stains from penetrating the worktop, allowing any mess to be effortlessly wiped clean from the worktop, with no fear of damage and discoloration.
Alongside its resistance to mold and bacteria, Corian is resistant to water, enabling it to be perfect not only for bathroom surfaces, but also for busy family kitchens prone to splashes, spills, mess, and dirt. Corian's seamless, non-porous finish is stylistically smooth, preventing the accumulation of bacteria, microbes and another unsanitary buildup from working into the subtle textures often found upon alternative, porous worktop types.
Sanded and smoothed to eliminate these minor crevices, Corian ensures an easy-to-clean, low-maintenance surface that helps to sustain modern hygiene standards with much less time and effort. All you need to do is clean it with a cloth and soapy water!
Corian worktops are resistant to far more than mere bacteria, water damage, mold, and stains. Corian's most sought-after qualities spawn from the intrinsic strength of its engineered composition.
Incredibly tough, dense, and durable, Corian can withstand a number of otherwise serious impacts such as scratches and scrapes from sharp blades, and if any marks are ever found upon the surface, Corian can easily be sanded down, removing all traces of prior damage.
Bumps, bangs, and other collisions are ineffective against Corian's sturdy and trustworthy composition, whilst its hard-wearing durability and easy repairability guarantee a long-lasting surface that adapts to even the busiest spaces. It's no wonder Corian has started soaring in popularity.
This well-kept secret has proven time and time again to be a worthwhile investment into the heart and social hub of your home or workplace, optimizing your productivity whilst uplifting the aura of your space. Between its flush, seamless finish, its endless aesthetic potential, and its hard-wearing, hygienic nature, Corian is certainly a high-quality, low-maintenance worktop with many worthwhile rewards.