Pressure washing is a highly effective method for cleaning various surfaces, from driveways and decks to home exteriors and commercial buildings. It's a quick and efficient way to remove dirt, grime, mold, and other stubborn contaminants.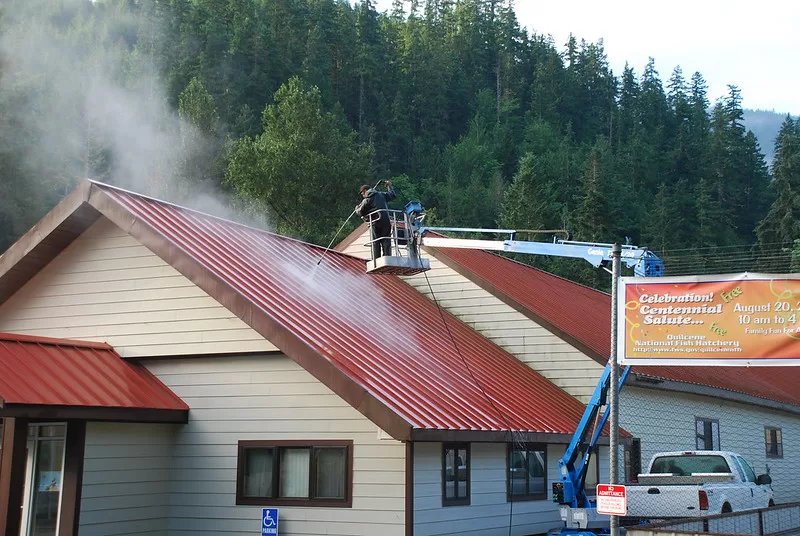 However, not all pressure washing services are created equal. Choosing the right service provider requires careful consideration and research to ensure that you receive high-quality work that meets your needs.
While pressure washing might seem straightforward, it's essential to recognize that it involves more than just blasting water on surfaces. Professional pressure washing companies have the experience and expertise to determine the appropriate pressure levels for different materials.
This knowledge is crucial to prevent damage to your property. Choosing a professional service ensures that your surfaces are cleaned effectively without any unintended consequences.
In this guide, we'll walk you through the steps to choose the right pressure-washing service for your property.
1. Researching Local Pressure Washing Companies
Start your search for the right pressure washing service by looking into local companies. Ask friends, family, and neighbors for recommendations, as personal experiences can provide valuable insights. Additionally, conduct online research to identify companies with a positive reputation in your area.
2. Checking Credentials and Insurance
Before hiring any Pressure Washing company, ensure they have the necessary credentials and insurance. A legitimate and reputable company will possess the required licenses to operate in your area. Insurance is vital to protect both you and the workers in case of accidents or damage to your property during the cleaning process.
---
Read Also:
---
3. Assessing Equipment and Technology
Effective pressure washing requires modern equipment and technology. Inquire about the type of equipment the company uses. Well-maintained and advanced tools demonstrate the company's commitment to providing high-quality service.
4. Reading Customer Reviews and Testimonials
Online customer reviews and testimonials can provide valuable insights into the company's track record. Look for consistent positive feedback and take note of any recurring issues or complaints. This step will help you gauge the level of customer satisfaction the company delivers.
5. Getting Multiple Quotes
Contact several pressure washing companies to obtain quotes for their services. Be cautious of quotes that seem unusually low, as they might indicate subpar quality or hidden fees. A reliable company will provide a detailed breakdown of the costs involved.
6. Inquiring About Cleaning Solutions
Discuss the cleaning solutions the company uses. Environmentally-friendly cleaning solutions are a positive sign, indicating the company's commitment to both effective cleaning and responsible environmental practices.
7. Evaluating Experience and Expertise
Experience matters when it comes to pressure washing. Inquire about the company's experience in dealing with various surfaces and challenges. An experienced company is more likely to deliver satisfactory results.
8. Asking About Guarantees
Reputable pressure washing companies stand by their work. Inquire about any satisfaction guarantees or warranties they offer. A guarantee reflects the company's confidence in its ability to meet your expectations.
9. Considering Eco-Friendly Practices
If you're environmentally conscious, choose a pressure washing service that employs eco-friendly practices. Ask about their water reclamation methods and whether they adhere to environmental regulations.
10. Discussing the Cleaning Process
A transparent explanation of the cleaning process showcases the company's professionalism. Understand the steps they'll take to clean your surfaces, from the initial assessment to the post-cleaning inspection.
11. Clarifying Pricing and Payment
Ensure you have a clear understanding of the pricing structure. Are there any additional fees? When is payment expected? Clarifying these aspects avoids misunderstandings later on.
12. Understanding Additional Services
Some pressure-washing companies offer additional services, such as deck staining, surface sealing, or gutter cleaning. Inquire about these options if they align with your property's needs.
13. Communication and Customer Service
Pay attention to how the company communicates with you. A responsive, friendly, and informative approach is indicative of good customer service. A company that prioritizes communication is more likely to prioritize your satisfaction.
14. Making Your Decision
After gathering all the necessary information, carefully weigh your options. Consider factors such as expertise, experience, customer reviews, and pricing. Your decision should be based on a combination of these factors to ensure you choose the right pressure-washing service for your specific needs.
FAQs (Frequently Asked Questions)
Is pressure washing safe for all surfaces?
Pressure washing can be safe for most surfaces when done correctly. However, it's crucial to hire professionals who understand the appropriate pressure levels for each material.
How often should I have my property pressure washed?
The frequency of pressure washing depends on factors like location, weather conditions, and the type of surface. Consulting with experts can help you determine the ideal schedule.
Are eco-friendly cleaning solutions less effective?
No, eco-friendly cleaning solutions can be just as effective as traditional ones. They are formulated to be powerful while also being environmentally responsible.
Can pressure washing damage my property's surfaces?
Yes, if done improperly, pressure washing can damage surfaces. This is why hiring experienced professionals is essential to avoid any harm.
What sets professional pressure washing apart from DIY methods?
Professional pressure washing involves trained technicians, specialized equipment, and industry knowledge. DIY methods might lack the precision and expertise that professionals provide.
Conclusion
Choosing the right pressure washing service requires diligence and research, but the effort is well worth it. By following these steps, you can find a reputable company that delivers exceptional results while taking care of your property.
Whether it's for residential or commercial cleaning, the right pressure washing service can make a significant difference in maintaining the cleanliness and appearance of your surfaces