When it comes to maintaining the cleanliness and appeal of your property, hiring a professional pressure washing service can be a game-changer.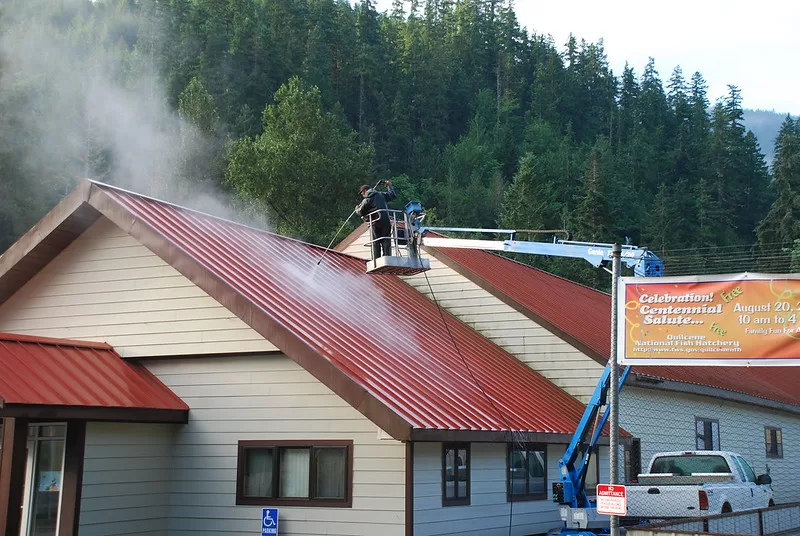 Whether you're looking to revitalize your driveway, give your deck a fresh look, or clean your home's exterior, pressure washing can work wonders. However, the decision to hire a pressure washing service should be well-informed to ensure you receive the best results without causing any unintentional damage.
In this guide, we'll walk you through the nine crucial factors to consider when hiring a pressure washing service, empowering you to make a choice that aligns with your needs and protects your property's integrity.
1. Experience and Expertise
When hiring a pressure washing service, experience matters. Look for a company with a proven track record in the industry. Experienced professionals understand the nuances of Pressure Washing, such as the appropriate pressure levels for different surfaces and the use of proper cleaning techniques.
2. Credentials and Insurance
Always choose a pressure washing company that is licensed and insured. Licensing ensures that the company adheres to local regulations and industry standards. Insurance provides protection in case of accidents or damage to your property during the cleaning process.
---
Read Also:
---
3. Equipment and Technology
Effective pressure washing requires modern equipment and technology. Inquire about the type of machinery the company uses. Up-to-date equipment not only ensures better results but also reflects the company's commitment to quality service.
4. Customer Reviews and Testimonials
Take the time to read customer reviews and testimonials. Online feedback from previous clients can provide valuable insights into the company's reliability, professionalism, and the quality of their work.
5. Range of Services
While pressure washing is the primary service, many companies offer additional services like deck staining, surface sealing, and gutter cleaning. Consider your property's specific needs and inquire about these additional offerings.
6. Eco-Friendly Practices
Environmental consciousness is crucial. Inquire about the cleaning solutions the company uses. Opt for a service that employs eco-friendly, biodegradable cleaning agents to minimize the impact on the environment.
7. Cost and Estimates
Obtain detailed estimates from multiple pressure washing companies. Be wary of exceptionally low prices, as they might indicate subpar service or hidden fees. Compare quotes and ensure they include all necessary services.
8. Professionalism and Communication
Pay attention to how the company communicates with you. A professional company should be responsive, informative, and willing to address your questions and concerns. Good communication reflects their commitment to customer satisfaction.
9. Guarantees and Warranties
Reputable pressure washing services stand by their work. Inquire about any satisfaction guarantees or warranties they offer. A company that offers a guarantee is confident in its ability to meet or exceed your expectations.
FAQs (Frequently Asked Questions)
Why should I consider hiring a pressure washing service?
Pressure washing can effectively clean and restore various surfaces, from driveways to decks, removing tough dirt, mold, and grime. Professional services have the expertise and equipment to achieve thorough cleaning without causing damage.
How do I choose the right pressure washing service for my needs?
When selecting a pressure washing service, consider their experience, reviews, and reputation. Ensure they are licensed and insured, use eco-friendly cleaning products, and provide a detailed estimate that outlines the scope of work.
Are there surfaces that should not be pressure washed?
Yes, certain delicate surfaces like asphalt shingles, painted wood, and fragile landscaping should not be pressure washed as it can cause damage. A professional pressure washing service will know which surfaces can be safely cleaned and which require alternative methods.
What's the difference between pressure washing and soft washing?
Pressure washing uses high-pressure water to clean surfaces, ideal for tougher stains on durable surfaces. Soft washing, on the other hand, utilizes low-pressure water combined with biodegradable chemicals to clean more delicate surfaces like roofs, stucco, and siding.
How often should I hire a pressure washing service?
The frequency of hiring a pressure washing service depends on factors such as local climate, the type of surface, and the level of dirt buildup. Generally, annual or biennial cleaning can help maintain the appearance and longevity of your property.
Remember, when hiring a pressure washing service, it's important to ask questions, discuss your specific needs, and get a clear understanding of the process, pricing, and expected outcomes.
Conclusion
In conclusion, choosing the right pressure washing service is a vital step in maintaining the cleanliness and longevity of your property's surfaces. By carefully considering factors such as expertise, equipment, eco-friendliness, and safety measures, you can ensure that the pressure washing process is both effective and beneficial.
Remember that a well-established pressure washing service will provide detailed estimates, communicate openly about their methods, and tailor their approach to suit the unique requirements of your property.
By following the guidelines outlined in this guide, you're on your way to selecting a reliable and skilled pressure-washing service that will leave your property looking refreshed and vibrant.