Are you considering a whole house remodeling project in Virginia? If so, you're in the right place.
Whole house remodeling is an excellent way to personalize your living space, enhance safety and functionality, and even increase the value of your home.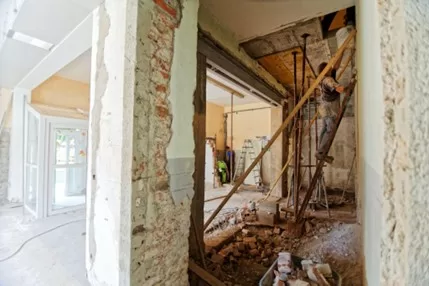 But you must approach such a project with careful planning and consideration. That way, you can avoid common pitfalls and ensure a successful outcome.
In this guide, we will explore what you need to know about whole house remodeling in Virginia.
Benefits of Whole House Remodeling
Whole house renovations offer the following benefits to homeowners in Virginia:
Personalization
One of the most significant benefits of undertaking a whole house remodel is the ability to personalize your living space according to your unique preferences and needs. Whether you have a specific vision in mind or need guidance from a professional, remodeling your entire home allows you to create an abode that meets your lifestyle requirements and reflects your style.
Safety, comfort, and functionality
Another advantage of whole house remodeling is the opportunity to enhance the safety, comfort, and functionality of your living environment.
Outdated or inefficient systems can be replaced
Structural issues can be addressed
New features can be added
All these upgrades can improve the overall quality of your home.
Increased property value
An updated and modernized house can attract potential buyers and increase the value of your property. By investing in a home remodeling project, you can significantly improve the marketability and resale potential of your house, ensuring a return on your investment.
Common Challenges of Whole House Remodeling and How to Overcome Them
While an entire home remodel offers numerous benefits, challenges may arise during the process. You can better prepare and mitigate potential issues by understanding these challenges upfront.
Here are some common challenges of home renovations and tips for overcoming them:
Increased costs
One of the most significant consequences of project delays is increased costs. Unforeseen issues, plan changes, or unexpected discoveries during the remodeling process can lead to additional expenses.
To combat this, you need a contingency budget to account for any unforeseen circumstances. This way, you will have enough money to cover the total sum of unexpected expenses.
Disruption of daily life
Whole house remodeling can disrupt your daily life, especially if you live in the house during the project. Noise, dust, and limited access to certain areas of your home can be inconvenient and disruptive.
Plan accordingly and make necessary arrangements to minimize the impact on your routine. For instance, you can rent a property near your house or live temporarily with your relatives until the whole house renovation is finished.
Delayed or impacted future plans
Extended project duration can have a domino effect on other personal or professional plans. Whether it's hosting a family event, starting a home-based business, or moving in by a specific date, delays in whole house remodeling can lead to the need for adjustments or postponements, causing further inconvenience and frustration.
To minimize the possibility of delays, make sure to hire reliable and experienced contractors.
What to Expect From Reputable Contractors
Embarking on a whole house remodeling project can be overwhelming, but with reputable contractors by your side, the process becomes seamless.
Here's what you can expect during a whole house remodeling project with contractors like Elite Contractors Services:
Expertise and experience
Reliable contractors fully understand the complexities of whole house remodeling. They have the expertise and experience to handle the unexpected and adjust to finish the project without compromising quality.
With a decade of experience, these construction teams have successfully completed numerous home remodeling projects, satisfying homeowners and property investors in Virginia.
Design-build & remodel
Contractors will take charge of all aspects of your project, from conception to completion. With a design-build approach, they ensure a cohesive and efficient process. This will eliminate potential communication gaps and the need for you to hire multiple contractors.
Vendor pricing access
Reputable home contractors offer vendor-direct pricing on finishing fixtures, ensuring that you stay on budget without compromising on quality. Their established relationships with suppliers enable them to pass on cost savings to you.
Pick the finishes; they'll do the rest
Reliable contractors believe in your active participation in the remodeling process. You have the freedom to select all the finishes, from flooring to lighting, while they can take care of the logistics, procurement, and installation.
Wrap Up
Whole house remodeling in Virginia offers you the opportunity to personalize your living space. You can further enhance its safety and functionality as well as increase its value.
With the help of a reputable contractor, you can navigate the challenges of a whole house remodeling project and achieve exceptional results.
Whether you're looking for a complete transformation or specific upgrades, reliable contractors will have the expertise, experience, and dedication to help bring your vision to life.
Don't wait any longer – book your free estimate today with your chosen contractor and take the first step toward realizing your dream home.