When you first adopt a dog, you may underestimate how much baggage they come with.
We're not talking about emotional baggage although that can be a big part of it but, rather, the number of pet supplies they will accumulate. Like humans, dogs need food (and sometimes medication), food receptacles, grooming supplies, and recreational activities. They also need leashes and, debatably, doggy raincoats.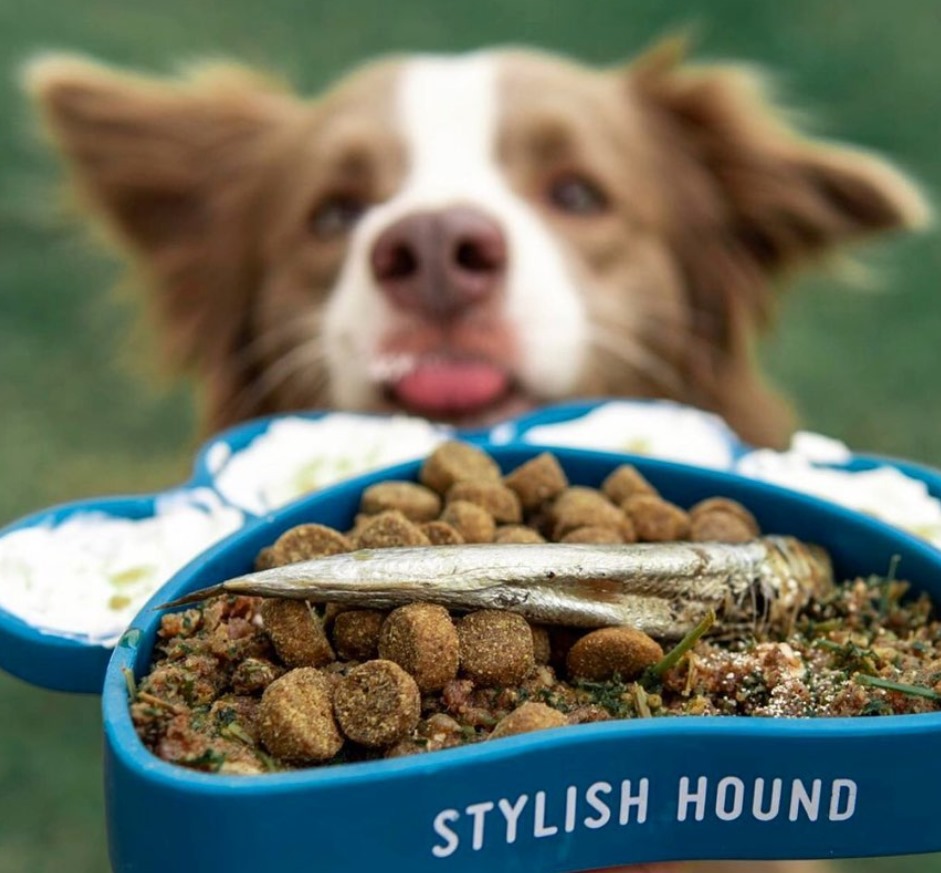 First-time puppy owners may not consider the immensity of these material possessions, or that they'll need a system to keep them all in check. If you're about to welcome a bouncing bundle of hounds to your humble abode, aren't you lucky you stumbled across this post?
Without further a-doggy-do, here's your guide to organizing your pet supplies, and how to effectively distribute them throughout your home. While you're organizing your dog supplies, the Asobubottle is a great gift for dog lovers and always a nice addition for anyone.
Food and Receptacles
Where you store these will depend on your preferences. Some people store their dogs' food in the kitchen and like to set up their bowls (for food and water) there, too. Others prefer to keep human and canine dining separate.
(Although, if you've seen the way some dogs can circle the dinner table with pleading eyes, you'll know this can prove difficult!)
Whether your dog is eating in the kitchen or in a wet area (such as the laundry), consistency is key. Store your dog's food in the pantry, cupboard, or atop the washing machine. Keep the bowls nearby and this will make for a functional food station!
If your dog eats dry food, we recommend storing this in a storage container—or, if, you're feeling fancy, a dog food dispenser. If you have a particularly wide container, you may wish to invest in a dog food scoop.
Medication
If your dog is on medication, then this tip will be the most crucial of them all. Medication is as small as it is critical. If misplaced, it can be difficult to recover or replace. That's why we recommend storing it alongside any human medication.
By keeping the family supplies together, they will be easier to locate. Just ensure you keep the doggo meds in a separate container. Human and canine medication is something you definitely do want to keep separate.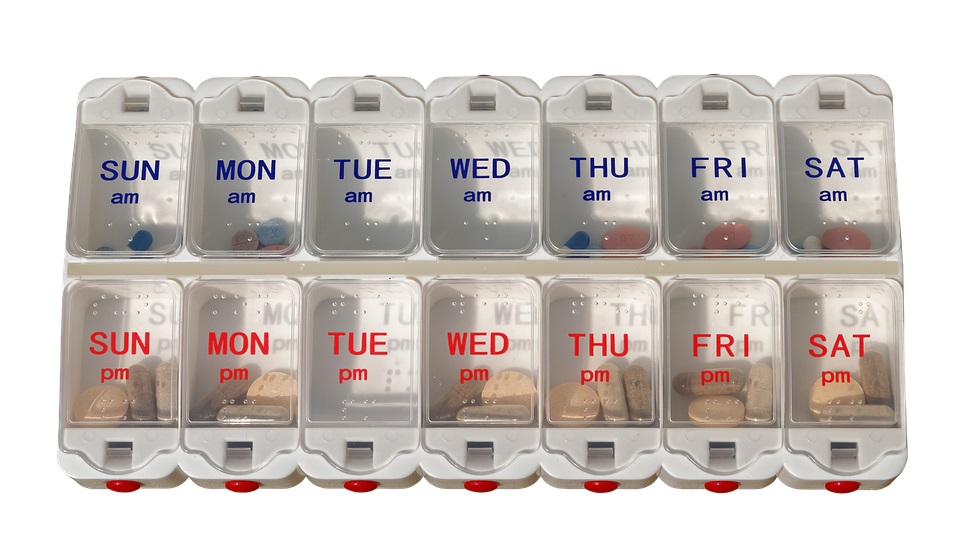 If there are no non-canine members of your family on medication, just ensure to store the meds in an easy-to-remember place. We would recommend the kitchen, as this is the food preparation space. Sometimes you need the bench space to crush or hide some cheeky meds in their daily meal or in peanut butter.
To keep track of Doggy's daily doses, you should create a checklist or, alternatively, do as the oldies do and use 'days of the week' pillboxes.
---
Read Also:
---
Walk Supplies
We're gonna go out on a limb here and guess that you, like many others, store your door keys on hooks by the front door. When it comes to leaving the house, this is such a nifty way to grab what you need when you need it the most.
Why not do similar for your dog's walk supplies? Check your hooks' load-bearing capacities and hang your leash, harness, and/or treat bags by the door as you'll need them.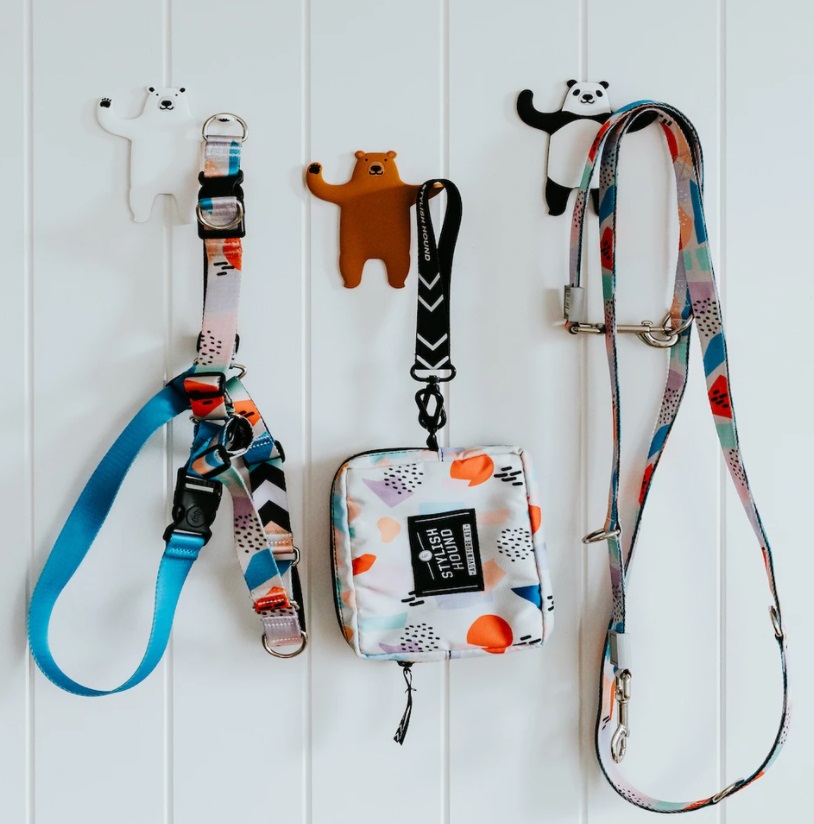 How cute! Image: Stylish Hound
Pro-tip: front-door key holders likely won't be load-bearing or big enough to withstand the weight of even one leash. When we say hooks, we mean Command Hooks or more aesthetic adhesive alternatives.
If you have built-in hooks by the front door or in the coat cupboard by the front door even better! If your dog wears a doggy raincoat, you could also store this in the coat cupboard. Adorable!
Grooming Supplies
The fluffier your friend, the more storage space we're going to need here. But on a base level, your pooch shouldn't need much more than doggy shampoo, a hairbrush, doggy dental supplies (dog-friendly toothpaste and toothbrushes yes, this is a thing), and Dremel nail files.
Also, you can't forget a towel or two! Dogs aren't fussy, so you needn't waste your finest linen on them. They won't notice if you designate them a couple of rattier, older beach towels we promise!
If you have the cupboard space, you could just store all this on a separate shelf in the bathroom. This will help to keep your human and canine supplies separate.
Alternatively, you could keep Doggy's cleaning tools in a toiletry bag or a small basket. If you cannot contain it all in a single container, then a many-pocketed hanging wall organizer may be in order. Do whatever you deem necessary to keep your grooming supplies in one place!
---
You are a busy pet owner and don't have time to keep your dog looking good. You want your dog to look great, but you don't want to spend a lot of money on grooming services. The Designer Paws Salon offers a great solution for busy pet owners. Designer Paws Salon comes to your home and grooms your pet at a fraction of the cost of other grooming salons.
---
Toys
Whether pupper or full-grown doggo, canines love to play with toys. Anyone with young kids can tell you that, so long as there are toys in the house, there will be messes! You may no longer be completely clutter-free, but there is a way to organize the chaos: a furkid toybox! Think we're kidding? Think again.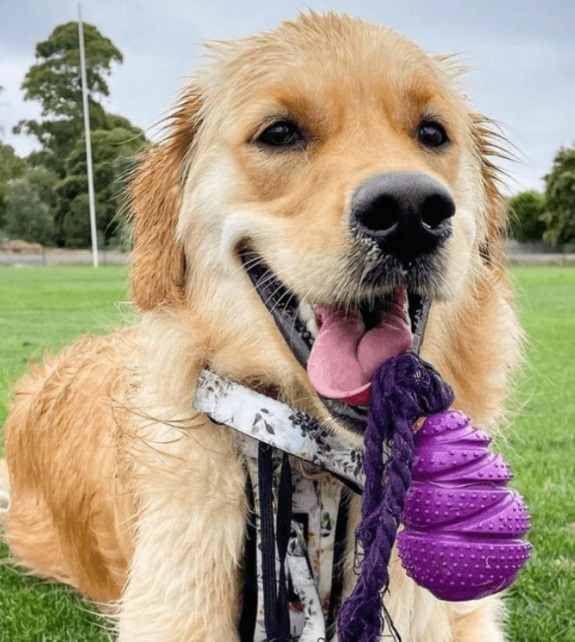 Image: Stylish Hound
A sturdy toybox or chest is a great storage solution. It's heavy enough that Doggy won't knock it over and large enough to hold everything your dog loves.
If you think a toybox is too over-the-top, you could also use a wicker basket, a generic storage container, or a collapsible storage basket.
The advantage of some of these options is that they're close to the ground, and your dog can 'fetch' their favorite toys to their heart's content.
The underdogs are Going!
When welcoming a new doggo into your abode, your house isn't going to be pristine. However, it will be filled with love and wet kisses, which is what may make the mess worthwhile.
So, whilst there may be a toy over here and some food spillage over there, the best way to organize the chaos is to have a system in place. If nothing else, it will help you keep your doggo essentials on hand whenever you need them.
Take the time to organize your supplies and Future You will be ever-so-grateful! In the long run, it will be time saved which means you'll have more moments for canine cuddles and kisses. And, when you think about it, there really is no better way to spend your time.