A fairy garden is enchanting, cute, and fun to create.
It is the ideal project to get the kids involved in, as they'll love the magic of it all, as well as the bright colors and all the intricate little details.
Just like us, fairies love celebrating the festive season.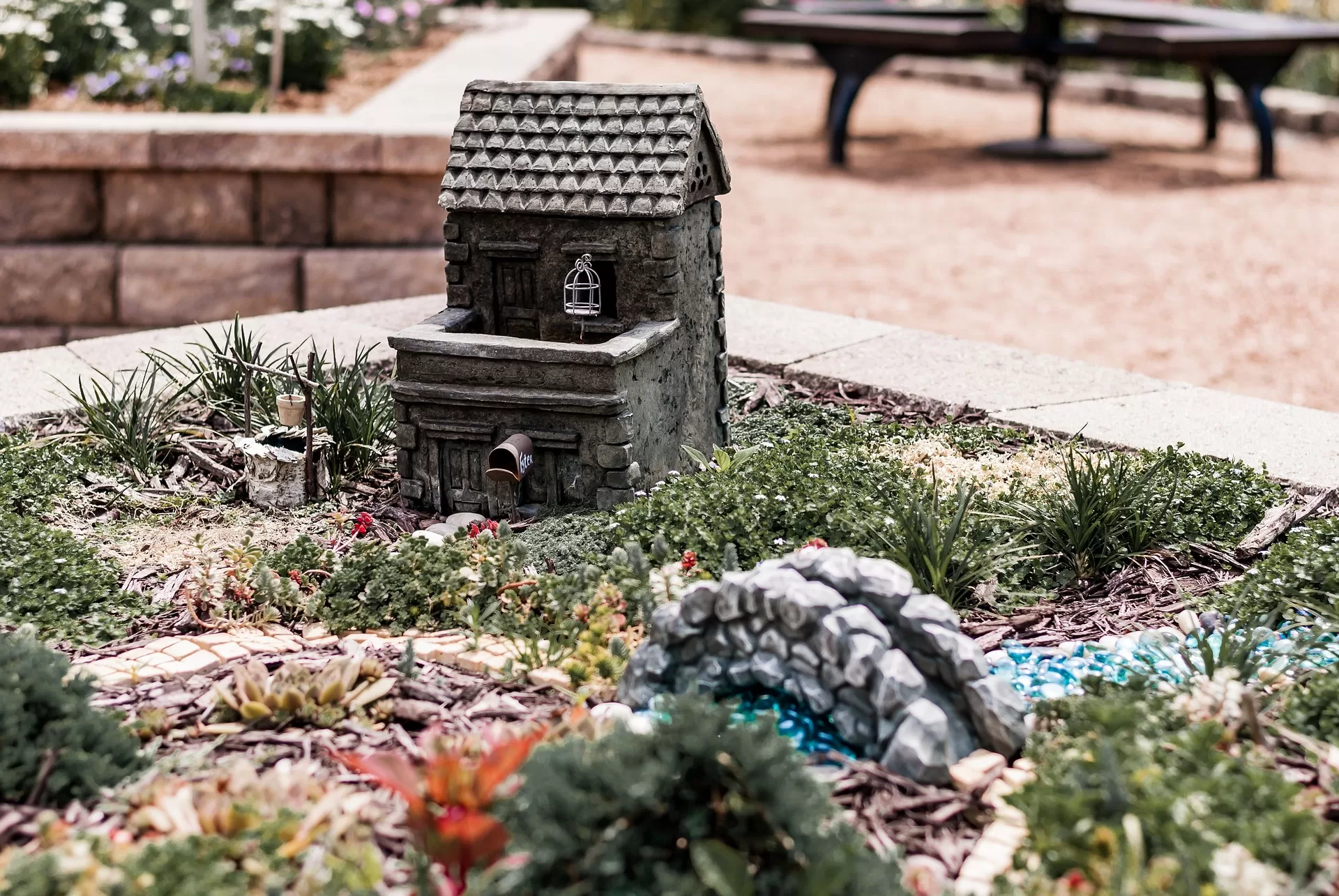 Creating seasonal fairy gardens adds a festive twist to these tiny gardens, spreading Christmas joy and allowing Christmas fairies to enjoy the holiday season in style.
Tip: Get inspiration from Christmas Trees Direct.
How To Make the Perfect Christmas Fairy Garden
Location
The first thing to consider when planning a Christmas fairy garden is where you're going to put it.
The location will determine what type of container you house your fairy garden in.
Outdoor Fairy Gardens
Outdoor fairy gardens are magical little worlds in the garden. Use moss, plants, wood, and flowers to decorate around a festive theme.
Planters
Planters are ideal for use as a Christmas fairy garden container.
Those spring flowering bulbs are dormant for the winter, so you might as well re-purpose their planters for the Christmas season.
Pails
Metal buckets and pails make excellent fairy garden homes.
Drill some drainage holes in the bottom to let excess water flow through, and fill the pail with pebbles or well-draining soil before adding your decorations on top.
Trees
It's a well-known fact that fairies love to live in and around trees.
If you have a tree in the garden, fashion your fairy garden in a snug at the base of the trunk.
Wheelbarrows
Old wheelbarrows make fantastic fairy garden bases.
Not only do they offer an authentic rustic look, they afford plenty of space for your design to spread out – you might even decide to create a whole fairy village!
Indoor Fairy Gardens
Indoor fairy gardens are perfect for Christmas.
Not only do you get to stay warm and dry inside while you create them, but they also make a quirky and unique Christmas decoration for inside the home.
Cloche Jars
A cloche jar is perfect for creating a snowy fairy garden scene.
The sleek domes offer a clutter-free look that fits with any interior design style and afford plenty of space inside to get creative.
Bonus: you only need to dust the outside of the jar, not all the figurines and ornaments inside!
Glass Bowls
Glass bowls are ideal receptacles for a Christmas fairy garden. Use a large fish bowl for a stunning focal point, or create a miniature terrarium fairy garden with a smaller bowl.
Ensure you place some charcoal in the bottom to soak up any excess moisture and help stop the fairy garden from becoming smelly.
Snow Globes
Combining two decorations into one by creating a Christmas fairy garden snow globe is a great idea! Mason jars with lids are perfectly filled with water and fake snow.
Use a hot glue gun to attach the decorations to the inside of the mason jar lid.
Christmas Fairy Garden Ideas
Coming up with ideas and creating a festive fairy garden theme is the fun part.
---
Read Also :
---
In case you're struggling for inspiration or need more Christmas fairy garden ideas to add to your collection, we've pulled together some magical festive themes that will make your fairy garden sparkle.
Christmas Market
Christmas markets can be enthralling, and if you have plenty of space, they make a wonderful theme for a Christmas fairy garden.
Set up stalls selling candy canes, Christmas cookies, hot chocolate, and gifts, and string fairy lights between lamposts for a cozy, warm glow.
Choosing the Tree
While fairies like to live in trees, they also enjoy decorating them for the holiday season.
Create a charming scene with a family arriving to choose their Christmas tree. Fir trees, a car, and some fake snow create the perfect wintry scene.
Visit from Santa
Even fairies get a visit from the world's most famous jolly old elf at Christmas.
Create an enchanting Christmas Eve scene with rooftops, a sleigh full of Christmas gifts, reindeer, and Santa himself in the forefront.
Festive Garden
A traditional fairy garden incorporates a house and outdoor space. Keeping these elements is a great way to produce an adorable scene.
Place lights in the house for a warm glow, and add a snowman to the garden to represent the season in a simple but fun way.
Winter Village
Deciding to make a winter village fairy garden is an ambitious aim, but pull it off and you'll be showing the photos to everyone you meet!
Miniature houses, shops, cars, a church, and perhaps even a town square with a fabulous Christmas tree in the middle make for a magical and adorable Christmas fairy garden.
Adapting an Existing Fairy Garden for Christmas
You may already have a fairy garden and would prefer to add some Christmassy touches rather than change the whole design.
This is easy enough to do and doesn't have to mean additional cost.
Forage
Take a woodland walk and forage for some things to add to the scene. Pine cones, sprays of fir or spruce, berries, and seed pods are all perfect for adding festive touches to a display.
Wintry Weather
Adding fake snow is the quickest and easiest way to turn a regular fairy garden into a winter wonderland. You can also place a mirror flat on the ground as a frozen pond.
Lights
Nothing says Christmas time quite like fairy lights. String some lights around the garden or place them in the house to produce a warm glow from inside.
Add Ornaments
A few well-placed ornaments and decorations can really make a Christmas fairy garden. Add a miniature Christmas tree, wreath, or even a reindeer to the display.
Alternatively, take some small tree baubles, and hang them around the fairy garden fence during the festive season.
How to Attract Fairies to a Fairy Garden
There are no rules when it comes to fairy garden design. In fact, the more creative you are, the better.
However, if you want to attract real fairies to the garden, there are some things you can include that make them more likely to visit.
Fairies are attracted to all things bright, shiny, and metallic, so include some gold and silver glitter or accessories in the design.
Fairies also love to look at their reflection, so a piece of mirror or a small water feature will make a Christmas fairy very happy indeed.
Stones are perfect for fairies to sit on to dry the morning dew on their wings. Fairies love shiny stones but also appreciate painted ones that make excellent garden decorations.
Most fairies don't like to be seen, so a miniature house, shop, or even a Christmas tree gives them somewhere cozy to hide.
A Christmas fairy garden is a magical addition to festive decor in a home or outdoor space.
Making a miniature festive scene takes imagination and is a wonderfully inventive way to spend time in the run-up to Christmas.
The key to getting it perfect is to take your idea and run with it.
Let your imagination go wild and turn some cute plants and tiny ornaments into a unique piece of decor for the Christmas season.