Find Car Emergency Kit and Winter Driving Tips Here — Winter time can mean so many different things to people. Those living in southern climates think to make sure they have some kind of jacket and that is all they need for winter.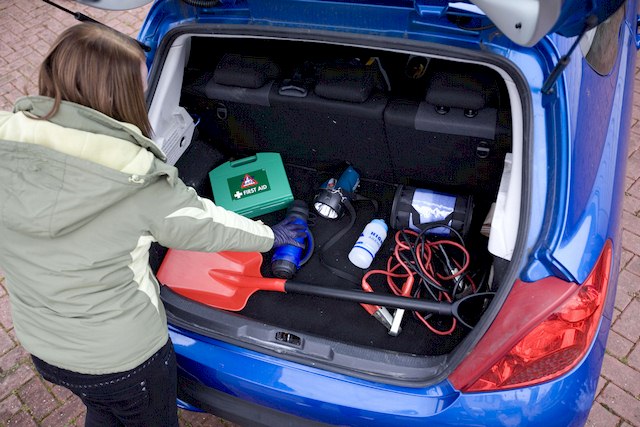 Those in northern climates, however, have a completely different mindset when it comes to preparing themselves for winter.
So much to think about…winter dress for the family and car emergency kits.
The last thing you want to do is break down in the winter with nothing to help you. I will help with that by providing a car emergency kit checklist and explain why and what items you should use.
Winter Driving Tips: Is Your Car Emergency Kit Ready?
In this article we will look at some common sense winter safety tips that you and your family can easily follow as well as items you should have in the car as part of a roadside emergency kits for winter driving tips / safety.
Emergency Car Kits – Car Emergency Kit
You should always have some kind of car emergency kit. For winter driving tips, that kit will be quite extensive.
So what items should you have as part of an emergency car kit? It's a good idea to have a car emergency kit checklist to make sure you have everything you may need, especially a winter emergency car kit list.
If you don't have a list, let's start with these items and let you add or change as your situation needs:
Auto fire extinguisher
Car cell phone charger
Sturdy shoes or boots
Heavy gloves
Roll of Duct tape
First Aid Kit
Flares
Flashlight with spare batteries
Jumper cables
Map
Multi-tool like a Gerber or Leatherman
Blankets
Fix-A-Flat sealant or similar product for flat tires
Shovel
Kitty litter or sand to provide traction if stuck
Small block of 2X6 about six inches long
Plastic tub to keep all of this in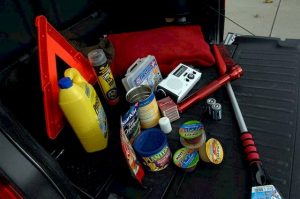 Let's look at a few of these items a little closer.
Many people carry flashlights but don't have spare batteries. An additional item is to pick up a light that plugs into the 12 volt cigarette lighter plug in the car (where your cell phone charger plugs in).
With a long cord to reach anywhere around the vehicle, this car emergency kit light will come in handy if changing a flat at night.
A good multi-tool, usually known by the brand names of Gerber and Leatherman, has a knife, pliers, screwdrivers, and more all in one tool. It folds up real small and is a real lifesaver when you have no other tools. I keep my multi-tool in my glove compartment.
Fix-A-Flat comes in a can and is used to seal and re-inflate your tire in case of a flat. It will get you far enough to get it fixed.
On that note, when was the last time you checked your spare tire and located the jack? Most lug wrenches that come with cars are difficult to use so I always keep a four-way lug wrench in the truck. Do the same, you will be glad you did if you have a flat.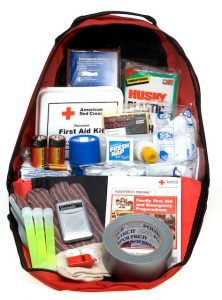 So why did I put a "Small block of 2×6 about six inches long" on the list? I once had a flat on a gravel road in the pouring rain. The gravel road was so saturated that the jack sunk as I was trying to jack up my truck. Use this as a block to sit under the jack and give good support.
If you want, you can buy a car emergency kit that is already assembled and packed in a bag.
You can purchase smaller kits that have a few of the essentials or kits that have almost everything you can think of plus more.
You may need to add a few items of your choice but these come with most things you will need.
Whether you buy roadside emergency kits or make them yourself, a good winter car emergency kit is a must. I have provided a good start to an emergency car kit list, the rest is up to you.
The time to think about this and get things prepared is now.
Must Read:
Winter Driving Tips / Safety
There are a number of very easy cold weather safety tips that you and your family can follow to be safe in the winter time / winter driving tips. Let's take a look at some. Some you have heard before and some you may not have.
When it comes to clothing, it's all layers, layers, layers. It is always better to have a few thin layers on than one thick layer.
This is true if you are just sitting outside or sledding, ice skating, or building a snowman. If you are active, you can always take a layer off if you get overheated and put it back on when needed.
Cold weather clothing is a must. Ensure you have good cold weather gloves or mittens to protect your hands as well as good boots. Layering gloves and socks works great.
Having good cold weather hats for your family is a must to keep that heat in. It is amazing how much warmer you feel when your head is covered.
Sometimes kids get so busy playing outside that they may not realize how cold they are until they are really cold. They get wet playing in the snow and think nothing of it until they are shivering very much or worse.
It's not a bad idea to periodically have the kids come in to warm up for a few minutes and change into some dry stuff. Keep an eye on the children to make sure they are not suffering from hypothermia.
Some symptoms of hypothermia include: Shivering, slurred speech, confusion, and drowsiness.
They may not tell you their symptoms, you will need to watch them.
Good luck.
Resource for "Car Emergency Kit and Winter Driving Tips"