Long-distance moves can be challenging because of everything you have to coordinate to make it all happen.
If you are open to shipping your car, you can get more done with less hassle. It takes your mind off of at least one thing to make a move easier.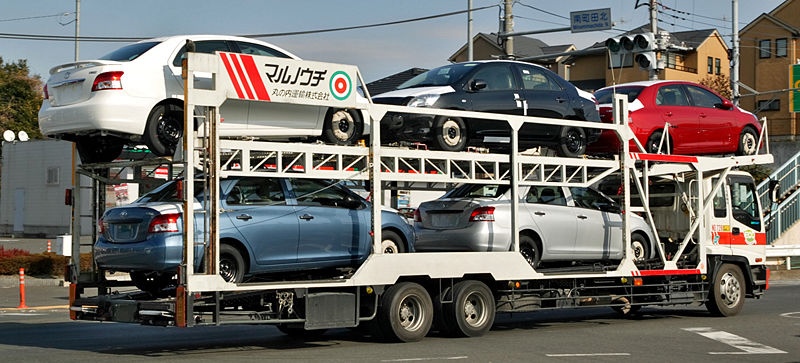 Get Car Shipping Quotes and Compare Companies
Most companies offer car shipping quotes online, and you need to get at least 3-5 different quotes to get started.
You will need to have a few things available to get the quotes. Have your car information, including the make, model, and condition of the car.
You will also need to know where you would like to have your car picked up and then dropped off.
Having dates available for pick-up and delivery will also help to get an accurate quote. Compare open and enclosed carriers to see which one is a better option for you.
Remember to ask about insurance coverage between companies. By law, all carriers must carry a minimum in coverage, but it may or may not be enough to cover your car if something happens.
If the coverage is not enough, ask about what it would take to increase coverage and make sure your quote reflects that information.
Compare Types of Carriers
Most companies offer both closed and enclosed carriers, so you will need to decide what you want.
Closed carriers protect your car and tend to be more expensive. If your vehicle is an antique or a high-end car, then an enclosed transport may be the better choice.
Open carriers are different in that they leave your car exposed to the elements. This may or may not be an issue depending on the time of year you are planning to ship your vehicle. If you ship in an open carrier, the cost will be less, too.
A reputable company will also have the right equipment in the carriers. You want them to use nylon straps as opposed to chains to hold your car in place.
Straps are better to hold your vehicle on a carrier because they are less likely to damage your car. Chains can cause scratches or dings, even with the best care.
---
Read Also:
---
Be Flexible for Pick-up and Drop-off
The best hassle-free experience is going to happen if you're flexible. Flexibility is crucial for the best rates and easiest move.
If you work with a broker or a carrier company and are willing to be flexible on pick-up or delivery dates, it will be better for you.
Being flexible for pick-up and drop-off locations can also lead to better rates for you. If you are willing to arrange pick-up and drop-off in a nearby city, the cost can also be less.
Typically, rural areas can increase rates if you want to have your car picked up or dropped off from someplace out of the way.
If you happen to have the ultimate flexible timeline, consider the self-service approach. You must be flexible here because you are at the mercy of the drivers and existing routes.
However, you have more control over your selection because you can price your shipment yourself and have drivers bid on it.
Broker vs. Company vs. Self-Service Platform
In the world of car shipping, you have several choices to work with, and they can all lead to fantastic experiences.
A broker can connect you to a carrier and acts as the go-between between you both. Brokers can also provide extra insurance coverage if you need it for your shipment.
Something else to think about is how brokers vet carriers to make sure they are certified and reputable, so you know that your car will be handled with care.
Most brokers also offer GPS tracking as part of their packages.
You can also choose to work with a fleet-owned company if you prefer to work with a carrier directly.
If having direct contact is essential to you, then this is the route to go. Make sure you ask about their certification to ensure that the carrier is following all necessary regulations.
Something else to ask about is whether the company offers GPS tracking so you can watch your car as it moves.
If you would rather work with a self-service platform, that is also doable. These service platforms can also score you some major deals.
For example, uShip is a self-service platform that connects you to a carrier with extra space on their truck.
You may need to be more flexible, as finding a driver may take more time, but the rates will be worlds better than those of brokers or fleet-owned companies.
Read Reviews and Get Feedback
Go online and search for car shipping company reviews. Read through them to see what other people's experiences have been.
It will give you a good idea of what to expect throughout the process. You will also see if customers can get to the various customer service departments.
Unfortunately, some companies do not have the best reviews on customer service, so you will also have to do some critical thinking to see if this is the fault of the company or the person.
You can also reach out on social media channels and ask people for their experiences. You might find that they can give you more realistic views of what you can expect.
Remember, if people have a particularly positive or negative experience, they will always be willing to share how things went with a given company.
A Few Last Thoughts on Hassle-Free Car Shipping
To have a hassle-free car shipping experience, you will need to be proactive about your approach. Start by getting multiple car shipping company quotes.
Compare what you get and see which carrier is best suited for your needs. Consider if you want to work with a broker, company, or self-service platform.
To help you narrow things down, read reviews, and get feedback from real people. Once you've got all the information you need, you'll be ready to decide with confidence.