One of the most intimidating and daring task for a new parent is to cut their infant's nails.
It's no less than surgery. Their skin is so soft and fragile one wrong move and you can harm the child.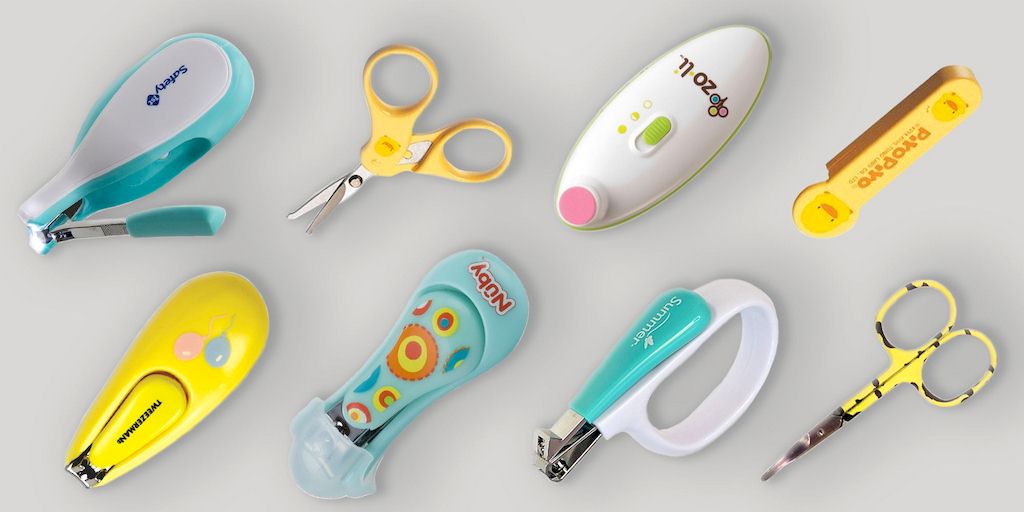 But what if the nail clipper had some safety features in it?
That's why today we are going to answer one of the most asked questions by a new parent, what are the best baby nail clippers?
Keep reading and you will find your answer
Safety 1st Sleepy Baby Nail Clipper
One of the most sold baby nail clippers on Amazon. It comes with an infant nail filer. The most common advice for parents is to cut the nails when the baby is asleep.
It solves the problem of the baby moving their hands.
This nail clipper also comes with a LED to guide you while you cut the nails. The large ergonomic handle ensures you get a firm grip and it doesn't slip while you are cutting the nails.
The NailFrida Snipper Clipper Set
FridaBaby'sNailFrida looks just like an ordinary nail clipper but, it features a spy hole. To see exactly what you are cutting.
It also features overlapping blades that prevent from accidental cuts, because you never know when the baby decides to move.
These features make it one of the best baby nail clippers on the market.
It also includes an S-shaped infant nail file designed especially for baby hands. It will easily remove the sharp edges without hurting the baby's skin.
American Red Cross Deluxe Nail Clipper with Magnifier
If you feel like you are going to hurt your baby's finger because they are too small. Then this is perfect for you. It features a magnification glass on top of the nail clipper.
Thanks to the magnification glass you can see clearly what you are cutting. The magnification glass is 4 times magnified.
Rest assured you won't be cutting anything beside fingernails with this.
 Rhoost Deluxe Baby Nail Clipper
Trimming baby nails for a new parent can be nerve-breaking. It can lead to sweating and if you slip the nail clipper it can hurt the baby seriously.
With that in mind, Rhoost has brought a baby nail clipper that features no-slip silicone thumb-presser. And the body is made out of bamboo wood. It is pretty large and comfortable to hold.
PiyoPiyo Baby Nail Scissors
If you are someone that prefers scissors over nail clippers then this product is for you.
The product has over 1200 reviews on Amazon. All of them are from parents that bought this to clip their baby's nails.
This scissor can be used by both left and right-hand users. The round edges make sure that there is no sharp corner poking in your baby's skin.
As their tips are round there is zero to no chance of your baby accidentally hurting itself with this scissor.
ZoLi BUZZ B Electric Nail Trimmer
Let's just say you don't want to do anything with nail clippers or scissors all together. This high-tech electric nail trimmer is made by ZoLi.
This battery-powered trimmer works by slowly filling the nails. You heard me right, the trimmer doesn't cut your baby's nail it files it down.
It uses a cushioned circular pad so that your baby's finger stays unharmed.
Little Martin's Drawer Baby Nail File
This electric trimmer has all the benefits from ZoLi but it comes with some extras. It has all the files that necessary to trim baby's nail it also features LED light and a nearly silent motor.
And you want another bonus? This trimmer not only for your babies! It features full-size files to trim adult nails. Pampering for all.
Choosing the Best Baby Nail Clipper
It can be tough to choose among all the clippers we featured. But let us give some suggestions about things to look for while buying.
If you are a first-time parent and you are very nervous about it we will suggest you should go for one of the electric trimmers.
It supports LED light and it doesn't cut the nails but merely trims them. Also if you can for scissors if you feel comfortable using them.