It's mid-summer, and you're probably already enjoying by the pool.
Whether you are a proud owner of one or go to public swimming areas, the summer heat is much more bearable when you are by the water (or in it).
Still, lounging on the mattress and drinking a cocktail is much more enjoyable when it happens in your backyard. Check this link for more tips on how to cool down this summer.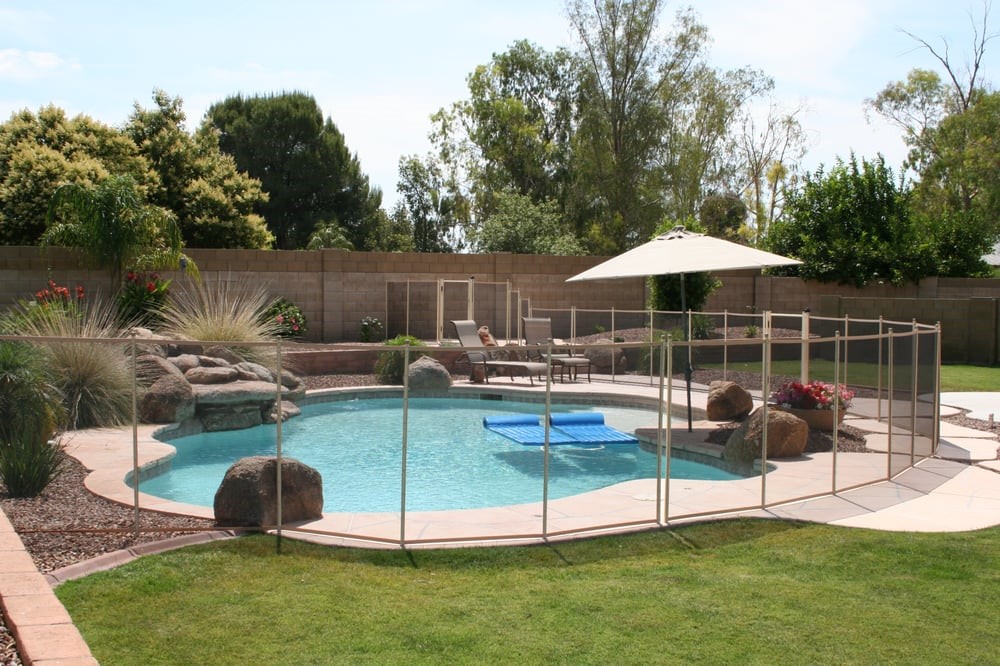 If you have kids or pets, you've noticed they are always hanging around the pool. With your supervision, you can always let them in the water or play nearby.
But when you are not there, there is a chance that some unwanted situations will occur. Installing a pool fence will raise the level of security in the area around the pool.
A great thing about setting up a fence is privacy. If you opt for closed barriers, i.e., cannot be seen through them, you can be sure you are protected from curious looks while in or by the pool. Besides, a well-designed fence enhances the area around your pool and the entire backyard.
Depending on the pool's size and the space around it, you can entrust the job of making and installing a fence to experts, or do it yourself. If you have skills and tools, making a fence can be an exciting DIY project.
---
Read Also:
---
Make It Functional and Aesthetically Pleasing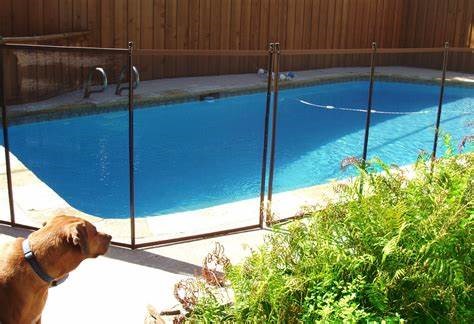 The primary purpose of placing a fence around a water surface in your yard is to secure that space. Placing a barrier will keep restless kids and pets away, and in some less urban areas, it will also repel wild animals.
It is necessary for the fence to be of such a design, that mischievous kids cannot climb on it, or that pets cannot get through. In some states, the installation of a protective barrier around the pool is required by law.
Also, the fence around the pool can prevent the potential damage that improper pool use can cause.
Just because something is functional doesn't mean it's not attractive. As seen on https://bluewaterspoolservices.com/pool-fence/, a well-matched fence with a pool and house can be a beautiful sight.
It really adds value to your property. If you have decided on a DIY fence project, you have all the freedom to design this barrier as you imagined.
Think of Material
A protective barrier around the bathing and swimming area can be made of a variety of materials. You will make a choice based on the size of the pool and the budget you have.
You have to consider whether you want a permanent or removable fence. Also, the choice of materials will depend on how much privacy you want on your property.
Weather conditions are also important for choosing the type of fencing material. If you live in windy areas, removable, prefabricated barriers are not the right solution.
The same goes for glass or aluminum. Stronger winds can break or damage them. Sturdy, permanent fences are a better choice.
The most common type of pool fencing is wire. Many DIY-ers will opt for this material because it is very flexible and easily adjustable. Also, the mesh fence cost is not high, and the installation work itself is not demanding.
The disadvantage is the possible lack of aesthetic value, but even that can be solved if you are creative.
Durable Solutions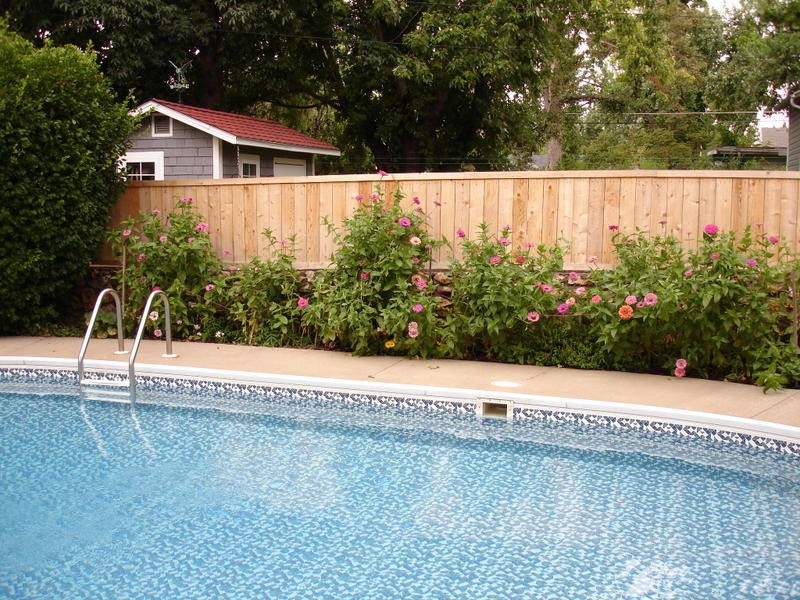 Concrete, stone, and wood are the choice of those who want exclusive privacy. Wooden fences lost popularity because they're prone to rot, and various pests can live in them. But if you protect them, these barriers can look quite attractive.
Concrete is fine because you can customize it – paint it, or decorate with tiles or natural stone. It's not expensive, and some simpler works don't take much time. For more complex designs, you'll need more time, and probably the help of experts.
Good-Looking Solution
The costliest, but also the most attractive solution, is a glass fence. It's not the best choice for privacy and discretion.
You could use it if you live in some more isolated places, where you're already protected from prying eyes. Although the glass is reinforced, it will rarely withstand strong winds and storms.
Budget-Friendly Removable Barriers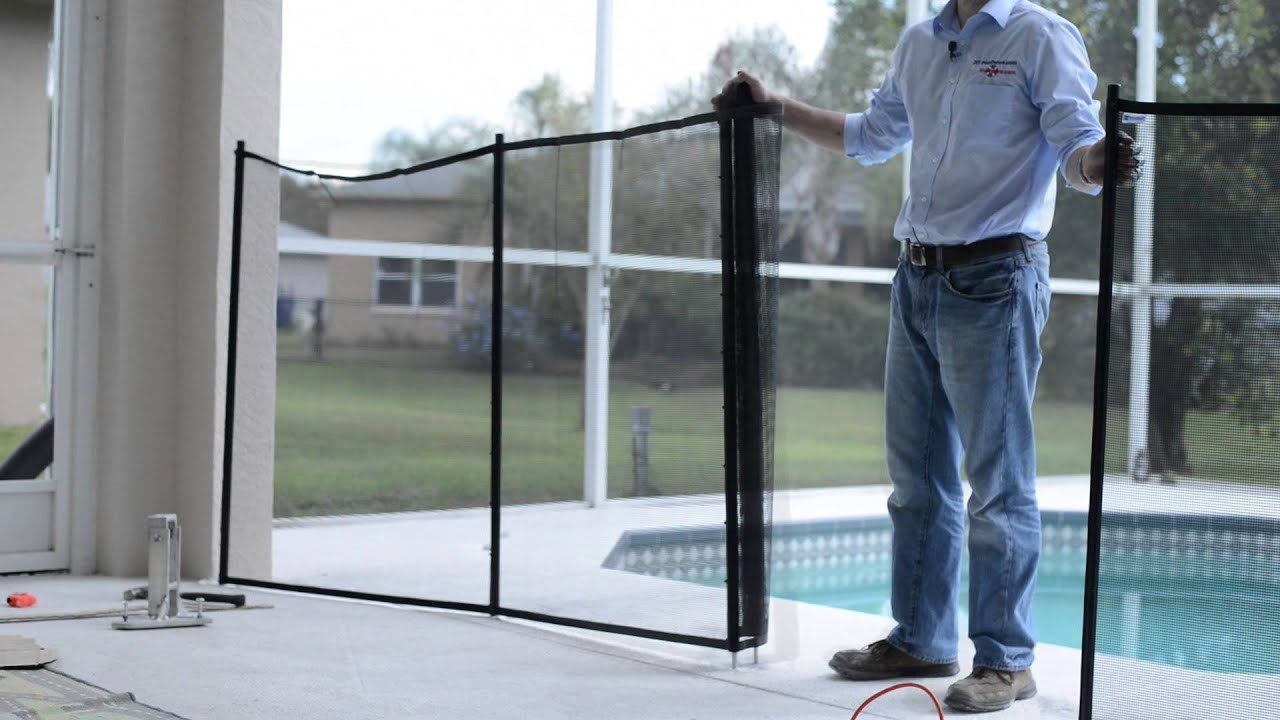 Temporary barriers around water are suitable if you plan further works in this area. Or you should get one of these if you don't want to spend too much money on pool protection.
Customizable wire, mesh, or vinyl barriers are acceptable if you don't have strong winds in your area.
Basic Guidelines to Follow
Depending on the choice of materials, the pool size and model, and the accessibility of the terrain (whether it's sand ground, wooden deck, or concrete), it may take a couple of hours or days to complete the whole job.
Be creative and come up with a fence design that will enhance your yard. You should also follow a few basic guidelines.
Barrier height must be at least five feet. It's the minimum that can guarantee the safety and prevent kids and pets from entering the water.
If you have a larger pup, you can add extra feet or two in height, to make sure they won't skip and dip into the water when you're not around.
The distance of the fence from the water must be at least as much as the height. You can't meet all requirements to the T, but it is customary to move the fence away from the water, at least in one part.
You need a place for deckchairs, umbrellas, or a playground. More ideas on pool décor find here.
A barrier placed too close can reduce the comfort of swimming and bathing, as it visually shrinks the space. You have to think about the gate too. It should be self-closing and additionally secured with a locker.
Having a private swimming area is no longer a matter of prestige. Today, prefabricated or inflatable models can be purchased for several hundred dollars. But the beautifully landscaped in-ground pool, bordered by an attractive fence, really enhances your property.