When it comes to home improvements, bathrooms are often neglected. This may be due to the homeowners investing more into the kitchen, living areas, and bedrooms as these are the most used parts of the house.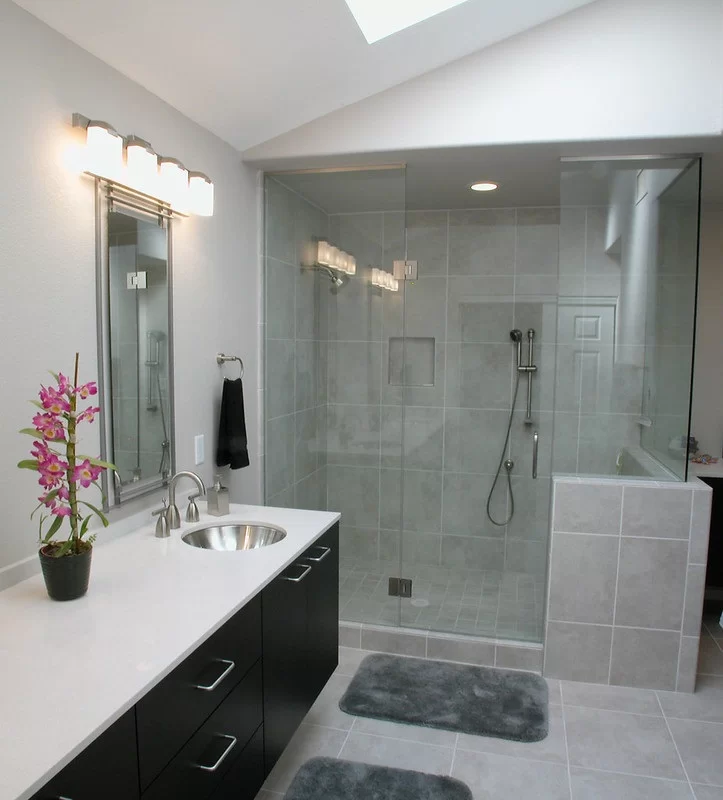 However, we would argue that despite not being the first room people see, bathrooms are equally as important as those other commonly seen areas of the home. But how can you tell when your bathroom needs an upgrade?
In this article, we're going to give you 11 signs that your bathroom needs an upgrade. If your bathroom ticks any of the boxes below, it is time to start planning your bathroom makeover.
Your Bathroom Looks Outdated
The design of your bathroom needs to tie up with the current design of your home. So, if you've made one or many renovations elsewhere and haven't included your bathroom, it will quickly become outdated and look out of place.
If you're worried about the cost, don't worry. Changing a few fittings and adding ambient lighting might just do the trick. Your bathroom doesn't have to look like a bathroom from a 5-star hotel but it has to, at the very least, blend in with the rest of your home.
You may consider hiring a professional bathroom remodeller to design and renovate your bathroom. They can help you create a more seamless design and a better-looking bathroom that is within your budget.
You Feel Ashamed Whenever Someone Uses Your Bathroom
Have you ever had a guest who asked to use the bathroom and suddenly you feel ashamed? Chances are, you're feeling that way because your bathroom is no longer appealing. This is a clear sign that your bathroom needs renovation.
Keeping your bathroom neat and appealing is one of the best improvements you can do to your home. If you think about it, guests will undoubtedly use the bathroom during their stay, so it makes sense to give them a nice and clean room to do their thing.
Most of the time, giving your bathroom a thorough cleaning, changing some mirrors, and adding some modern design elements might just do the trick to keep your guests comfortable. But if your bathroom has lots of broken tiles, hard water stains, and outdated features, consider giving it a full makeover.
---
Read Also:
---
Your Faucets Leak All the Time
Leaking faucets may seem like a simple thing but having leaky faucets can result in many problems down the road. Furthermore, you're wasting gallons of water each year when your faucets leak.
If you have a leaky faucet, make sure to check your fittings and piping to find out what the problem is. If it can't be fixed by changing a few gaskets and seals, consider replacing the faucet entirely. While you're at it, buy a fitting that looks nicer. If you are unable to complete this yourself, contact your local plumber.
The Tiles Are Popping Out
Tiles popping out could be a sign of an underlying problem such as water leakage, or bad installation. In this case, it may be time to replace your tiles or check for underground leaking.
While you're at it, consider selecting tiles that fit your home's theme to give your bathroom a seamless upgrade. Going for neutral colors is the safest bet, but if you have a keen eye for design and architecture, use those skills to improve the look of your bathroom.
There is Mould and Severe Stains Everywhere
Although a few mold spots and hard water stains don't call for a massive overhaul, excessive mold and severe stains that can't be removed by any cleaning agent will require replacement.
If you're in areas considered to have hard water, your toilet and sink may have a yellowish stain that is hard to look at. With the right products, you may be able to remove them, but when they're impossible to remove, it might be a sign to just replace them.
Poor Light Distribution
Aside from the overall design, lighting helps set the ambiance in the bathroom. And if your bathroom has a lot of dark spots, it's not good for your mood and well-being.
In that case, adding a few extra light bulbs and ambient lighting might be a simple yet effective upgrade.
Lack of Features
A lack of features may not be an urgent sign of an upgrade, but if you feel like your bathroom could be more than just a room to take a dump, then you might as well give it an upgrade.
If you're out of budget, adding some shelves, towel rails, and design elements, and replacing fixtures might just do the trick.
Lack of Functionality
Still, using a shower curtain instead of a glass enclosure? Or maybe you have a couple of fixtures that no longer work?
In that case, it may be the perfect time to give your bathroom an upgrade with a new shower screen or other modern additions.
Your Fixtures Are Not Well Organized
Does your bathroom feel tight because your fixtures aren't organized properly? Or are you having a hard time draining water in some parts of the bathroom? Then maybe you should consider renovating your bathroom.
Professional bathroom designers have a way of making even a small bathroom spacious and efficient. Furthermore, they know exactly where drains should be to ensure quick draining of water.
Lack of Storage
Properly storing bathroom items such as towels, soap, and shampoo is the key to keeping the bathroom neat. But if you lack the storage, you're going to have a hard time doing just that.
There are plenty of ways to add storage to your bathroom. Adding cabinetries and shelves might be the most obvious ones. But there are some subtle quick fixes that you can do right now like adding soap holders and a towel rack that you can buy from the close's hardware.
You can also be more creative with storage options. I once saw a short wooden ladder used as a towel rack giving off a rustic vibe.
Your Bathroom is Unsafe
Is your bathroom always wet and slippery? Or maybe certain parts of it pose some safety issues? Ensuring your bathrooms are safe should be a priority for everyone but most especially if you have elderly living at home.
If your bathroom poses some safety issues, then you should quickly address that by adding a few handlebars, dry mats, or changing the tiles to something that's less slippery.
Final Thoughts
Having a nice bathroom is not solely for the comfort of the residents, it's also a way to increase the value of your property.
Contrary to what most people think, an upgrade doesn't have to be expensive. In most cases, adding a few design elements, replacing a few fixtures, and a thorough cleaning could just be the upgrade your bathroom needs.
But when your bathroom is in dire need of an overhaul, we highly recommend that you call the experts so they can create an effective design within your budget. Unless you have a keen eye for design, designing your bathroom yourself may even cost you more over time.