Do you know that energizing feeling you get when the seasons shift? When does the cool breeze of fall replace summer's heat or when spring's first blossoms signal winter's end? It's a fresh start, right? Now, think about bringing that energy into your home.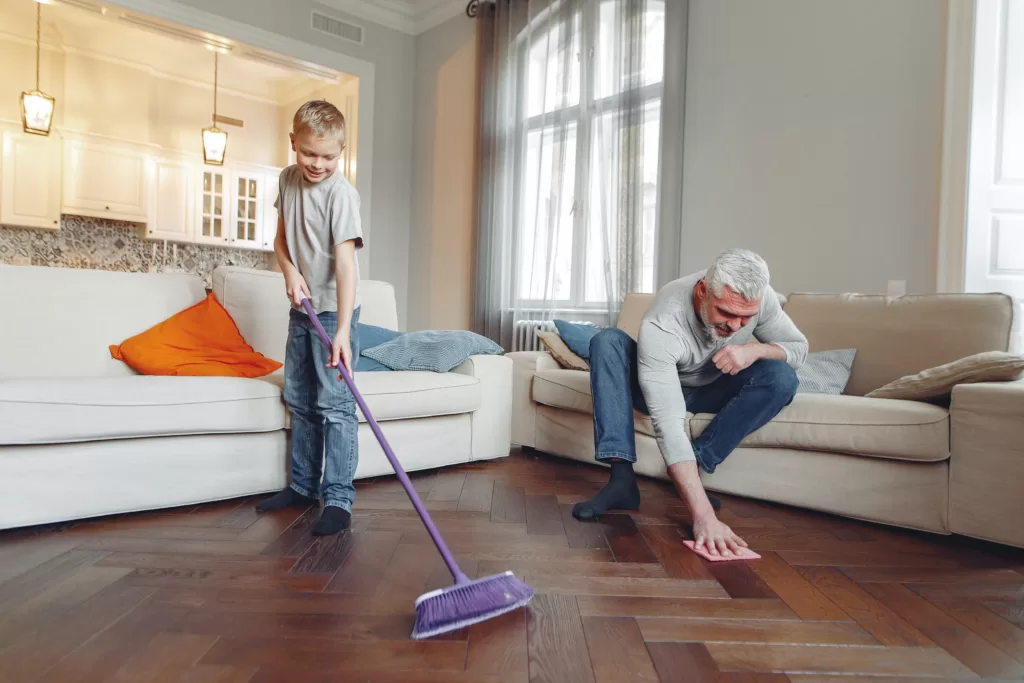 Nothing screams "new beginnings" like a thorough, top-to-bottom deep clean. It's more than just a sparkle—it's about promoting health, boosting your mood, and genuinely setting the stage for a stellar season ahead.
Why Seasonal Deep Cleaning Matters
Let's face it, we all have 'those' spots at home—the underside of the bed, behind the fridge, or that one closet that's become, well… a catch-all. Over time, these spots can hide more than just old magazines and odd socks.
Dust bunnies, potential mold, and allergens love these neglected nooks. That's where seasonal deep cleaning swoops in, tackling every forgotten corner. But cleaning isn't just about shining up; it's also prepping up. As seasons change, so do our home needs. Heading into winter?
A deep clean might uncover drafty spots you'd want to seal up. Moreover, your mental health will thank you for it. As you roll up your sleeves for a comprehensive cleanup, you're not only ensuring a spic-and-span space but also prepping it to serve you best, no matter the weather outside.
---
Read Also:
---
Areas Often Neglected but Vital for Deep Cleaning
Ever moved your fridge and witnessed the 'hidden city' of crumbs and leftovers behind? Or glance under your couch only to find a colony of lost items? Many of these often-skipped spots like behind major appliances, tucked away under heavy furniture, within air vents, or the dusty corners of attics can be genuine hideouts for grime and allergens.
If diving into these hard-to-reach spots feels overwhelming, it might be a good time to call in the pros. I've heard amazing reviews about 2 Mexicans deep cleaning services and their knack for turning even the most neglected areas into gleaming spaces.
Eco-friendly Cleaning Tips
Mother Nature has given us some potent cleaning allies—ones that don't wreak disaster on our planet or our lungs. Have you tried cleaning with white vinegar or scrubbing away stains with baking soda? Not only are they effective, but they also steer clear of the harsh chemicals found in many commercial products.
By leaning into these natural alternatives, you're choosing a path that's gentler for the environment and safer for your family's health. So, next time you're about to tackle a stubborn stain, remember sometimes, nature knows best.
Organizing Post-Cleaning
Once the deep clean process clears, you're often left with a pile of "do I really need this?" items. Take this fresh start feeling to the next level by decluttering.
That sweater you haven't worn in two years. Donate it.
Those piles of old magazines? Recycle or pass them on.
And once you've whittled down your possessions, invest a moment to set up easy-to-maintain organizational systems. Trust me, future-you will thank you when everything has its own 'home,' making tidying up a breeze.
Engaging Professionals: When and Why
Sometimes, elbow grease and determination just aren't enough. Ever tried deep cleaning a carpet or reaching those high ceiling corners? Certain tasks can feel never-ending—or even risky. That's when professionals come into the picture. They're armed with specialized equipment, know-how, and experience to tackle the big, intricate jobs.
Plus, with a professional touch, you're ensuring every nook and cranny is addressed, giving you peace of mind and freeing up your time. In short, sometimes it's just smarter (and safer) to leave it to the pros.
Why a Clean Space Does More Than Just Look Good
Ever stepped into a freshly cleaned room and felt an instant mood lift? It's not magic; it's the tangible impact of a clutter-free environment. Beyond the sparkling surfaces, clean space can dial down anxiety, crank up focus, and keep those sneeze-triggering allergens at bay. In essence, tidying isn't just a chore—it's a boost to our mental and physical well-being.
Tech's Role in Today's Cleaning Game
Let's face it, technology isn't just about the latest phone or gadget; it's reshaping how we clean. Think robotic vacuums navigating our floors or air purifiers upping our indoor air game. While there's merit in the tried-and-true methods, weaving in a bit of tech can streamline and elevate our cleaning spree. So, why not mix a bit of the old with the new and see the difference?
Final Word
Stepping into a deeply cleaned home brings about an unparalleled sense of rejuvenation. It's more than just a tidy space; it's about creating a haven that mirrors the freshness of a new season.
Embracing this practice with every seasonal turn not only ensures you're surrounded by a spotless environment, but it also sets a tone of renewal and beginnings. So, as the leaves change or the first snowflakes fall, remember the magic of a revitalized space and consider making deep cleaning your seasonal ritual.