Plaster ceilings and laths in older houses usually have cracks as the year passes, which can lead to the gradual removal of the plaster and breakage of the lath.
Whether the crack is small or large, there is no chance of delay. If cracks appear in the structure of your home, do not hesitate to contact an experienced and expert ceiling repairman for plaster ceiling repair.
If you want to do ceiling repairs Perth, the expert team of Perth Ceiling and Walls can help you.
They will solve the problem of cracks in the walls of your home, and ensure that this problem does not occur in the future.
By reading this article, you will be able to know the type of crack in the ceiling, and how to repair it.
You can also find out why cracks appear in the house. Learn about one of the best wall and ceiling repairs companies in Perth and their activities.
That is, let's read an informative article to solve the problem of cracks in the ceiling.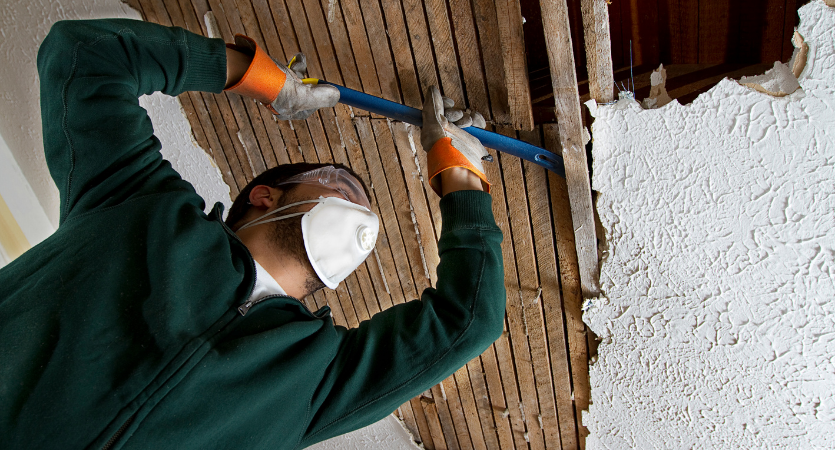 How to Fix Ceiling Cracks
Do not delay, if cracks appear in your home as they may cause danger. You need to take immediate action and take all necessary steps to plaster ceiling repair.
I will give you a step-by-step idea of what steps to take in such a situation. Below I discuss in detail all the steps of ceiling repair.
Step 1
You will repair the cracks as a result of which a lot of cement mud will form in the soil so spread a large plastic underneath.
As a result, you don't have to worry about cleaning, which is a wise thing to do. All furniture must be removed from the house because paint dirt is difficult to clean.
Use a frame ladder for repairs to the ceiling that will give you stability.
Avoid the necessary movements and keep the necessary materials to yourself. It is difficult to use for working at low-height ceilings.
Remove the loose material on the crack with a drywall knife and take care not to damage it. The upper surface will be wider and the lower part narrower.
Use drywall tape on cracks, because its adhesive sticks to the ceiling. The entire crack should be covered using tape as much as possible. This will set the boundaries for your work.
---
Read Also:
---
Step 2
Add water to 1 pound of dry mud until it becomes mayonnaise. It should be well mixed with water and shaken and when done it should be brought for use.
Now, stroke the coat on the crack with a putty knife and cover it completely. When it is done, it should be given time to dry so that its firmness will increase.
Water should be given to it so that the air inside it escapes. On top of that, you have to give a second coat of coat like the first time, and give it time to dry to paint well. After that, you can plaster ceiling cracks and paint.
Step 3
Now rub the crack continuously with sandpaper, and remove its roughness. As a result, the place will be very smooth and will be suitable for paint.
You can paint your home the color of your choice. This way can be the plaster ceiling repair.
Why do Cracks Appear in The Ceiling?
There may be many reasons for cracks in your home, now we will discuss renovation step by step.
1. The House is Getting Old
This is a big cause of cracks as the structure of the house weakens with age. Naturally, cracks can be found in the floor and walls.
2. Moisture Damage
It can also cause cracks. If water accumulates on the roof for a long time, it damages the plaster and there is a possibility of water damage.
3. Hitting Something Heavy
Injuries to hard heavy objects can cause cracks. Or even if you keep heavy objects in the house, it can cause cracks.
4. Foundation Problem
You may have problems with the foundation of your home and cracks may appear. This can lead to major accidents also.
5. Natural Disasters
Disasters like cyclones, earthquakes can cause cracks. These are God-given events.
Perth Ceiling and Walls
Repairing cracks in walls or ceilings is a dangerous job, so it is better to seek help from an expert. That's why you can contact experts for Ceiling repairs in Perth.
They have experienced manpower who are committed to solving your problem. They set a competitive price for repairing cracks in your residential building or business.
They even offer a variety of free consultations and help online. So as soon as you see a crack in your home, contact the contractor at Perth Ceiling and Walls.
Final Words
Finally, you know how to repair a crack in the ceiling and the cause of the crack. Learn more about Perth Ceiling and Walls, one of the best Ceiling repairs in Perth.
Cracks in the house are not a common issue, it should be taken seriously. Although the solution is expensive, the safety of life and property comes first.
Before making a house, you have to make sure that the soil and foundation are good.