A garage is often a place that can get overlooked and before you know it is packed full of rubbish and becomes a cluttered space.
Taking the time to organize your garage should be a top priority as this will make your life much easier and will make the garage a working place that is fit for purpose. Organizing your garage does not have to be super time-consuming and expensive.
Here are 5 tips for perfectly organizing your garage.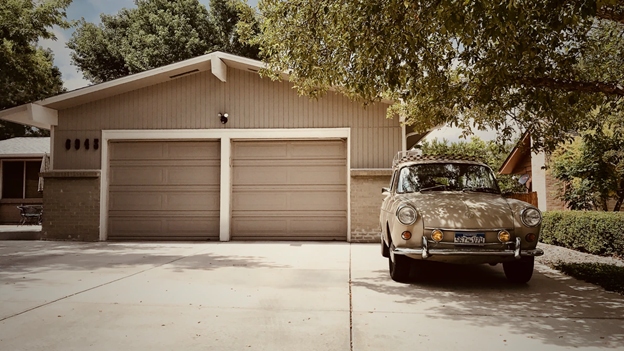 1. Use Garage Cabinets
One of the easiest ways to organize your garage is to use cabinets. Garage cabinets are built to store heavy-duty items in your garage space.
If you are thinking about fitting out your garage with cabinets, then consider opting for custom-built cabinets as these offer you more cabinet selections, more color choices, and countertop options.
This allows you to build cabinets in any awkward spaces and allows you to maximize storage potential.
2. Keep Things Off the Floor
The number one rule of keeping a clean and organized garage space is to keep things off the floor.
It might start off as one bike here and one box there but then before you know it the whole floor is cluttered making it impossible for you to move around.
Using the floor like this is not an effective way of storing your things and it just makes your life harder in the long run.
If you have a family then you may want to consider investing in a Thow and Go, which is an open storage system that allows you and your kids to throw whatever in and be on your way.
These work best for situations where you are in a rush and do not have time to put things nicely in their usual space. Then you can come back to it later and sort it out when you have more time.
3. Create a Tool Wall
Often in a garage, you can find endless supplies of tools and odd items that are used for DIY. Keeping these in toolboxes on the floor or in cabinets takes up unnecessary space.
Instead of doing that, you should consider building a tool wall. This makes the most of the space in the garage and also makes your life easier.
Hanging tools on your wall makes it easier to find the tools you are looking for and you will also be able to see if anything is missing.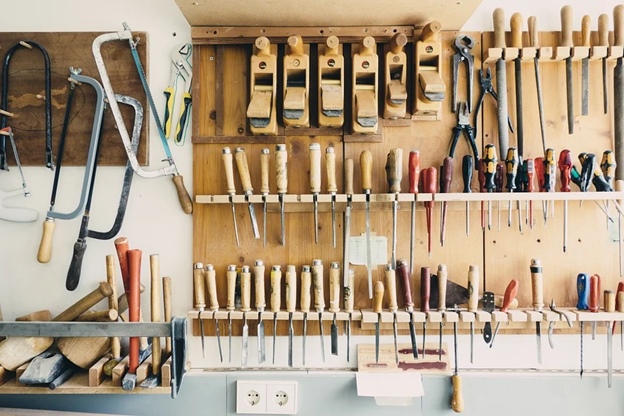 This is especially useful if you have young kids running around and you do not want them to be playing with anything that could be potentially dangerous.
Consider organizing the tools in an organized way, for example, all screwdrivers can be together, all sharp objects hung together, all safety tools together, and so on.
This is not only a practical choice but it also makes the wall look good too.
---
Read Also:
---
4. Use Overhead Space
There is so much unused space on a garage ceiling that should be used to optimize space and organization.
Hanging long things on your ceilings such as ladders, sports gear and other random items that you do not use often is a great way to keep the garage looking and feeling more organized.
Just be mindful of the size of any shelving units you hang from the ceiling as you do not want to be ducking down when walking around down there.
Also, be careful of what you store on your ceiling as you do not want to risk anything heavy falling on you, your car, or the floor.
5. Hanging Bike Storage
Another great way to keep your garage organized is to use hanging bike storage. This uses the wall space effectively and keeps the bikes protected.
Hanging storage units are easy to install and can be relatively inexpensive. This is a great option for those who live with families as you can hang up multiple bikes on a wall without making the space look overcrowded and cluttered.
6. Organize Your Garage into Zones
To take your organization skills to the next level you should separate your garage into zones and organize your belongings by using the following zones:
Car supplies and equipment (including spare tires and wiper fluid etc)
Sporting supplies
Tools
Random items/season items (Christmas decorations)
Separating your stuff into these zones will make it easier for you to know where everything goes and where to find the things you want when needed.
Some zones might require more space than others but make a floor plan and sketch out how much space you think you will need to allocate to each zone.
The floor plan will give you a good idea of where everything will be placed but zones can be easily moved and amended so it does not have to be set in stone.
7. Throw Away Things You No Longer Use/Need
 To have a truly organized garage one of the most important things you will need to do is throw away any items that you no longer need or use.
Over time we collect items and instead of throwing them away, they tend to get stored in the garage or in the basement.
This does not mean you have to throw away anything sentimental, just anything that no longer has value or purpose for you.
Consider throwing a garage sale and you can earn yourself a bit of extra cash to put towards organizing your garage.
Alternatively, you can sort through your things can create a donate pile and a trash pile, so anything that is not of value can go in the bin and the rest can be donated to a charity shop.
8. Create Corner Shelves
Another way to optimize the space and storage potential of your garage is to install corner shelves.
Using open shelving is a great way to see what you are storing and where specific items ought to be kept.
Something as simple as some shelves can make a big difference in how organized your space feels.
Make organizing your garage a priority as you will feel a lot better once it is done. It is one of those things that can be easily put off but when you commit to doing it you will quickly reap the rewards of a clean and decluttered garage.