Manual garage doors can be tiresome, especially if you need to access your garage several times a day.
However, most homeowners are reluctant to get a new automatic door due to the cost implications.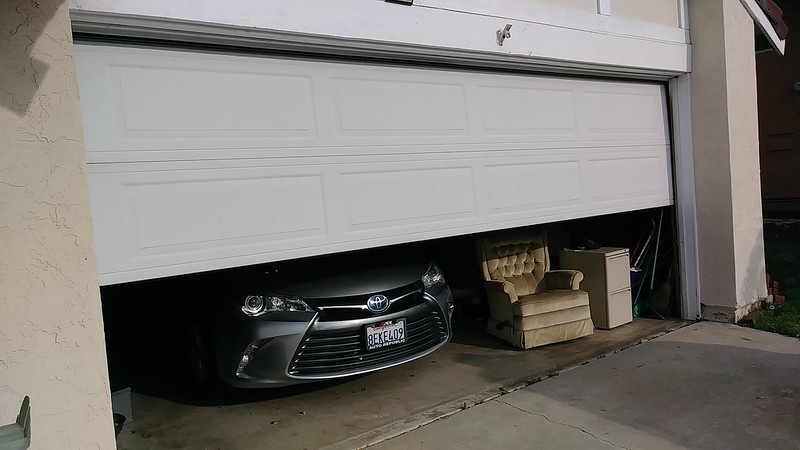 What if we told you our Chicago Garage Door services could transform your existing door into an automatic garage door? You get to enjoy unmatched convenience at very affordable rates.
However, it is essential to note that warped or damaged garage doors or those with rare gear arrangements may not be easy to automate.
Here are some of the automation processes available for different garage door types.
Retractable (Up and Over) Garage Doors
Retractable garage doors are some of the easiest and most affordable to automate. We install a boom over the structural opening on one end and an electrical motor on the other.
This straightforward method also allows you to include additional locking mechanisms for safety.
Canopy (Up and Over) Garage Doors
These need bow-arm conversion equipment. This kit streamlines the operation of a canopy garage door.
Since canopy and retractable garage doors open differently, it is nearly impossible to achieve convenience with the electrical motor setup.
We fit the bow arm conversion kit against the garage door and fasten it to the operator boom.
When the boom pulls the door, the bow arm kit adjusts and slides to enable the garage door to open easily.
The bow arm loses headroom of about 150mm. We can also use the canopy lifting arm, a contemporary alternative that offers simpler installation and unlimited drive-through heights.
---
Read Also:
---
Sectional Garage Doors
Sectional garage doors are a sweetheart for most homeowners due to their streamlined operation.
When it comes to automation, we simply add an electrical operator and boom, and they are all set.
We pride ourselves on high-quality motor systems which offer more security, especially for double-skinned garage doors.
Since sectional doors come into the garage more than their up-and-over counterparts, we recommend longer booms to allow maximum opening height.
Side Hinged Garage Doors
There are two effective methods of automating most side-hinged garage doors. We can use a swing arm kit to install pivotal arms on either side of the garage door then attaching the boom.
The boom will push the door while the sides part to allow the garage door to open easily.
Electromechanical operators use several cogs and mechanical parts to facilitate automatic opening. This can also be achieved by using an ultramodern hydraulic motor.
Roller Shutter Garage Doors
Not all roller shutter garage doors can be automated. However, most require to be dismantled and reconstructed.
Roller shutters are compact, with most electric motors situated inside the curtain roll. As such, we need to take them apart to install an automatic roller shutter.
The process can be time-consuming, but we assure you that it is possible. If you have a single skin continuous curtain roller garage door, we can bolt a motor onto the shaft to automate it.
We have quality gearing and motor equipment to ensure that your door works perfectly after automation.
Why You Need to Automate Your Garage Door
Automation extends the life of your existing garage door, doing away with the need to have a new one installed.
Manual garage doors are extremely difficult to open for elderly or ill people. Automation ensures that whoever needs to access the garage can do so quickly and tirelessly.
Manual garage doors are relatively easier to break into compared to automatic ones. As such, an automation upgrade offers your home added security.
You no longer have to get out of your car and fumble with the garage door during adverse weather conditions. You can operate your automated garage door remotely from the comfort of your vehicle.
Most garage door operators come with courtesy lights. These lights switch on as soon as you activate the operator and remain on for a couple of minutes. Talk about convenience!
Automatic garage door operators comprise numerous accessories to make your life easier. You can have a numeric wireless keypad installed on the outer wall of your garage. All you need to do is code in your pin to gain access to your garage, whether you've locked yourself out of your house or need to give access to a family member.
You can upgrade your existing garage door to an automatic one for a few hundred bucks and add value to your home.
It is essential to call a reputable company with the necessary experience and training in garage door automation and replacement parts.