When it comes to construction and design, decisions aren't made on a whim.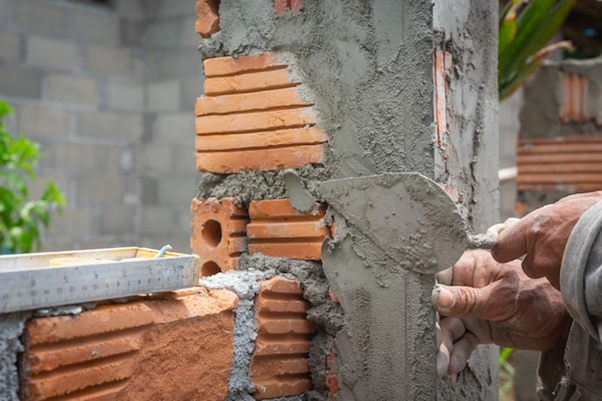 With years of experience in architecture and interior design, I've come to understand the delicate balance between aesthetics, utility, and the rich history embedded within building materials.
My insights have guided many homeowners in their quest for the perfect materials, and today, I'm here to share that knowledge with you.
In the forthcoming sections, you'll delve deeper into the world of bricks, understanding their evolution, the significance of their composition, and the pivotal role they play in the grand scheme of home construction.
By the end of this guide, you'll be equipped with the know-how to make an informed decision tailored to your home's needs.
So, are you ready to embark on this brick-laden journey? Keep reading.
Outline
The Importance of Bricks in Architecture
Types of Bricks
Key Features of a Good Brick
5 Factors to Consider When Choosing Bricks
Main Content
1. The Importance of Bricks in Architecture
Bricks are more than mere building blocks; they're silent narrators of ancient tales and epochs past.
Bearing witness to sweeping revolutions, and groundbreaking innovations, and serving as the cornerstone of global architectural marvels, they encapsulate a tapestry of human history and ingenuity.
Furthermore, bricks, in their understated elegance, have played a pivotal role in molding the visual language of civilizations.
Bricks let architects showcase diverse aesthetics, from ancient fortresses to modern facades.
Beyond their history, bricks embody humanity's quest to merge aesthetics with function, creating lasting structures that tell timeless tales.
---
Read Also:
---
2. Types of Bricks
Choosing the right brick means understanding the different types available. The following are the predominant varieties that have carved a niche in the construction world:
Sun-Dried Bricks
Crafted using clay and left to naturally air-dry, these bricks possess a rustic charm and echo ancient construction methods.
They are best suited for regions with minimal rainfall due to their susceptibility to water damage. Their earthy tones and textures often evoke a sense of nostalgia, transporting one back to simpler times.
Fired Bricks
Baked to perfection in kilns, these bricks offer unparalleled durability and a classic aesthetic appeal.
Their robust nature makes them a staple in a vast array of architectural designs, from quaint homes to towering skyscrapers.
With a rich history dating back to ancient civilizations, fired bricks stand as a testament to humanity's architectural evolution.
Fly Ash Bricks
A modern solution with an eco-conscious edge, these bricks are formulated from the ash residue of burned coal.
They're not only sustainable but also showcase a distinct texture and finish, making them a contemporary favorite.
Their lightweight and high compressive strength also makes them ideal for multi-story constructions.
Concrete Bricks
Predominantly used for fences and facades, these bricks are molded from solid concrete. They're prized for their consistent shape and size, as well as their adaptability to various finishes and colors.
Furthermore, their ability to be manufactured in a variety of hues allows designers to customize aesthetics to a great extent.
Engineering Bricks
Renowned for their formidable strength and impeccable water resistance, engineering bricks are the unsung heroes in projects demanding high resilience.
Commonly employed in foundational works, retaining walls, and other structural applications, they offer both functionality and a sleek finish that can elevate the appearance of any project.
3. Key Features of a Good Brick
It's not just about appearance. A good brick needs to perform well too. Beyond its facade lies a combination of factors that dictate its quality and appropriateness for a structure.
The following are the essential key features to consider:
Texture and Finish
A brick's texture and look define a structure's ambiance. Whether you prefer a sleek finish or a rustic charm, a brick's surface influences its look and bond with mortar.
Recognizing this dance between practicality and design, Tabrick offers a diverse selection, ensuring that builders and architects find just the right brick to bring their visions to life.
Durability and Strength
A brick's longevity and capacity to bear the load are paramount. After all, what good is a beautiful brick if it crumbles under pressure or deteriorates over a few short years?
The compressive strength and robustness of a brick ensure that your construction remains steadfast for generations.
Resistance to Weather Conditions
Bricks face the wrath of nature head-on, from scorching suns to torrential downpours and biting cold.
A top-tier brick should be adept at withstanding these varied conditions, ensuring the safety and longevity of the structure it supports.
4. Factors to Consider When Choosing Bricks
When choosing bricks for any construction project, several factors come into play, ensuring that your selection is both aesthetically pleasing and functionally appropriate.
Here's a deeper look into the factors:
1 Purpose
The intended use of the brick largely determines the type you should choose.
Are the bricks meant for structural support, like for a wall, or are they decorative, for a patio or garden pathway? For instance, facing bricks beautify external walls, while engineering bricks, known for strength and water resistance, suit moist environments or foundations.
2 Climate
The local climate plays a significant role in the type of brick you should select. In areas prone to frost, it's vital to choose frost-resistant bricks.
Similarly, in rainy regions, water-resistant bricks or those that can quickly dry and don't retain moisture would be ideal. Cheap bricks may incur higher future maintenance.
3 Budget
Bricks come in a range of prices, depending on their type, quality, and region of purchase. It's essential to find a balance between cost and quality.
Choosing the cheapest bricks might result in higher long-term maintenance costs if their quality is poor. It's always a good idea to compare prices from different suppliers and factor in long-term costs.
4 Quality Standards
Ensure that the bricks you select adhere to established quality standards. They should be free from defects, have a consistent shape, and not be too porous unless that's a trait you're specifically looking for.
Check for certifications or ask the supplier about the testing and quality assurance processes the bricks undergo.
5 Environmental Impact
Sustainability is a growing concern in construction. When selecting bricks, consider their environmental footprint. This includes looking at the manufacturing process and the source of the materials.
For instance, bricks made from fly ash are eco-friendly as they recycle waste materials, and similarly, bricks created using solar drying reduce energy consumption in the production phase.
Conclusion
In the tapestry of construction, selecting the perfect brick intertwines both artistry and science. We've traversed the journey from the brick's age-old stories to its cutting-edge benefits.
By intertwining aesthetics with robust performance, bricks elevate beyond mere building components to declarations of style, durability, and eco-friendliness.
If you're on the cusp of making a brick decision for your home, our expertise stands by your side. From understanding nuanced differences to weighing advantages, our team is primed to guide you.
Contact us to navigate the world of bricks and ensure your choice encapsulates both your aesthetic desires and functional necessities.