Gutters play a crucial role in protecting your home from water damage. They direct rainwater away from your home, thereby preventing a multitude of potential issues like soil erosion around your home, water damage to your foundation, and more.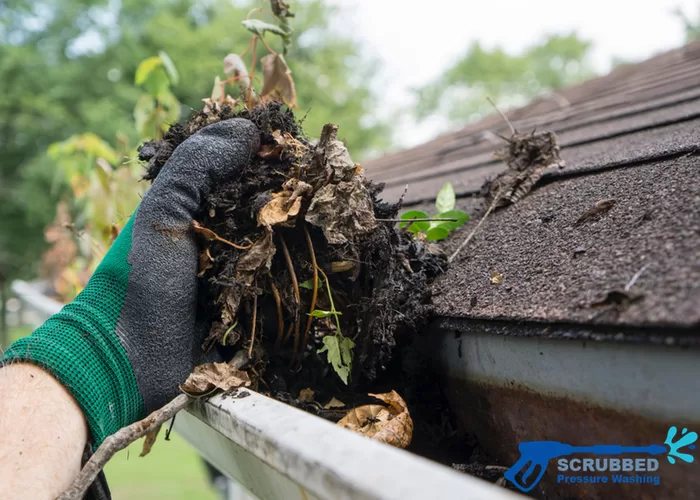 But like any part of your home, gutters require regular maintenance. While many homeowners may consider cleaning their gutters themselves, it can pose several risks.
This article delves into the dangers of DIY gutter cleaning and the benefits of hiring professionals for the task.
1. Potential for falls and Injuries
The Height Risk
One of the most significant dangers with DIY gutter cleaning is the height. You often need to climb a ladder to reach your gutters. Falls from ladders can result in severe injuries or even death. a
Inadequate Equipment
Many homeowners don't have the appropriate ladders or safety equipment like harnesses to make the job safer. Using a ladder that's too short or unstable can greatly increase the risk of accidents.
2. Unforeseen Structural Problems
Hidden Damage
Sometimes, gutters can have hidden damage that a homeowner might not notice. Stepping on a weak spot or placing a ladder on one can cause further damage or lead to a collapse.
Pest and Rodent Infestations
Gutters can sometimes be homes for pests, rodents, or even bees and wasps. Encountering these creatures unexpectedly can be dangerous, especially if you're several feet off the ground.
---
Read Also:
---
3. Incomplete Cleaning
Lack of Proper Tools
Professional gutter cleaners have specialized tools to ensure that every bit of debris is removed. DIY cleaners might miss out on certain spots, leading to clogs and defeating the purpose of the cleaning.
Improper Techniques
Without the proper know-how, you might end up pushing the debris into the downspouts, causing blockages that can be tough to clear.
4. Risk of Damage to the Gutter System
Too Much Pressure
While cleaning, using too much force or the wrong tools can dent or damage the gutters, affecting their efficiency.
Dislodging the Gutters
Without realizing it, you might put undue pressure on the gutters, causing them to pull away from the house or misalign.
5. Time Consumption and Physical Strain
Physical Exhaustion
Gutter cleaning can be strenuous, especially if you're not used to such tasks. The repetitive motion and the act of climbing up and down can be tiring.
Time-Intensive
Without the right tools and techniques, DIY gutter cleaning can take up a considerable chunk of your day.
Benefits of Hiring Professional Gutter Cleaners
Expertise and Experience: Professionals have cleaned countless gutters and are well-versed in the intricacies of the task. They can anticipate and avoid problems that might not be evident to homeowners.
Proper Equipment: From stable ladders and safety harnesses to specialized cleaning tools, professionals come equipped with everything needed to do the job safely and efficiently.
3Insurance: In the rare instance that something goes wrong, professional gutter cleaning companies are insured, ensuring that any potential damage to your property is covered.
Peace of Mind: Hiring pros lets you rest easy, knowing that the job will be done thoroughly and safely.
Conclusion
While DIY tasks around the home can be fulfilling and budget-friendly, there are certain jobs where the risks outweigh the benefits. Gutter cleaning is one such task.
For those who prefer to leave gutter cleaning in the hands of professionals, especially in the bustling city of Toronto, we recommend considering Toronto Window Cleaners.
With their expertise, trained technicians, and commitment to quality, they are the go-to choice for ensuring your gutters receive top-notch care and attention.
 The dangers posed by cleaning gutters without the proper tools and expertise can lead to severe injuries and additional costs.