Whether you're a culinary genius or only one step ahead of the microwave, there're some essential pieces of cookware that every kitchen needs to keep things running smoothly.
In fact, some items are so crucial that you may even wonder how your forebears created masterpieces in the kitchen without them!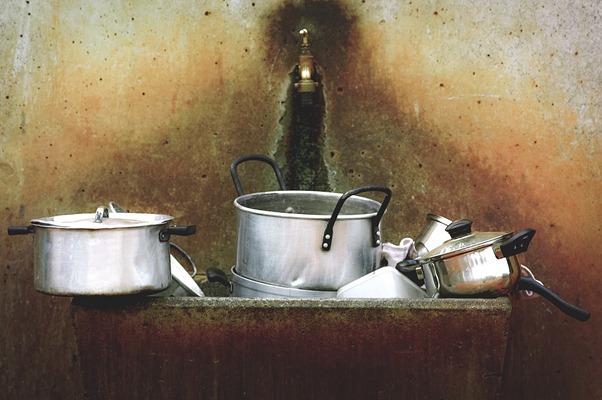 6 Essential Cookware Items Every Modern Kitchen Needs
When the time comes to shop around for new cookware sets, make sure to keep the following in mind:
Stockpot for Soups and Stews
When it comes to cooking large portions of food, nothing's more convenient for the job than a stockpot. As well as being ideal for preparing big batches of soup, they tick all the boxes for making hearty stews as well. Rather than worrying about evenly splitting all of your ingredients between smaller pots, you can simply throw everything into a large stockpot and let it do all the work for you.
Cast Iron Skillet for Pan-Roasting and Frying
When you're trying to cook steak, chicken, or any other protein, you'll find that cast iron skillets are leagues ahead of regular frying pans for creating rich flavors. Rather than solely relying on herbs and spices to add depth to your culinary creation, you can depend on your cast iron skillet to help you achieve a robust taste. These pans are suitable for all manner of dishes and can be used for searing a steak to perfection, slow cooking, creating a pan pizza, or whipping up some Sunday pancakes.
---
Must Read:
---
Dutch Oven for Pot Roasts and Braising
A Dutch oven is a versatile piece of cookware that well and truly does it all. If you're after delicious braised meats, a hearty soup, chili con carne or a pot roast, your Dutch oven will rise to the challenge. You can even use it for searing and slow cooking, as well as preparing desserts, chowders, casseroles, and more. Whether you use a Dutch oven on a range or coals, you'll find it enables you to effortlessly create meals the whole family will enjoy.
Sauté Pan for Searing and Frying
While it's a good idea to own a skillet, a sauté pan has a rightful place in your kitchen as well. Not only does it have a larger cooking area, but it comes with a lid too, meaning you can use it for light frying, searing and slow-cooking. However, the benefits don't end there: because of its high sides, a sauté pan doesn't splatter nearly as much as a regular skillet and can fit a significant amount of ingredients inside.
Roasting Pan for Roasting
While there are several roasting pan types on the market, there's one, in particular, that's considered the holy grail for achieving perfectly roasted meat. When you head to the store, look out for heavy metal pans with handles and a darker metal base, as these are ideal for creating a tender, mouth-watering roast every time. As a general rule, the darker the bottom, the darker the roasting effect will be.
Flat-bottomed carbon-steel woks are a must-have in any kitchen, especially if you have a gas stove. These woks will allow you to stir-fry up a storm and create a rich depth of flavor that other variants just can't live up to. Perhaps most importantly, purchasing a high-quality wok is a lifetime investment as these babies are mighty hard to destroy. Be sure to choose a high-quality carbon-steel model and avoid non-stick varieties to ensure your wok's longevity.
We're fortunate to live in a modern world where quality cookware is readily available to us at affordable prices. The next time you go shopping, keep the above list in mind to ensure your kitchen has everything it needs for you to whip up delicious meals in a breeze.