The kitchen island is often the centerpiece of a kitchen, providing additional workspace, storage, and seating. When you have a large kitchen island, there are endless possibilities for how to decorate and utilize the space.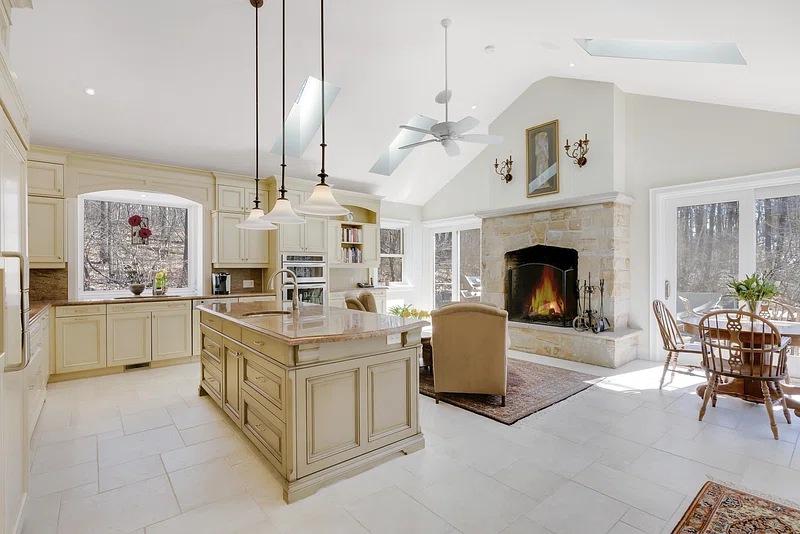 Whether you want to create a functional and practical area or a stylish and eye-catching feature, there are plenty of creative ideas to consider.
Visit this website, which has a variety of designs and styles, from modern and contemporary to traditional and rustic, where you can browse through the selection of pieces and find the perfect piece for your home.
In this article, we will explore some inspiring ideas for decorating a large kitchen island.
1. Add a Pop of Color
One way to make a statement with your large kitchen island is to add a pop of color. Consider painting the base of the island a bold and vibrant color that complements the rest of your kitchen.
This can instantly liven up the space and create a focal point in the room. You can also add colorful accessories, such as bar stools or pendant lights, to enhance the visual appeal.
2. Install Open Shelving
If you have ample storage space in your kitchen, consider removing the cabinets on one side of the island and installing open shelving instead. This allows you to display your favorite dishes, cookbooks, or decorative items, adding a personal touch to the space.
Open shelving also creates an open and airy feel, making the island appear less bulky and more inviting.
---
Read Also:
---
3. Incorporate Natural Elements
Bringing natural elements into your kitchen can create a warm and inviting atmosphere. Consider incorporating a butcher block countertop on your large kitchen island.
Not only does it add a rustic and natural touch, but it also provides a durable surface for food preparation. You can also add a touch of greenery by placing potted plants or fresh herbs on the island.
4. Install a Wine Rack
If you are a wine enthusiast, installing a wine rack on your large kitchen island is a fantastic idea. It not only provides a convenient storage solution for your wine bottles but also adds a touch of elegance and sophistication to the space.
You can choose from various designs, including built-in wine racks or freestanding wine holders, depending on your style and preferences.
5. Create a Breakfast Bar
If you have enough space, consider transforming one side of your large kitchen island into a breakfast bar. This allows you to have a casual dining area where you can enjoy your morning coffee or have quick meals.
Install bar stools or chairs that complement the style of your kitchen for a cohesive and stylish look. You can also add pendant lights above the breakfast bar to create a cozy and inviting ambiance.
6. Install Pendant Lights
Pendant lights are not only functional but also serve as decorative elements in a kitchen. Installing pendant lights above your large kitchen island can instantly elevate the look and feel of the space.
Choose lights that complement the style of your kitchen, whether it's modern, farmhouse, or industrial. You can opt for a single statement pendant light or a cluster of smaller lights for a dramatic effect.
7. Create a Coffee Station
If you are a coffee lover, why not dedicate a portion of your large kitchen island to a coffee station? Install a built-in coffee machine, a small sink, and some shelving for your coffee mugs and accessories.
This creates a convenient and stylish area where you can prepare and enjoy your favorite coffee beverages. You can also add a chalkboard or a small menu board to display your daily coffee specials.
8. Install a Range of Hood
If your large kitchen island has a built-in cooktop or range, consider installing a range hood above it. A range hood not only helps to eliminate cooking odors and smoke but also adds a stylish and functional element to the space.
Choose a range hood that matches the style of your kitchen, whether it's sleek and modern or traditional and ornate.
9. Create a Display Area
Showcasing your favorite dishes, glassware, or collectibles is a great way to add personality to your large kitchen island. You can create a display area by installing glass-front cabinets or open shelves.
Arrange your items in an organized and visually appealing manner, using different heights and textures to create interest. This not only adds visual appeal but also makes it easier to access and use your favorite items.
10. Incorporate a Built-in Sink
If you have enough space and plumbing access, consider incorporating a built-in sink into your large kitchen island. This provides a convenient and functional area for food preparation and cleanup.
It also allows you to interact with guests or family members while working in the kitchen. Choose a sink that complements the style of your kitchen, and consider adding a stylish faucet to enhance the overall look.