Looking for new and exciting ways to upgrade your kitchen? Current kitchen design trends offer homeowners a balance of functionality and contemporary aesthetic appeal.
While there are certainly a few trends you'll probably want to avoid, there are also more than enough ideas out there to get your next project started.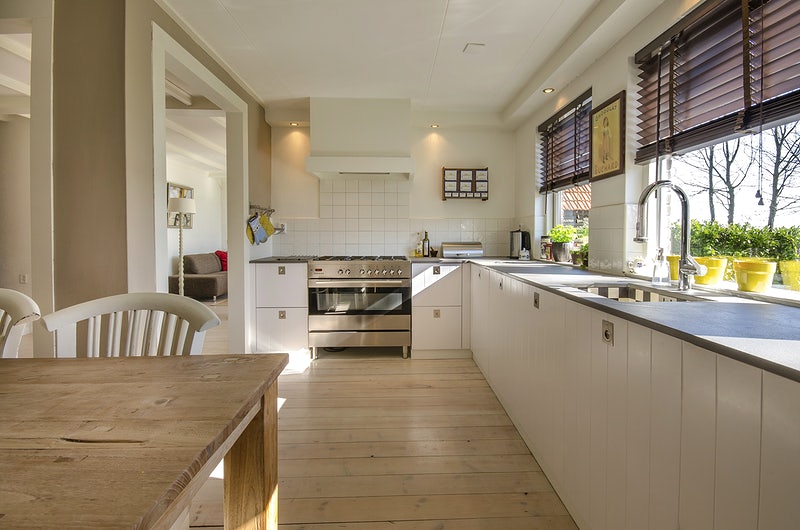 If you want to build your dream kitchen, you may want to consider speaking with the specialists at luxury kitchen design companies who can take care of your entire project from start to finish.
No matter what size space you're working with and what design styles you like, you'll need to approach your remodeling project with a plan.
For homeowners that initiate their remodeling project without professional kitchen design assistance, it can sometimes be tricky to assemble a space that follows a single aesthetic.
Luckily, many of the trends that come with contemporary kitchens offer plenty of standalone visual and functional appeal.
Here are a few of the top trends in kitchen designs that you might want to be aware of before starting your next project.
Open Shelving
Open shelving in place of cabinets above your counters has continued to gather popularity over the last several years.
The open design is significantly less expensive than purchasing a full set of cabinetry, which can quickly run you north of twenty thousand dollars.
In addition, the architecture of this design element allows you to add smaller semi-decorative dishware pieces to the main areas of the kitchen, such as your best china or your collection of wine and beer glasses.
However, it's crucial to note that open shelving can sometimes be trickier to maintain and keep clean- especially if you're not the neatest.
---
Read Also:
---
Colorful Cabinetry
Custom cabinetry comes with a range of unique colors that sets the tone for your kitchen, as both a food prep work area and a living space.
Many homeowners choose one primary color for the majority of their panels but then select a second bolder palette for the island cabinetry.
When it comes to selecting colors for your cabinets and for your kitchen as a whole, it's best to stay away from the brighter, louder colors, such as yellow and red.
Stick to timeless selections on the cooler end of the color spectrum, such as blue, white, and gray.
Durable, Natural Countertops
Natural stone materials for your countertops will stand the test of time much more than the alternative, manufactured options.
In addition, they offer significantly more versatility in terms of visual appeal, which means they're usually a worthy investment if you're serious about creating a more luxurious kitchen experience for your home.
Quartzite and marble are excellent choices for almost all design styles, though they cost significantly more than materials such as quartz or laminate.
Granite is another solid choice for your countertops, though it requires regular sealing and aesthetically applies significantly better within more traditional layouts.
Luxury Appliances
Making upgrades to your kitchen doesn't have to be limited to the formal design elements. Your major appliances, including your range unit, refrigerator, and dishwasher, all add to the visual surface area of your kitchen.
When you're redesigning or remodeling your space, think carefully about which colors will match up with your cabinetry and aesthetics, and you'll have a more seamless kitchen experience.
Cove and Sub-Zero Wolf are a fantastic choice if you're looking to switch up these significant appliances.
Island Light Fixtures
If your kitchen features an island, or if you're building a new island, you'll need to select a new hanging light fixture for this countertop space.
The fixtures you choose for this space essentially become new focal points of the kitchen. With the popularity of open architecture in design, you'll need to think carefully about what kind of visual appeal these items bring to your space.
In some cases, the right light fixtures can almost serve as a central modern art installation.
However, it's essential to remember that these lights also need to perform a functional purpose and should be bright enough for everything from food prep to entertaining guests.
Custom Range Hoods
Another option for selecting a new designer centerpiece for your kitchen is a custom range hood.
Contemporary kitchen designs utilize more prominent, colorful structures for the range hood than modern and traditional designs.
The colors and metalwork associated with the installation are similar to the type you'd find with more stylish cabinetry, which can, in some cases, can match up with the cabinets to create a more seamless design experience.
The range hood also introduces more ornate metalwork into the space that lines up with the other hardware and sink fixtures.
Today, the collection of these metalwork items is casually referred to as "kitchen jewelry." The glitzy, glamorous look essentially allows your space to look more luxurious.
To install a custom range hood, you'll likely need to reach out for professional assistance from a kitchen designer or contractor. The installation is often heavy and, in some cases, can weigh upwards of 300 pounds.
A High Rising Backsplash
Backsplash tiling or stone that reaches from the base of the countertop all the way up the ceiling is a trend that's on the rise.
This backsplash can and should be a different material than your standard countertops, though it should still bring a seamless design appeal to the space.
If you're installing a custom range hood, high rising backsplash tiling is an excellent surrounding element for the former central design element.
To make this design pop, you'll need to invest in a quality product rather than choosing something meant to match a stricter budget.
Conclusion- Top Kitchen Design Trends for Your Remodel
If you're interested in assembling a space that looks and feels stylish yet timeless, you may want to consider reaching out to a custom kitchen design company.
The firm's professional designers can guide you through the choices you need to make in customizing your space and will offer the benefit of an exclusive network of vendors for materials such as your cabinets and countertops.