In the realm of home improvement and landscaping, there's a rising trend that's redefining the way we experience outdoor living: the custom private outdoor kitchen.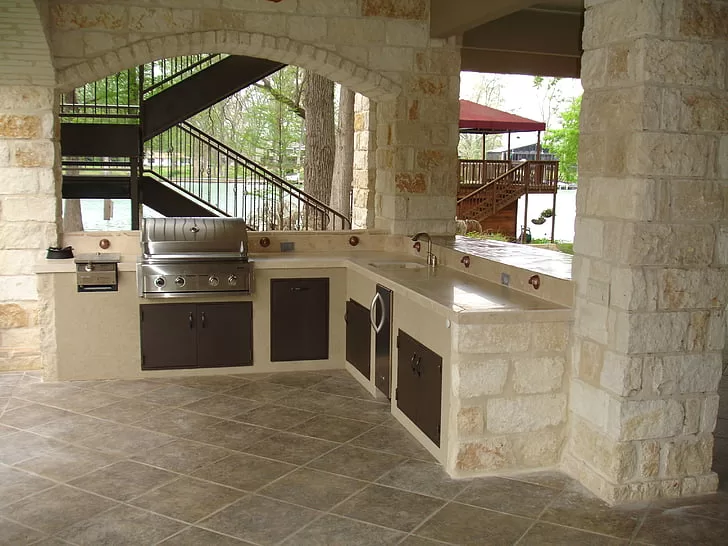 This innovation has transformed the traditional backyard into a haven of culinary delight, relaxation, and entertainment.
In this comprehensive exploration, we'll dive deep into the world of custom outdoor kitchens and how they can enhance your outdoor living experience.
The Allure of Outdoor Living
The allure of outdoor living spaces has captured the hearts of homeowners and designers alike. We'll start by delving into the broader concept of outdoor living and how it has evolved beyond the simple patio or deck.
Today, it's about creating seamless connections with nature, and a custom outdoor kitchen is at the forefront of this movement.
Custom Outdoor Kitchens: A Culinary Oasis
What defines a custom outdoor kitchen, and how does it differ from a conventional backyard grill? We'll dissect the key components and features that make these kitchens a culinary oasis.
From high-quality grills to custom countertops and storage solutions, every detail is meticulously designed to elevate your outdoor cooking experience.
---
Read Also:
---
The Art of Customization
One size does not fit all when it comes to custom outdoor kitchens. We'll explore the art of customization, where your outdoor kitchen is tailored to your unique needs and preferences. From choosing the right layout to selecting materials that complement your landscaping, customization is at the core of this outdoor transformation.
Landscaping: The Outdoor Kitchen's Perfect Companion
Landscaping plays a pivotal role in the synergy between your outdoor kitchen and the natural surroundings. We'll delve into the landscaping aspects of your outdoor space, from selecting the right plants to create a lush backdrop to integrating hardscape elements that seamlessly connect your kitchen to the outdoors.
Functionality Meets Aesthetics
A custom outdoor kitchen isn't just about functionality; it's also an aesthetic masterpiece. We'll explore how thoughtful design choices can enhance both the beauty and usability of your outdoor kitchen. From choosing the right lighting to incorporating stylish yet durable materials, this is where form meets function.
Outdoor Kitchen Entertainment
Your custom outdoor kitchen isn't just a place to cook; it's the heart of your outdoor entertainment. We'll discuss how these kitchens are designed to facilitate social gatherings, from intimate family dinners to larger parties with friends. It's about creating memorable moments in the great outdoors.
Investment Value
Beyond the immediate benefits, a custom outdoor kitchen can be a sound investment. We'll examine how this addition can enhance your property's value, making it an attractive proposition whether you plan to stay or sell in the future. It's an investment in your home's lifestyle and financial worth.
Year-Round Enjoyment
Your custom outdoor kitchen isn't limited to a particular season. We'll discuss how thoughtful design and the right equipment can extend its use throughout the year. Whether it's grilling in the summer or cozy winter gatherings by the outdoor fireplace, your kitchen can be a year-round retreat.
The Future of Outdoor Kitchens
As technology and design trends continue to evolve, we'll explore the future of outdoor kitchens. From smart kitchen appliances to sustainable materials, staying ahead of the curve can ensure your outdoor space remains not just current, but ahead of its time.
Maintenance and Longevity
An essential aspect of outdoor kitchen ownership is maintenance. We'll discuss the best practices for keeping your custom kitchen in top shape, ensuring its longevity, and protecting your investment for years to come.
Outdoor Kitchen Case Studies
Sometimes, the best way to envision your dream outdoor kitchen is by seeing what others have done. We'll share case studies of remarkable outdoor kitchen projects, showcasing diverse styles and design choices.
The Sustainable Outdoor Kitchen
Sustainability is a growing concern, even in outdoor spaces. We'll explore eco-friendly options for your outdoor kitchen, from energy-efficient appliances to environmentally responsible materials.
Outdoor Kitchen Accessories
Accessories can take your outdoor kitchen to the next level. We'll look at options such as outdoor sound systems, lighting, and more to make your space truly exceptional.
Permits and Regulations
Before you embark on your outdoor kitchen project, it's essential to understand the permits and regulations involved. We'll provide insights into this often-overlooked aspect of outdoor kitchen construction.
Choosing the Right Professionals
Your outdoor kitchen project's success depends on the professionals you choose to work with. We'll guide you through the process of selecting architects, designers, contractors, and more, ensuring your project is in capable hands.
Financing Your Dream Outdoor Kitchen
Outdoor kitchens come with a cost, and we'll explore how to budget for your project and consider financing options that align with your financial goals.
By expanding on these additional headings, we've provided a more comprehensive guide to creating your dream outdoor kitchen space. You now have access to a wealth of information to help you design, build, and maintain the perfect outdoor kitchen tailored to your needs and preferences.
Conclusion: Elevating Outdoor Living
In conclusion, a custom private outdoor kitchen is not just an addition to your home; it's a transformation of your lifestyle. It's about creating a space where you can connect with nature, savor culinary delights, and forge cherished memories with loved ones.
As you embark on the journey of designing your outdoor kitchen, remember that it's an investment in your well-being, your property's value, and your ability to enjoy the beauty of the great outdoors.