In boxing and martial arts, a punching bag is essential for honing your skills, improving your technique, and building strength and endurance.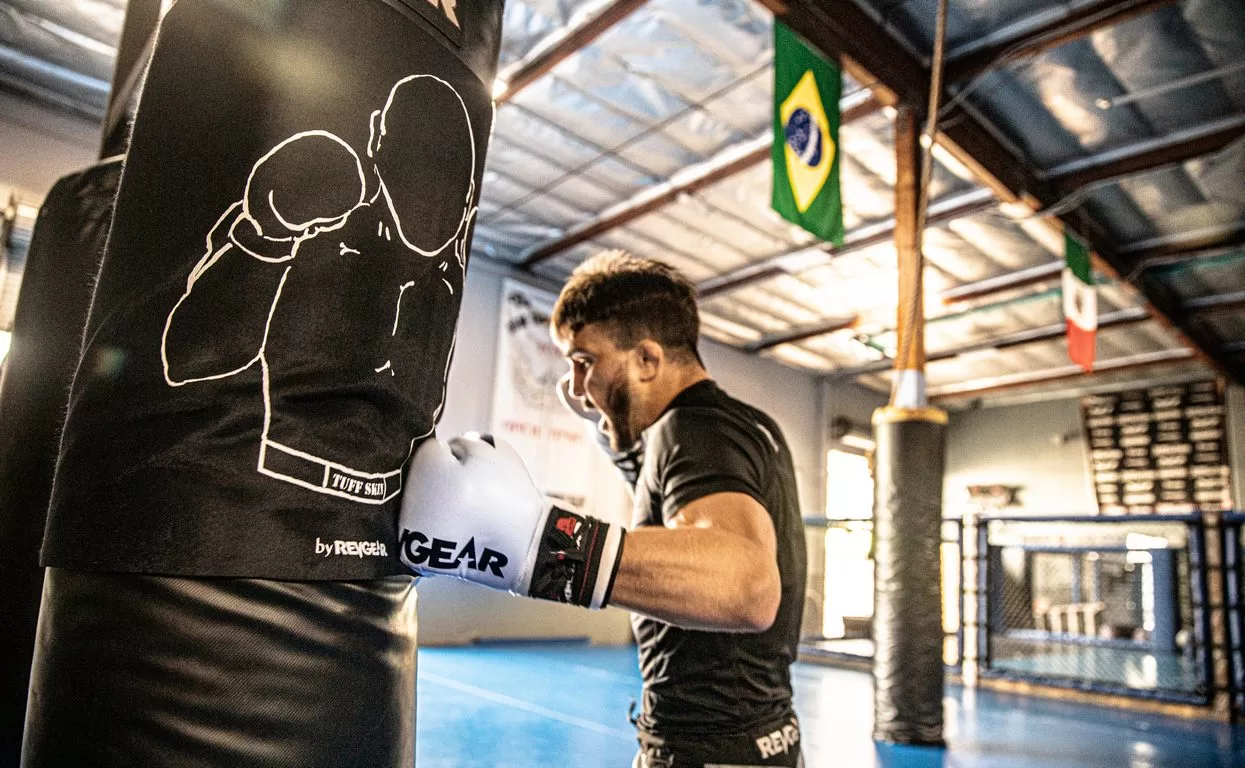 Whether you're a seasoned boxer or just starting your fitness journey, having a punching bag in your home gym can provide a convenient and effective training method.
Bag Type and Style:
Punching bags come in various types; each designed to cater to different training goals.
Heavy bags are sturdy and provide resistance, making them great for building power and strength.
Speed bags, on the other hand, enhance hand-eye coordination and improve rhythm.
Double-end bags offer a combination of speed and accuracy training.
Choose a bag type that aligns with your training objectives and skill level.
Bag Weight:
Bag weight plays a crucial role in your training experience when buying punching bags.
Heavier bags (around 70-100 pounds) are ideal for building strength and power, while lighter bags (about 40-60 pounds) are better suited for speed and precision training.
Select a bag weight that challenges you without compromising your technique.
Filling Material:
Punching bags are typically filled with materials like shredded fabric, sand, foam, or a combination.
Each filling has its advantages.
---
Read Also :
---
Foam offers a more forgiving surface and is gentle on your hands, while sand provides a denser and more realistic resistance.
Consider your comfort level and training preferences when choosing the filling material.
Durability and Quality:
Invest in a punching bag from high-quality materials that withstand rigorous training sessions.
Look for bags with sturdy stitching, reinforced seams, and durable outer covers.
Leather bags are premium options for durability, but synthetic materials like vinyl can also offer good longevity.
Mounting and Installation:
If you opt for a hanging bag, ensure your home gym has proper ceiling support or wall space to mount it securely.
The installation process may require additional equipment, such as heavy-duty chains or brackets.
Always prioritize safety when setting up your punching bag.
Budget:
Punching bags come in a wide price range, depending on size, quality, and brand.
Set a budget that aligns with your preferences and needs.
Remember that a good quality bag is an investment that will serve you well over the years.
Brand and Reviews:
Research reputable brands are known for producing high-quality punching bags.
Reading customer reviews and seeking recommendations from experienced boxers or fitness enthusiasts can provide valuable insights into the performance and durability of different bags.
Maintenance:
Proper maintenance can extend the life of your punching bag. Regularly clean the surface with a damp cloth, and inspect the seams and straps for any signs of wear.
If your bag has adjustable straps, check and tighten them periodically.
In conclusion, adding a punching bag to your home gym can take your boxing and fitness routine to the next level.
When selecting the perfect punching bag, consider your training goals, available space, and budget.
Whether you're looking to build strength, improve technique, or release some stress, a punching bag is an investment that will bring countless benefits to your home workout regimen.
Start shopping, swing, and get ready to unleash the boxer within you!