What Is Crawler Crane? A crawler crane is a type of mobile crane that is mounted on a set of crawler tracks, allowing it to be moved around a construction site with ease.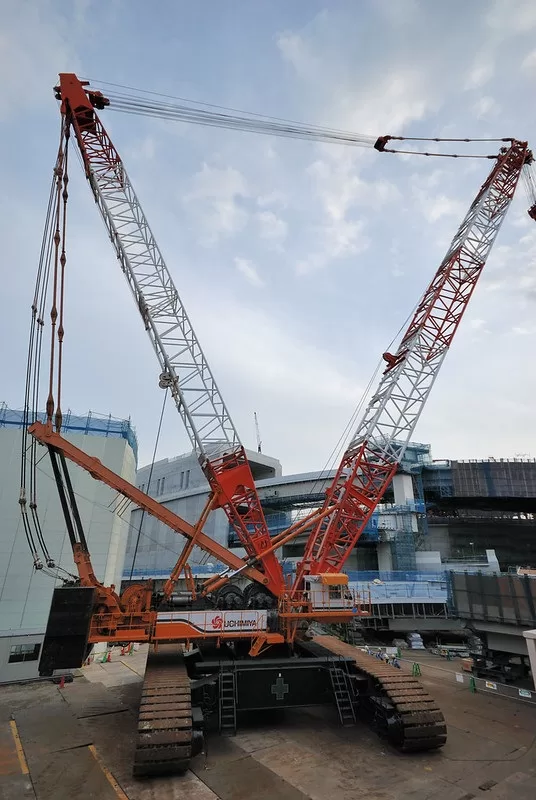 The crane is typically equipped with a long boom that can be extended and rotated to reach high areas, making it ideal for lifting heavy loads and performing other heavy-duty tasks.
Crawler cranes are used in a variety of industries, including construction, mining, and shipbuilding. They are well suited for use in challenging terrain or uneven surfaces and can be equipped with various attachments and accessories to enhance their versatility.
Some of the features that distinguish crawler cranes from other types of cranes include their stability, mobility, and ability to carry out a wide range of tasks, making them an important tool for many construction and industrial operations.
Crawler Crane for Rent
When it comes to renting a crawler crane, safety should be a top priority. Here are some tips to help you rent a crawler crane safely:
Choose a reputable company: Look for a company that has a good reputation for providing high-quality equipment and excellent customer service. Make sure the company is licensed and insured.
Inspect the equipment: Before you rent a crawler crane, inspect it thoroughly to ensure that it is in good working condition and free of any damage. Check the brakes, controls, and safety features to make sure they are functioning properly.
Read and understand the manual: Make sure you understand how to operate the crane safely and efficiently. Read the manual thoroughly and ask the rental company if you have any questions.
Follow safety procedures: Always wear the proper personal protective equipment, such as hard hats and safety harnesses, and follow the safety procedures outlined in the manual.
Train your operators: Make sure your operators are trained and licensed to operate the crane. They should also be familiar with the safety procedures and know how to respond in case of an emergency.
By following these tips, you can help ensure a safe and successful rental experience with a crawler crane.
Benefits Of Crawler Crane
There are several benefits of using a crawler crane, including:
Stability: Crawler cranes are mounted on crawler tracks, which provide a stable base for the crane to operate from, even on uneven or soft ground. This stability is important for ensuring safety and the successful completion of tasks.
Mobility: Crawler cranes are highly mobile and can be easily moved from one location to another, making them ideal for use in construction sites that are constantly evolving.
Lifting capacity: Crawler cranes are capable of lifting heavy loads, making them ideal for tasks such as moving steel beams and concrete blocks, or lifting equipment and machinery.
Versatility: Crawler cranes can be equipped with various attachments and accessories, such as a jib or winch, to increase their versatility and allow them to perform a wider range of tasks.
Ease of operation: Crawler cranes are typically equipped with modern controls and safety features, making them easy to operate and reducing the risk of accidents or malfunctions.
Cost-effective: Compared to other types of cranes, crawler cranes are often more cost-effective, as they are designed to be durable and long-lasting, reducing the need for frequent repairs or replacements.
Overall, the benefits of crawler cranes make them an essential tool for many construction and industrial operations, helping to increase productivity, efficiency, and safety. The crawler crane price can vary widely depending on several factors, including:
Size and capacity: The size and lifting capacity of the crane will have a significant impact on the price. Larger, more capable cranes will typically be more expensive than smaller models.
Brand and model: The brand and model of the crane can also impact the price. Some of the most popular brands of crawler cranes include Manitowoc, Terex, and Liebherr, and prices can vary significantly between different models.
Age and condition: The age and condition of the crane can also affect its price. Newer cranes will typically be more expensive than older models, while cranes in good condition will generally be more expensive than those that are in poor condition.
Additional features: Crawler cranes can be equipped with a variety of additional features, such as a jib or winch, which can increase the overall cost of the crane.
In general, the price of a crawler crane can range from several hundred thousand dollars for a small, used model, to several million dollars for a large, brand-new crane with advanced features. It is always recommended to get quotes from multiple suppliers to compare prices and find the best deal.