You have finally saved enough money for the couch you have been eyeing at the furniture store. But, there is one challenge you need to overcome.
And that is what to do with your old couch. The first thought is to call the junk removal service providers to haul it off your property to the nearest landfill.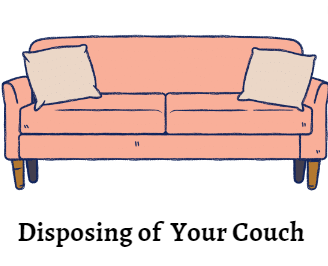 But before you do that, have you considered how you will be contributing to environmental pollution? According to the EPA, furniture takes up to 9 million tons of landfill waste.
Yet, in some cases, you will not find anything significantly wrong with the trashed items. Indeed, some of the furniture only needs minor repairs or simple cosmetic changes to make them look good again.
We will share some ideas for disposing of your couch below. Please let the landfill be the last option you consider. We must all do our part in ensuring we contribute to sustainability. If not for ourselves, let's give our future generations a world worth living in.
1.  Let the Junk Removal Service Take the Couch
The first and most convenient way to dispose of your couch is to let the junk hauling services providers take it away. Do you want the hassle of moving your massive couch from one place to another?
Or do you want to deal with the expense of paying for transportation? Then you still have to look for a landfill to dump the coach in.
Well, your junk hauler can easily take care of this tedious task. Indeed they will take care of any other bulk waste like construction debris, mattresses, and bulky appliances.
You may be wondering, how do I find junk removal services near me? Well, it is as simple as typing the correct query in search engines. Please remember to input your location to get those nearest to you.
Reputable junk removal companies offer same-day pickups inexpensively. Do proper due diligence on the company first. Read plenty of customer reviews to see the kind of service you can expect.
Junk removal prices vary from provider to provider. But a sign of a trustworthy company is that they are willing to share fair, transparent pricing structures. You should, from the front, know how much it will cost you to dispose of the couch and any other junk from the house.
---
Read Also:
---
2.  Give Out the Couch
Instead of throwing out the couch, how about giving it out? You may have family or friends just starting their independent living. You can bet they would appreciate the seat.
Alternatively, post the couch's availability on online platforms like Facebook Marketplace and Craigslist. You don't even have to sell it; give it out. You can put a minor condition that the recipient will have to pay for the junk pickup service.
One thing is for sure, hiring professionals to drop the couch at their preferred location will be much cheaper than buying a new one.
A third alternative is to donate the couch to a charity organization. A needy family somewhere could be the lucky new owner due to your generosity. Goodwill, women's shelters, and The Salvation Army are excellent options. Sometimes, they will even pick up the couch from your house. That saves you the junk removal cost.
You can also check out platforms like Furniture Banks. The organizations collect furniture from donors and give them to needy families.
Donating the couch is a simple act of kindness that will fill you with such warmth. It feels good to know that a piece of furniture that served you well will find a home elsewhere. But there is another benefit you need to be aware of. Donating to charities has tax benefits, as you can claim them as deductions.
3.  Sell the Couch
If the couch is still in good condition, you can get back some money by selling it on:
Online platforms like Facebook Marketplace, eBay, and Gumtree
Garage sales
Flea markets
Secondhand furniture collectors, etc.
Remember, the amount of money you get will depend on how good the couch looks. So, please clean it up a little to eliminate stains or dirty spots.
Sand and polish the wooden parts to make them look better still. Making such simple improvements will make the couch more attractive to potential buyers.
If you will be using junk hauling services to move the sofa, ask them to be careful with it. Wrapping it in cling film will help keep it clean during the move.
4.  Upcycle the Couch for Outdoor Use
If you have outdoor space, consider upcycling the couch for outdoor use. Plenty of online tutorials and YouTube videos can give some fantastic ideas. You will, for example, need to change the fabric to one suitable for the outdoors.
Also, apply an extra coating of sealant or polish to the wooden parts. Doing this will help protect it from the harsh impact of the weather.
5.  Take the Old Coach to the Local Recycling Centers
You can take the couch to the local recycling centers. But please prepare yourself for some of the stipulations they may have. The most common is that you will have to transport the couch to their location.
But with affordable junk hauling services, that should not be too much of a concern.
Another stipulation may be that you deconstruct your sofa before sending it to them. That may include even cutting the frame and removing the fabric.
In the end, the hassle of using the recycling centers may be a bit much. The best alternative would be to let the junk haulers take the couch.
Reputable junk hauling services companies do their part in environmental conservation. The landfill is rarely the first option they will choose. Their teams sort through the junk to see which ones they can recycle, donate or sell.
Final Thoughts
Your old couch has served you well, but it is time to say goodbye. As we have shared above, there are so many ways you can dispose of it. One of the most convenient ways is to let the junk hauling services take it away for you.
With affordable junk removal services, you avoid the hassle of dealing with a bulky couch. It also frees you from worrying about where to dump it.
The other couch disposal options include donating, selling, upcycling, or using the local recycling centers.
Your last option should be the landfill. We must all do our part, no matter how little, to conserve the environment.