A beautifully decorated living room is every home's centerpiece, and since early last year, coziness and decor have taken a whole new meaning and degree of importance.
Since the start of the pandemic, we all get to spend much more time at home, and having functional and beautiful living room furniture is now of paramount importance.
If style, design, functionality, and affordability are all equally important to you, Bush Furniture is your one-stop shop for all the living room furniture you'll need to truly transform your home.
Below is a list of a few pieces you could add to your living room to make your space cozy and organized.
TV Stands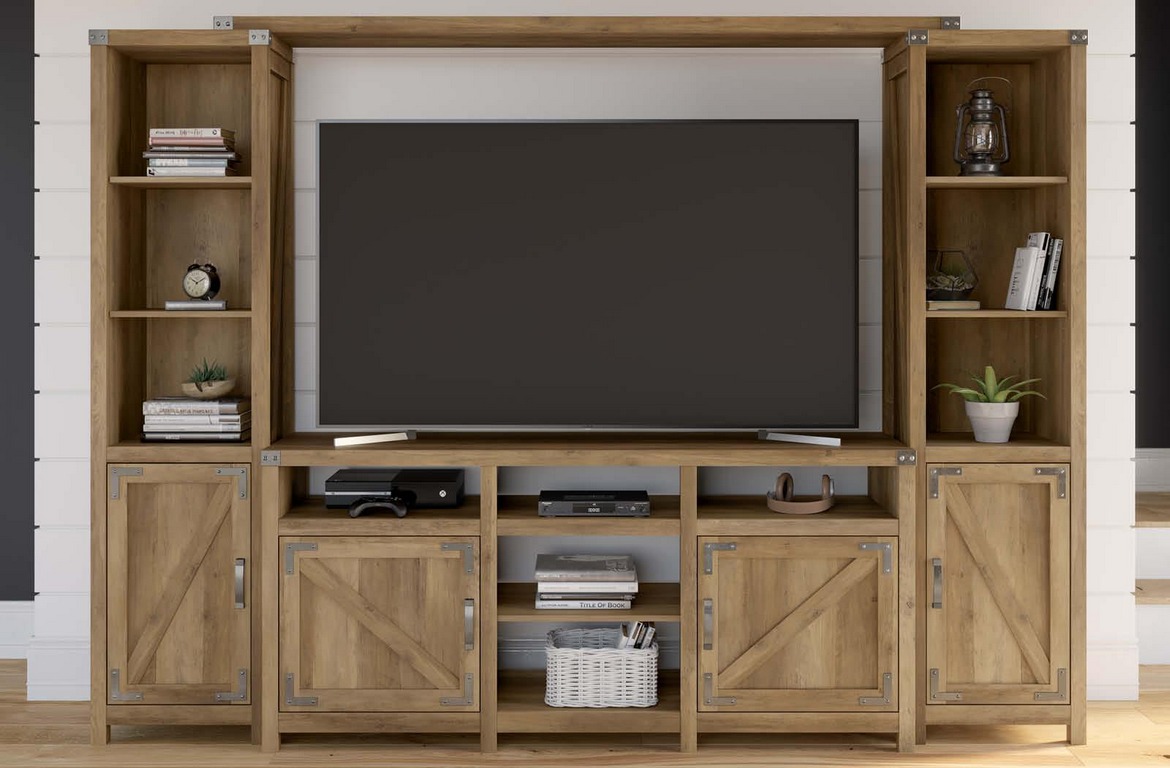 Nearly every night is movie night since the start of the pandemic, and a good TV stand is surely a great living room furniture piece to invest in. There are several options to choose from depending on the size of your TV and your need for additional storage.
If you're looking for a space-saving solution that can hold a big TV without too much extra storage, the Bush Furniture Salinas and Refinery Collections might be right up your alley.
Simple, no-nonsense, and budget-friendly, these TV stands offer just enough space to fit all your belongings, either on the two central shelves or inside the two side compartments.
In case you're on a hunt for a piece of living room furniture that will provide plenty of storage as well as a platform for your TV, check out the Key West Collection by Bush Furniture.
The TV stand comes with several shelves and a central compartment with doors, and included in the bundle are two massive bookshelves that will provide enough storage for movies, books, trivia, and more.
Lastly, if you're looking for a unique piece of design at an enticing price, check out the Kathy ireland® Home by Bush Furniture Cottage Grove Collection. Beautiful industrial and rustic materials are fused to create unique pieces that will make your living room truly stand out.
Bookcases
One of the greatest additions to any living room is a tall and imposing bookshelf. Whether you want to store books, magazines, and movies or simply showcase objects, photos, or little plants, bookshelves add a beautiful touch to any interior.
Some models come with open shelves, while others come with two doors at the bottom. Choose the first if you prefer to showcase everything in full view, and the latter if you prefer for more privacy and want your items to be hidden from sight.
---
Read Also:
---
Writing Desks and Accent Tables
A truly wonderful addition to any living room is a desk, coffee table, or accent table. They all provide extra surfaces for your needs and make the space more inviting and organized.
A little writing desk is a wonderful idea for small homeowners and tenants who are looking for an affordable and space-saving work surface.
They are also perfect for those who prefer to have an additional desk in the home, besides their main office desk, to switch environments while working to keep their workflow and productivity going.
Coffee tables, console tables, and small end tables visually make the room look more organized and offer extra surfaces to decorate your room in a cozy and inviting way.
Undecided about which pieces of living room furniture you need? Opt for a bundle, like the Anthropology set which includes a large coffee table, a console table, and two end tables.
Glass, metal, and rustic wood are fused to create a modern industrial and minimalist style that will make your home truly unique. You won't regret it, and your living room will look amazing!