Trees are an essential part of any landscape design.
They do not only prevent soil erosion but also are the perfect shelter from the exhausting sun in summer and from chilling winds in winter. Both adults and children like fruit trees while they give sweet and juicy crops.
Yet, like any other plant, the tree needs care. You have to maintain your garden to get a rich harvest every year. Otherwise, trees are to congeal.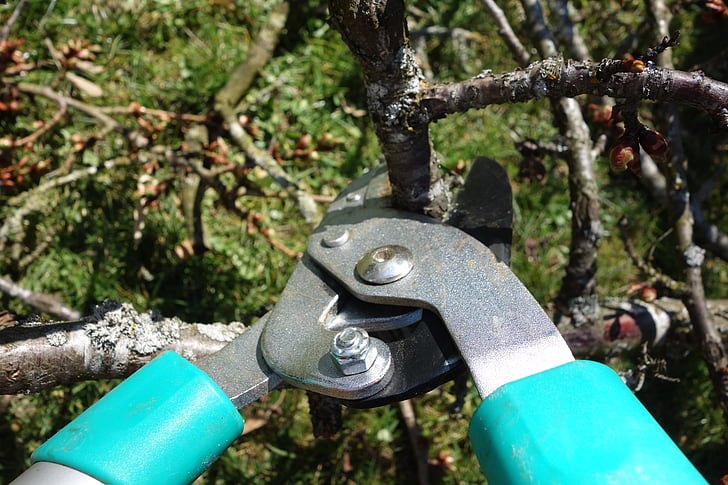 There are several steps you should follow to make your trees bloom and yield:
Watering is an essential point. Many beginner gardeners are sure that plants take the necessary liquid from the soil and rainfalls. It's not true. You have to water every plant. It's necessary to keep the soil moist;
Mulching helps to protect roots from harsh weather conditions such as wind, frost or heat;
Weed control. It's clear that trees are bigger than grass. Yet, when it comes to weeds, they are able to hurt even the largest plant. That's why it's better to protect every sample with the help of high-quality woven landscape fabric.
You can find it on the Net or at the nearest farmer market. Moreover, some variations of the woven landscape fabrics are the ideal means against soil erosion;
Pruning is an effective way to make greenery look awesome and feel awesome.
Yet, the last point often becomes a reason for various plant diseases. It happens because people don't know exactly what the pruning is, what things they should do and what they shouldn't.
The following information will help you to avoid the most common mistakes and to extend the life of the greenery.
---
Read Also:
---
Mistake #1. Pruning is not obligatory
It's a common misbelief. Some gardeners think that it's not necessary to get rid of old or broken branches.
They like to say that in the wild nature nobody does this but the trees last longer. It's not the whole truth. In forests, wild animals help trees to get rid of unneeded sticks.
To avoid this mistake, you have to make a plan for your garden works and include pruning in it. Otherwise, you risk losing your greenery.
It seems to be so fast and easy when other people are pruning. Yet, it's not worth doing without training. You may hurt not only trees but yourself.
There are several ways to avoid such troubles. The most effective one is to hire a professional. The expert will do everything fast and in a proper way.
If you still want to do it by yourself, it's better to consult experienced relatives or friends. Moreover, you can find plenty of information on the Net.
Many gardeners are sure that topping promotes further growth of new branches. Yet, the results are contrary to what they expect.
Topping weakens the structure of the plant. That's why you should start only with broken and old sticks. If you are not sure that the branch is not healthy, it's better to leave it.
Whether you want it or not but you can damage bark when pruning your tree. It may kill the greenery. You have to choose less harmful ways of pruning. If the bark is already damaged, you can apply a tree wrap.
Tips for Successful Pruning
There are many ways of pruning. It's up to you to choose the most appropriate one. Raising is good when it comes to the removal of the lowest branches. The reduction is necessary when you need to get rid of the stem.
Canopy thinning is a good choice if your plants are overgrown. It's not a good idea to remove more than 20% of the foliage. Dead wooding aims at removing dead or dangerous elements from the plant.
You should keep in mind that you don't need to get rid of branches every season and even year. It depends on the type of plant and its conditions.
Typically, you should do it once per 3-5 years. Also, it's of prime importance to prepare the necessary tools to cope with the task. You may need anvil, bypass, and ratchets.
To sum it up, it should be noticed that pruning is important but you have to be prepared for this task.