Cooking in the kitchen is an enjoyable activity that can be even easier if you have the right tools.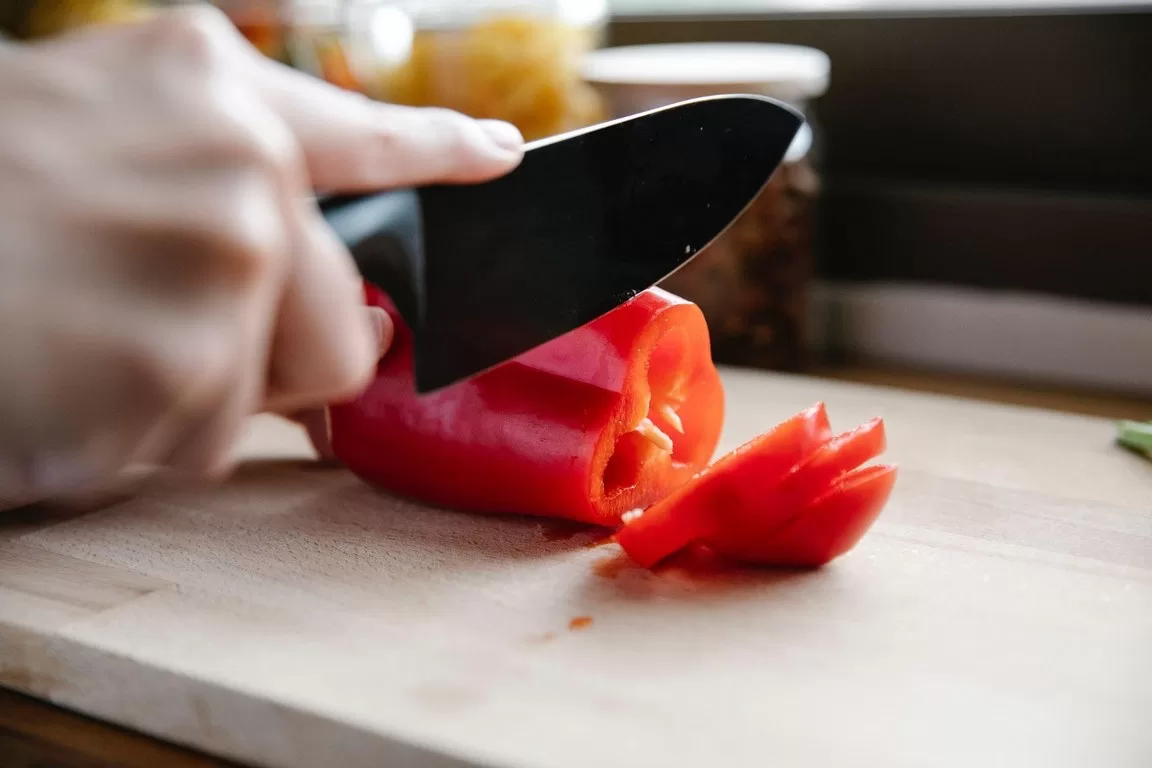 One of the most essential tools you'll need is a good knife and using it correctly can make all the difference between a delicious meal and a disaster. However, some common mistakes people make when using knives should be avoided. In this article, we'll look at five common knife mistakes to avoid in the kitchen.
Knife safety and proper use are essential for any kitchen enthusiast. Not only does it help create beautiful meals with ease, but it also helps keep you safe from potential injury or accidents. Keep reading to learn more about five common knife mistakes you should avoid when cooking in the kitchen!
Not Holding the Knife Correctly
Even if you're experienced in using a knife, it's still important to take care when slicing or chopping food. One of the most common mistakes people make in the kitchen is not holding their knives correctly. It's vital to hold the knife handle with your dominant hand and place your other hand on top of the blade.
Keep your fingers curled from the blade's edge, as any contact could cause serious injury. Keeping a firm grip on the handle and being mindful of how you move your hand can help ensure you don't slip up and cut yourself accidentally. Taking safety precautions like these will help prevent accidents and ensure you can use a knife safely and effectively in your kitchen.
Not Using the Right Knife for The Job
Forgetting to use the right knife for the job is a common mistake. With so many different kitchen knives available, it can be challenging to choose the right one. Knives are designed for different purposes, so ensure you have the right one. Doing so will help you create great results and remain safe. When chopping vegetables, a chef's knife or utility knife is ideal.
---
Read Also:
---
Dull Knives Increase the Risk of Injury
Cutting and slicing can be made easier and safer with a sharp knife. But it's just as important to know how to avoid the risks of using a dull one. The risk of cutting yourself increases when you use a dull blade, as you need to put more pressure on the knife, making it much harder to control.
This means there is an increased chance of slipping, resulting in nasty cuts and injuries. Not only does this pose a danger to your safety, but it also affects the quality of the food you prepare; by having to press harder on fruits and vegetables, you end up crushing them instead of slicing them cleanly. Keep all your knives sharp to ensure your culinary experience is as safe and enjoyable as possible.
Improper Knife Storage
Storing your knives correctly is essential for having a safe kitchen environment. But if you're not careful, you can easily make mistakes that could lead to dangerous accidents or even permanently damage your knives. Let's look at some common kitchen knife storage mistakes you should avoid.
One of the most common mistakes is storing your knives lose in drawers, which can be highly hazardous. Not only can this cause sharp edges to rub against each other and become dull over time, but it also increases the risk of injury when reaching into the drawer.
Using a knife block, magnetic strip, or organizer tray is best so your knives stay protected and organized. Additionally, ensure the blades are facing down when storing them vertically to prevent accidental cuts.
Cutting On The Wrong Surface
Pay attention to how you store and handle your knives, but it is also important to remember that cutting on the wrong surface can be dangerous. Avoid cutting on glass, metal, or marble surfaces, as this could damage the blade, resulting in uneven cuts and potential injury. Using a wooden or plastic cutting board will help protect your knife and countertop.
When using a chopping block, choosing one that is sturdy and not easily moved when slicing with the knife is important. If the block moves when using force with the knife, it increases the risk of accidentally cutting oneself.
In addition, avoid using ceramic plates or any other hard surface that may chip or break from contact with a sharp knife blade. Taking these precautions will ensure maximum safety while in the kitchen.
Frequently Asked Questions
How Often Should I Sharpen My Kitchen Knives?
Sharpening your kitchen knives is important to maintain them, but it should be done only sometimes. It would be best to sharpen your kitchen knives at least once every year or two, depending on how often you use them.
If your knives become dull before the end of the year, consider sharpening them more frequently. However, it's important to be careful when sharpening your knives, as improper sharpening can lead to damage and make the knife less effective.
What Is the Best Way to Store Kitchen Knives?
When it comes to knife storage, the best way to keep your kitchen knives safe and ready for use is in a block or magnetic strip. This will help protect the blades from coming into contact with other objects, which can damage them.
Additionally, storing them on a wall-mounted magnetic strip can be a great way to keep your kitchen organized and clutter-free. Make sure to clean your knives regularly and store them away safely when not in use.
What Is the Safest Way to Hold a Kitchen Knife When Cutting?
When cutting with a kitchen knife, it is important to hold the knife correctly to ensure safety. To do this, grip the knife's handle firmly with your dominant hand and ensure your thumb is placed on top of the blade or handle.
Keep your other hand away from the blade and use it to guide the food you are cutting. Keep your hands at least two inches apart when holding and maneuvering the knife. This will help you maintain control and reduce the risk of an accident.
Conclusion
Sharpening kitchen knives is an important part of knife maintenance. It can help ensure you always use a sharp blade and avoid accidents. Storing your knives properly is also essential, as it helps keep them protected and out of reach of children.
When you use a knife, hold it correctly and use a good cutting board to prevent damage to both the knife and the food. Lastly, having the right type of knife for the job will make your life easier when prepping meals in the kitchen. By following these simple tips, you'll be able to enjoy cooking with knives for years to come safely!