If you have ever met a happy family, you need to know that it starts with the kitchen. They make delicious and mouthwatering foods that will make you long for another visit.
But this does not just happen; one got to have the right tools for the job to make such meals.
One of the most important parts of the cutlery that is a must-have is the kitchen knife. It has a wide variety of uses that demand a must-have in every kitchen.
There are numerous of them in the market, but three of the must-have for any quality kitchen. These make cooking easier, fun, and keep longing for a tomorrow to get the same experience.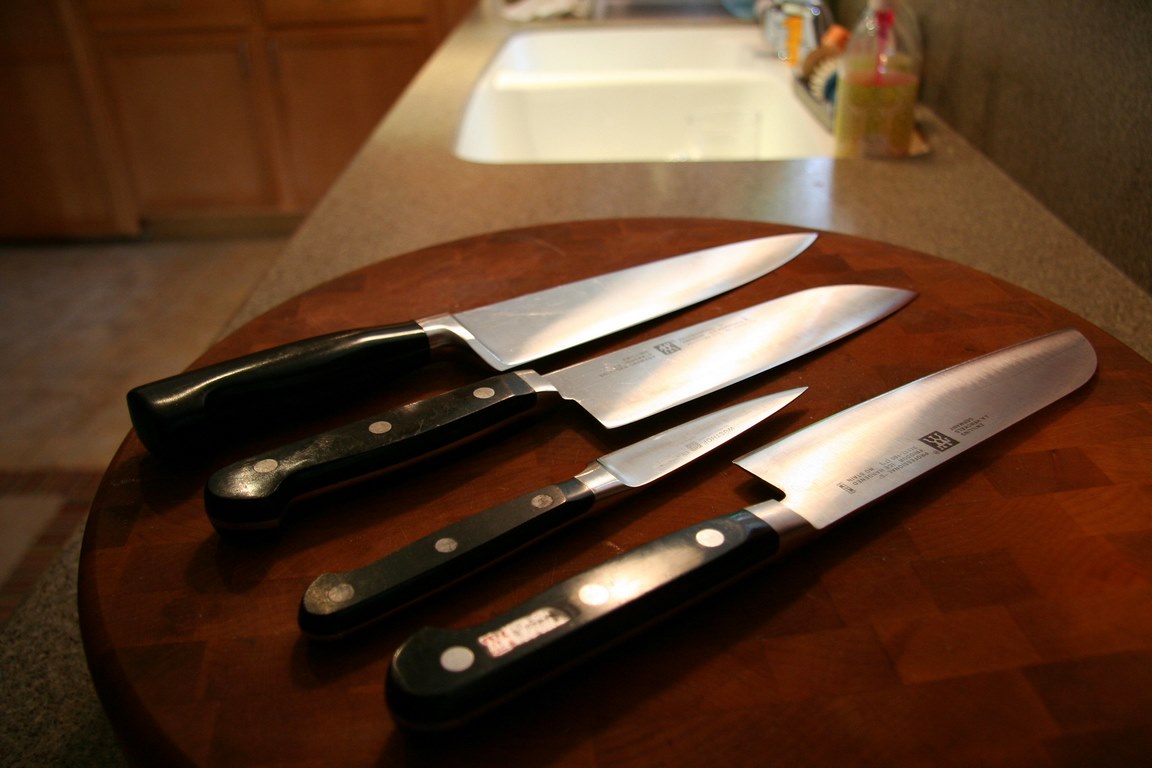 The Paring Knife
Have you ever watched an artist creating beautiful works of art? The results look gorgeous, and anyone would love to have the beauty in their houses.
The same happens to any chef, whether at home or in a five-star hotel. Different knives are used for different purposes, essentially to create culinary masterpieces.
A paring knife is one such knife that resembles a miniature chef's knife whose blade is 2 to 4 inches long. It's commonly referred to as the baby knife in every kitchen.
---
Read Also:
---
When peeling an apple or a potato, a sharp paring knife will perfect the job. One can easily peel a potato onto one long strip at a go.
But it's important to take precautionary measures to avoid hand cuts. One can wrap fingers around the hilt with the blade that is facing the thumb. All you need to ensure is comfort while peeling the food.
For the lovers of orange juice, citrus segments for salads, this knife does its best. The knife helps in removing the peels and the pith of the citrus fruits that cause bitterness.
Afterward, one can segment the surrounding membranes easily when preparing the salad or making some tasty juice.
The Chef's Knife
The chef's knife can be referred to as the jack of all trades knife in every kitchen. It's one of the cutleries that every kitchen user cannot afford to miss in the kitchen. Its blade range between 6 to 10 inches long and generally used for any work that one would intend to do in the house.
This includes slicing meat and disjointing large cuts, chopping vegetables, and many other uses.
Another name that is commonly referred to is the cook's knife. Depending on the manufacturer, the chef's knife blade is made of either carbon steel, stainless steel, or a laminate of both metals or made of ceramic.
This is to ensure its long-lasting effect and have a stainless steel surface.
Its edge is ground in several ways, such as Hollow-ground, convex edge, chisel edge, or a double grind.
For precise control of the knife, many users hold the blade with the thumb and grasp it with the index finger. This boosts its grip and enhances control.
The Serrated Knife
This is a great knife that is excellent for cutting foods with a different texture on the inside and a different one on the outside. An example is bread cutting.
In essence, they have scalloped or teeth-like edges.
They make the blade develop a grip using the teeth while the rest of the knife slides smoothly through the food.
One of the safety measures with this knife is that hitting your knuckles after you finish cutting is minimized.
Other uses of a serrated knife include cutting tomatoes, pineapples, and watermelons into shape. All these fruits bear hard skin on the outside and soft on the inside.
It makes it easy to cut them to shape without cutting your skin and helps cut them in a signal swoop.
What to Look for When Buying a Quality Kitchen Knife
Before making any purchase, always consider the type of knife you need to use in the kitchen.
This will save disappointments, and make cooking enjoyable and possibly a hobby.
Below are some factors to consider when buying a kitchen knife
Cost
Depending on the frequency of use, a quality knife is important to maintain momentum at all times. There are a variety of quality kitchen knives under $100 that will work magic in your kitchen.
Such include Miyabi 8″ Morimoto Edition Chef's Knife, Global G-4-7 Oriental Chef Knife,7″ blade, among others.
The knives are affordable and have a perfect balance to match one's uses.
Materials Used to Manufacture the Knife
The best brand is normally made of stainless steel, which enhances strength and durability. The softer carbon steel knives are more recommended because it is easier to sharpen.
However, if it is for daily use,  high carbon steel is recommended due to its usage frequency.
Other good materials include ceramic knives, but on the other hand, care should be taken because they are very brittle.
Storage
Most quality knives come with a storage system.
The holder is essentially meant to protect blades and avoid accidental cuts if kept together with other cutlery. Some look like decoration because they can be fitted into a kitchen wall or steel designed to fit a kitchen cabinet for safety purposes.
Sharpening Capacity
Every cook loves a sharp knife for speed and efficiency. For instance, greens need to be chopped in a slim manner to look appetizing and cook well.
There are two best ways to sharpen a knife, either grinding the knife to a sharpening stone or using an electric knife sharpener.
Every quality knife has this characteristic to ensure that it serves long without tiring using a blunt knife.
Conclusion
A good kitchen knife is sturdy, comfortable to use, and, most importantly, strong. These three types of knives discussed here above possess these characteristics.
It's worth trying any of them for an awesome experience. Our users who have had an experience with any of them have had great testimonies that prove they are among the best knives that are a must-have.