Even if you've only been working in a kitchen for a few months, there's a good chance that you have a set of knives already. When it comes to selecting the right knife for the job, the options can be confusing.
If you are new to buying kitchen knives, then this guide is for you. It will help you understand the different kinds of knives available in the market and the type of care that they require.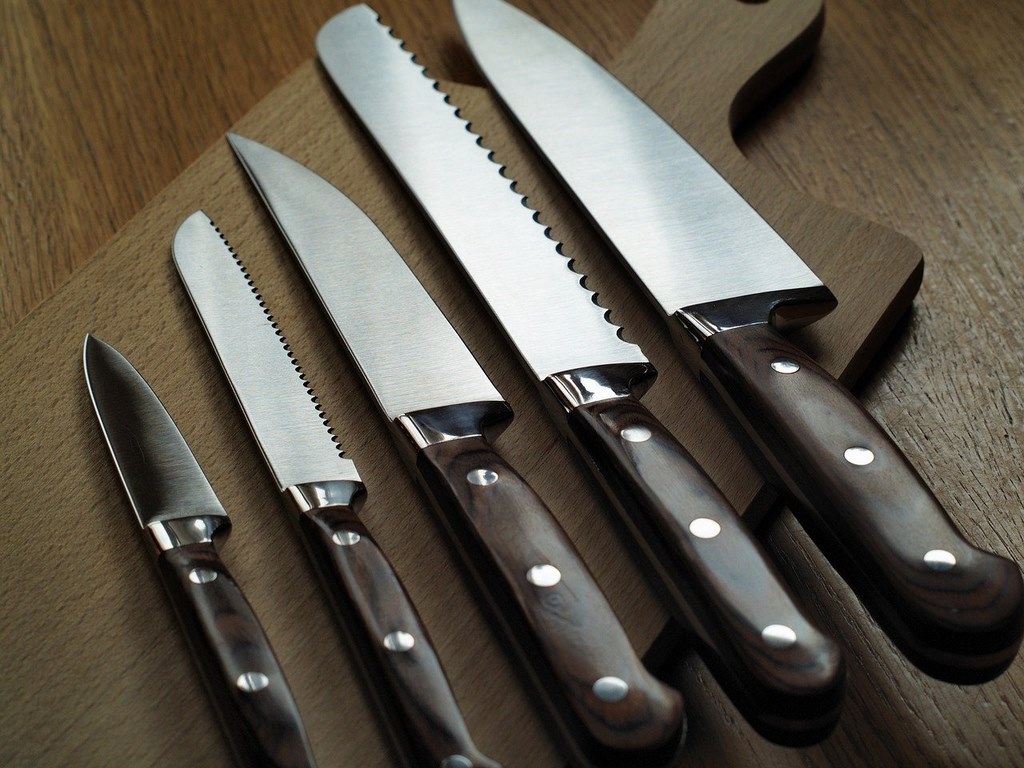 Magnetic Knife Bars
You can easily install this magnetic knife bar anywhere in your kitchen, the only limit is your imagination. Don't settle for just any old knife holder.
With knife bars, you can get one that has pre-made slots for your most commonly used knives, or you can place them wherever you like. If more knives are what you need, these magnetized knife holders are for you.
When you are looking for a magnetic knife bar, it is important to consider some key things like:
What type of knives do you want to put on the bar?
Do you want it to be portable or stationary?
How many knives do you need?
What size and shape will your knives be?
Knives for Chopping
The best way to choose the right knife for chopping is by using a good sharpener. When choosing a knife, it is also important to consider what you will be cutting. The blade of the knife should have been designed with that specific task in mind.
Some knives are better suited for heavy-duty tasks such as chopping through thick bones or frozen food, while others are more suitable for slicing softer foods like fruits and vegetables.
Different types of knives can be used for chopping.
Chef's knife: It is a long, thin blade with a handle, usually made of stainless steel or carbon steel. This type of knife is the most versatile and popular knife for home cooks as it can be used to chop, slice, dice, mince, and julienne vegetables and fruits easily.
Santoku Knife: It has a blade similar in shape to a chef's knife but typically shorter with its point shaped like an ice pick. The santoku knife is designed primarily for slicing vegetables into paper-thin slices or shredding meats like chicken breasts or pork chops into very fine pieces (shredding).
Utility Knife: This type of knife has an overall rectangular shape with one sharpened edge on each side of the blade, which makes it ideal for cutting meat, poultry, fish fillets, bread/pastries/cake/pie crusts/hard doughs, etc.
---
Read Also:
---
Knives for Trimming
When it comes to choosing knives for trimming, there are a few things that you should consider before making your purchase.
The first thing is the blade material. There are three different types of blades: stainless steel, carbon steel, and ceramic.
Stainless steel blades will last longer but can rust if not correctly cared for. Carbon steel blades are less expensive but also more prone to rusting and corrosion from moisture or acidic foods like tomatoes.
Ceramic blades are very durable and will stay sharp longer than other materials because they do not have any metal in them at all.
Another thing that you should consider is whether or not the knife has a serrated edge on it which helps with food processing tasks like slicing bread or meat by reducing friction between the blade and food.
You may also want to invest in a knife with an ergonomic handle so you don't get hand fatigue when using it over long periods.
The following are the various types of knives that you can use for trimming.
Fillet Knife: These are long, thin blades with a small point at one end and a straight edge on the other. They're used to slice through fish, meat, or vegetables without cutting into them.
Chef's Knife: This is a short blade about 8 inches long with a curved handle. It has one or two sides that are serrated so it can cut through tough surfaces like bone without sticking.
Santoku Knife: This knife is similar to the chef's knife but with a slimmer profile so it can fit in narrow spaces more easily than the chef's knife does.
The blade also curves down toward the tip so it can be used for more delicate tasks such as slicing tomatoes or cucumbers thinly without crushing them.
Knives for Slicing
The first thing that comes into mind is what type of knife would be best for slicing, which usually depends on what type of food will be sliced.
For example, if you are going to slice tomatoes or cucumbers, a serrated knife is needed because it has small teeth along its edge, allowing it to slice through thick skin and soft flesh easily.
If you want to slice something like bread or cake, then a sharp blade with straight edges will do the job well without tearing through delicate ingredients like your fingers might if using a serrated knife.
Now let's look at some other things that you should consider when choosing your knives:
The material of the handle – this plays an important role in determining how long-lasting and comfortable the knife will feel in your hand. Some options include wood handles, plastic handles, metal handles, and rubber grips
The size – there are many different sizes available, from small pocket knives to large cleavers
The shape – whether or not a specific shape is more suitable for certain tasks depends on personal preference, but common shapes include chef's knives (with their long thin blades), utility knives (with their wide blade), and paring knives (a short-bladed utensil used for peeling fruit).
Knives for Carving
Knives for carving can be chosen depending on the type of job you want to do.
For cutting meat, choose a long blade knife with a pointed tip. A serrated edge is also helpful because it will cut through meat more efficiently.
If you are doing intricate carving work, you should opt for a smaller knife with an elegant handle that has either bone or wood inlays. The shape of the handle will help your hand stay steady while performing delicate work.
Eastern Knives versus Western Knives
The Eastern Knife is longer and has a narrow blade, whereas the Western Knife has a shorter blade with a wider width. The eastern knife is also lighter in weight than the western knife because it uses less metal in its construction.
There are many benefits of choosing an Eastern Knife over a Western Knives such as:
The Eastern Knife can be used more easily on foods like fish and meat, which require thinner cuts than vegetables do.
The Eastern Knives are more efficient at cutting through bones without causing damage to them.
The blade of an Eastern Knives stays sharper for longer periods due to their design that keeps it from wearing down too quickly like that of the Western Knives does when used for prolonged periods on rough surfaces like rocks or wood logs.
Still in hesitation, which knife is right for you? Check out Kitchenkiddo; it has a great collection of kitchen knives. You won't go wrong if you choose one from the Kitchenkiddo.
Final Words
Buying kitchen knives can be a daunting task. If you're not careful, you might end up spending more than you need to on some knives that are of low quality. That's why it's important to know what features are important in a knife.
Once you've narrowed down your choices, the next step is to determine which brand will give you the best value for your money. Don't forget to check out our blog post to overview the best kitchen knives and the brands we recommend!