If you have a pond in your backyard and want to know the basics of how to keep it crystal clear, this article is for you.
Pond health boils down to a couple of key factors: oxygen, bacteria, and maintenance. These key factors are the building blocks of a clean and clear pond, and in this article, we'll explain exactly how to implement them into your own backyard pond.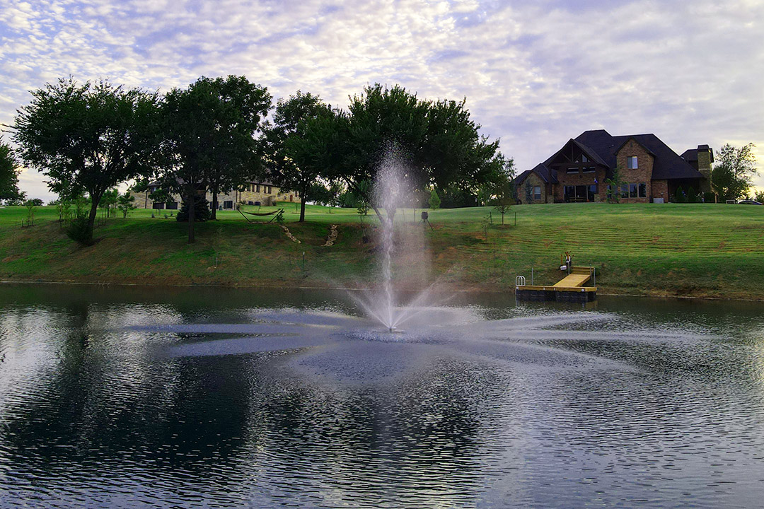 Introduce Oxygen to Your Pond with a Pond Fountain or Aerator
Oxygen. It is probably the most important part of keeping your pond clean and is the key to a healthy pond. Think of it as though it is the foundation of a house. Without it, the house would collapse! Over time, stagnant pond water that isn't being circulated can accumulate destructive bacteria, phytoplankton, and other algae.
These biproducts of your stagnant pond water can cause it to become cloudy, green, and can even cause a foul odor. Circulating your pond water combats this build-up by taking water that isn't resting on the pond's surface and shooting it into the air.
Think of all the water below the surface that is having zero interaction with oxygen. This is where a pond fountain or aerator comes into play. Without one of these, there is no way that your pond water is ever going to get the oxygen interaction it needs to stay clean and clear.
There are a ton of fountains or aerators on the market, that are designed for different pond sizes and applications. For a great resource on helping you decide which is for your situation, check out this blog on choosing the right size fountain pump for your pond!
---
Read Also:
---
Supplement Your Pond with Beneficial Bacteria
If your pond needs a little boost, introduce it to some beneficial bacteria. As we know, algae and destructive bacteria can become trapped in your pond if it lacks the water circulation it needs.
Adding what we call beneficial bacteria to a pond environment works not by targeting algae directly, but instead by depriving it of the nutrients it needs to thrive in your pond.
To get specific, nitrates and phosphorus are algae's diet. Algae do not require much of these substances, that's why algae growth can quickly spread out of control.
Beneficial bacteria break these compounds down through a process known as denitrification and leaves what was once a food source for algae insoluble minerals.
As a side note, beneficial bacteria are not the only solution to getting rid of algae. There are chemicals – known as algaecides — that can wipe away your algae problems. But they are short-term fixes that if used improperly can ravage your pond's fish, plants, and healthy bacteria.
Adding beneficial bacteria to your pond is a safer, long term solution that has far less extreme downsides. They work by addressing the root of your algae problem, not by masking it.
Be Proactive with Pond Maintenance
There are lots of ways to be proactive in maintaining your pond. The basic idea is that instead of waiting for an algae bloom or growth of weeds to occur in a pond, you keep up with basic pond care tools.
Using products like a lake rake to attack weeds and algae before they turn into muck is one of the best ways to keep your pond from getting out of control! Pond dye is another pond maintenance tool.
It provides a great color for your pond, and it limits the excessive amount of sunlight that your pond probably receives by acting as a natural shade.
The Easy Steps for a Happy Pond
If you own a pond, chances are you would like that pond to be the center of attention in your backyard. Achieving this is not extremely complicated, it just takes a little bit of TLC.
To recap what you learned in this article, you should start your journey to a healthy pond by adding a pond fountain or aerator. After you've found the aeration system that's right for you, you can add some beneficial bacteria that will take away algae's main food source.
Lastly, you can be proactive in your approach to pond maintenance by using tools and dyes to keep it looking clean and removing unwanted plants or algae! Having a pond can add lots of value to your property and is a great place to relax.