Have you noticed a sparkling fountain in a pond when you visit the countryside recently? Have you seen how water flows through a fountain?
Water pond fountains are common today that they grace the location and attract many visitors instantly. Anyone would like to enjoy a water fountain and can spend hours in front of it.
A large and illuminating fountain is the beautiful sight of the city and one of the prominent features of the place. A water fountain draws us close to them with their beauty and massive power.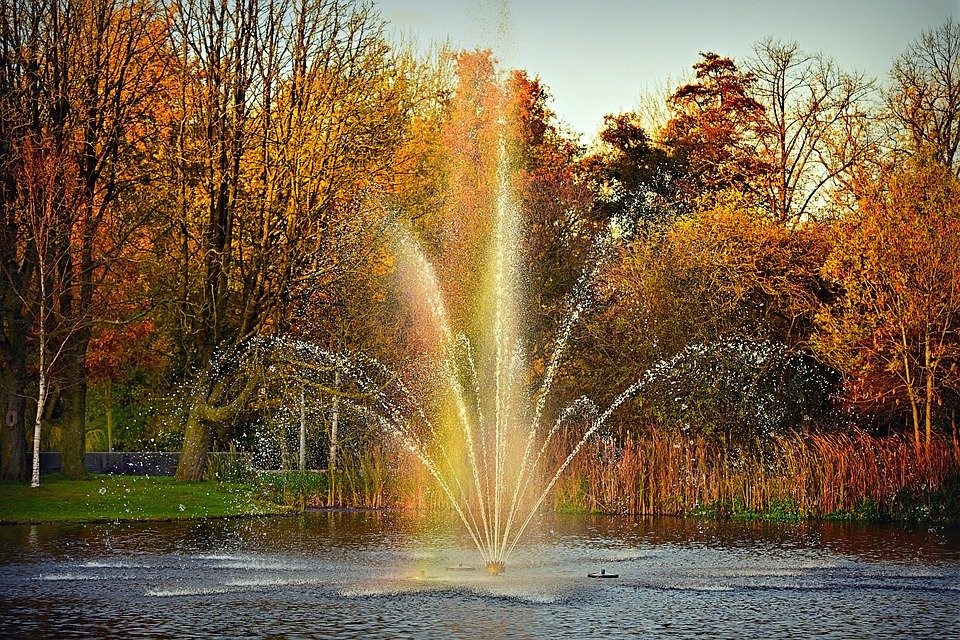 Water fountains are the way to control the natural environment in combination with light and sound to create a unique look, but it is essential to choose the right one for you.
Usually, the fountains are connected by wires or other devices to the bottom. This helps in preventing the movement of these devices by the wind and water flow.
So, if you want to choose a pond or lake fountain, consider size and depth and buy the right one for you.
There are also many other factors that you need to pay attention to for ensuring that the pond fountain you buy offers a high quality of aeration to your water body.
If you are looking for a great fountain, contact a supplier and choose from over many fountain samples offered by them.
Find pond fountains that are specifically designed for your requirement that can be easily installed to complement the outer landscape and decorate the entire place surrounded by the pond with its noise and look.
Once you have installed a fountain in the pond, you also make sure it is free of obstruction like weeds, debris, leaves, and plastic bags ensure that you remove the fountain once a season or twice a year and clean it properly with clean water.
Water minerals can destroy the pump of the fountain, so you must check this and clean the pump often than others. Usually, water fountains are easy to install, but your fountain provider can fix it for you.
If you think fountains are the only decorative piece on the water body and are great to look at or make a great noise, then you should know that they have many benefits. Although not all water fountains are the same, somewhat they have similar benefits. A
pond fountain combined with a fantastic light system looks mesmerizing at night. An excellent pond fountain in a locality can be the reason for people to be outside.
However, there are many other benefits of pond fountain which is essential for aquatic life specifically.
Why Do We Need Pond Fountains?
---
Read Also:
---
Mosquito Breeding
The topmost benefit of having a pond fountain around is that it provides aeration and its spray can separate debris from the water which directly inhibits aquatic weed growth.
The constant waterfall breaks water surface tension and prevents mosquitoes from breeding their eggs.
This is a prominent role of a pond fountain due to which it is highly recommended for the safety of the environment.
Improves Water Quality
Another benefit of pond fountain is to improve the water quality, which is impacted due to water sediments and metals that sit on the bed of the pond. Proper pond aeration ensures that water quality improves with time.
Controls Algae
The green algae look bad and make pond water Harmful for fish and other plants. As Algae grows, they deplete the oxygen in the water and block the sunlight reaching to aquatic life.
So, it is essential to have a fountain in the pond that can provide aeration that prohibits the algae growth. This lets fish and other aquatic life live and grow in the pond.
Odor Control
Aeration through the fountain system controls the foul smell of some gases produced in the pond.
Reduce the Accumulation of Sediment in the Bottom
Low oxygen conditions of the water bodies decompose organic matter slowly that makes the water dirty. So, proper lake aeration is required to help reduce organic sediment.
Additionally, pond fountains are a great way to induce oxygen in the water and save aquatic life by reducing the damage caused by several gases and nutrients found in the natural water bodies.
The circulating aeration system of the fountain works wonderfully to release an adequate amount of oxygen in the water. It reaches all the locations to help all water bodies to grow and sustain in the water.
Now you can spruce up your backyard pond by installing a durable and pocket-friendly fountain that gives an attractive look to the pond and improve surrounding areas.
You can contact fountain providers online or directly visit stores that can explain to you the specifications and install a fountain of your choice.