There are only a few furniture pieces as iconic as the Barcelona Chair that could blow your mind. Its timeless design, comfort, and elegance have made it a beloved choice for discerning individuals worldwide.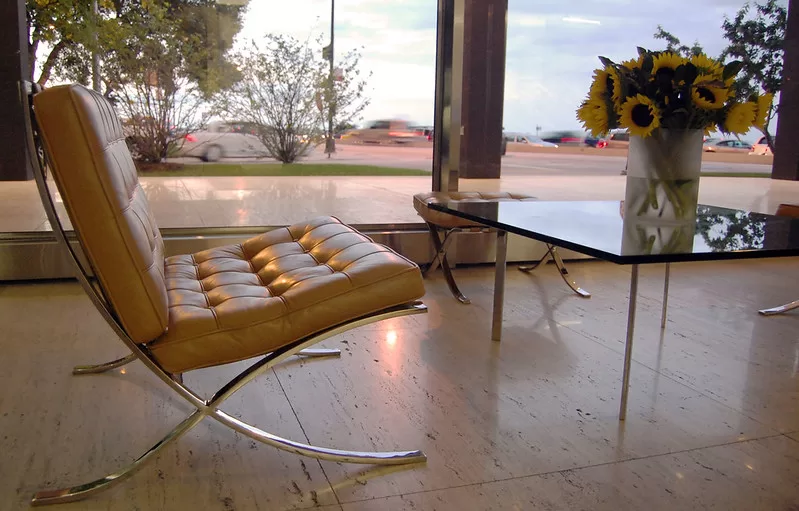 The Barcelona Chair: An Overview
The Barcelona Chair is a testament to the seamless blend of form and function. Designed in 1929 by the renowned architect Ludwig Mies van der Rohe for the International Exposition held in Barcelona, Spain, this chair has become an emblem of modern design.
Crafted with a stainless-steel frame polished to a mirror finish and upholstered in top-quality leather, the Barcelona Chair is a statement piece that exudes luxury and sophistication. Its unconventional design, featuring a sleek and minimalist aesthetic, has set it apart from traditional furniture, earning it a place in homes, offices, and galleries around the world.
Specifications of the Barcelona Chair
It stands out due to its distinctive specifications. The frame is made of hand-buffed stainless steel, ensuring durability and stability. Meanwhile, the cushions are filled with high-resiliency urethane foam with down-like dacron fiber wrap, ensuring optimal comfort.
The upholstery of the Barcelona Chair is made of individual panels of leather, each one carefully cut and hand tufted. This painstaking process guarantees that the chair is not only comfortable but also aesthetically pleasing. The dimensions of the chair, approximately 30 inches in width, 30 inches in depth, and 30 inches in height, make it a perfect fit for various spaces.
---
Read Also:
---
Why Do People Love the Barcelona Chair?
The allure of the Barcelona Chair lies in its perfect balance of style, comfort, and durability. Its enduring design has a universal appeal that transcends trends, making it a long-term investment for those who appreciate good design.
Comfort is another reason why this Chair is a favorite among many. Its ergonomically designed cushions provide excellent support, ensuring that one can sit for extended periods without discomfort.
Furthermore, the Barcelona Chair is known for its durability. Made with high-quality materials and excellent craftsmanship, it is designed to withstand the test of time, offering value for money and an enduring aesthetic appeal.
The Enduring Appeal of the Barcelona Chair
There's something about the Barcelona Chair that captivates the senses. It might be its clean lines, its luxurious leather upholstery, or the way it seems to defy gravity with its cantilevered design. But whatever it is, there's no denying the fact that the Barcelona Chair is a design icon that continues to win hearts and minds, even almost a century after its creation.
It's more than just a piece of furniture. It's a statement, a work of art, and a symbol of good taste. Its simple design embodies the "less is more" philosophy, showcasing the genius of Mies van der Rohe and his belief in the power of simplicity. Yet, people still have barcelona chair replica options that meet the same like features and quality as the OG.
In conclusion, the Barcelona Chair is a testament to the beauty of modern design. Its eternal aesthetic, coupled with its comfort and durability, makes it a worthwhile addition to any space. Whether you're a fan of modern design or simply appreciate good craftsmanship, the Barcelona Chair is a piece that's sure to impress.