You enjoy playing golf and getting exercise. You prefer to walk the fairways instead of riding down asphalt cart paths.
You need a golf stand bag, but not just any golf stand bag. You want something that's both functional and fashionable. Yes, it must be lightweight, easy to carry, and keep your golf clubs off the ground, but you also want to look good.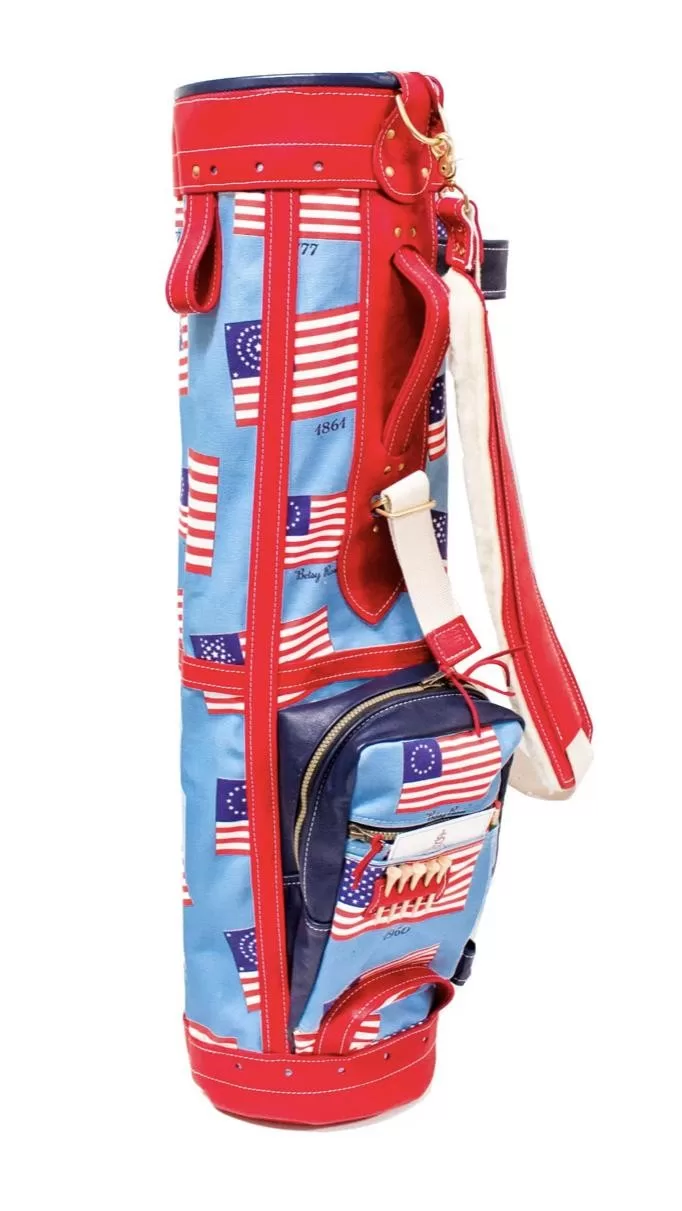 Check out our list of luxury golf stand bags, designed for the golfer who wants to stand out on the first tee and driving range.
10 Luxury Golf Stand Bags
Luxury golf stand bags are available in different styles and are priced from affordable to crazy expensive. Pick the one that suits both your eye and your bank account.
1. THE CADDY STYLE GOLF BAG By Steurer & Jacoby
The first thing you'll notice about luxury golf stand bags is the materials that are used to build these beautiful products.
The "Caddy Style Golf Bag" by Steurer & Jacoby doesn't disappoint. It's crafted with American-tanned hides, Waxed Cotton Duck, and American-made brass hardware.
It looks great and has all the features to make your next trip around the course a memorable one.
It has a club divider to help you organize your clubs and a support spine to give the bag a consistent shape.
You'll have plenty of storage, a water bottle pocket, and a towel loop. This luxury golf bag will cost you $495.
2. Macdonald Classic Artisan Series Argyle Full Grain Leather
Luxury golf stand bags are always a combination of fashion and function, but some lean in one direction.
The Artisan Series by Macdonald's is heavy on luxury but has fewer features than other bags on our list.
They're breathtaking bags made with superb leather and are guaranteed to be the envy of all your golfing buddies.
To state it another way, we doubt you've ever seen a golf bag like this one. Forget luxury, you could call these works of art. The price reflects the quality — this golf bag costs $1,995.
3. Louis Vuitton Monogram Canvas Golf Bag
You know the name Louis Vuitton and you know any product they offer will be luxurious.
---
Read Also :
---
This exceptional golf bag in iconic Monogram canvas and natural leather trimmings is a functional golf bag.
It can be carried by hand, placed on a golf cart, or worn on the shoulder, thanks to its large padded strap.
You're definitely sending a message when you show up at your country club with this bag.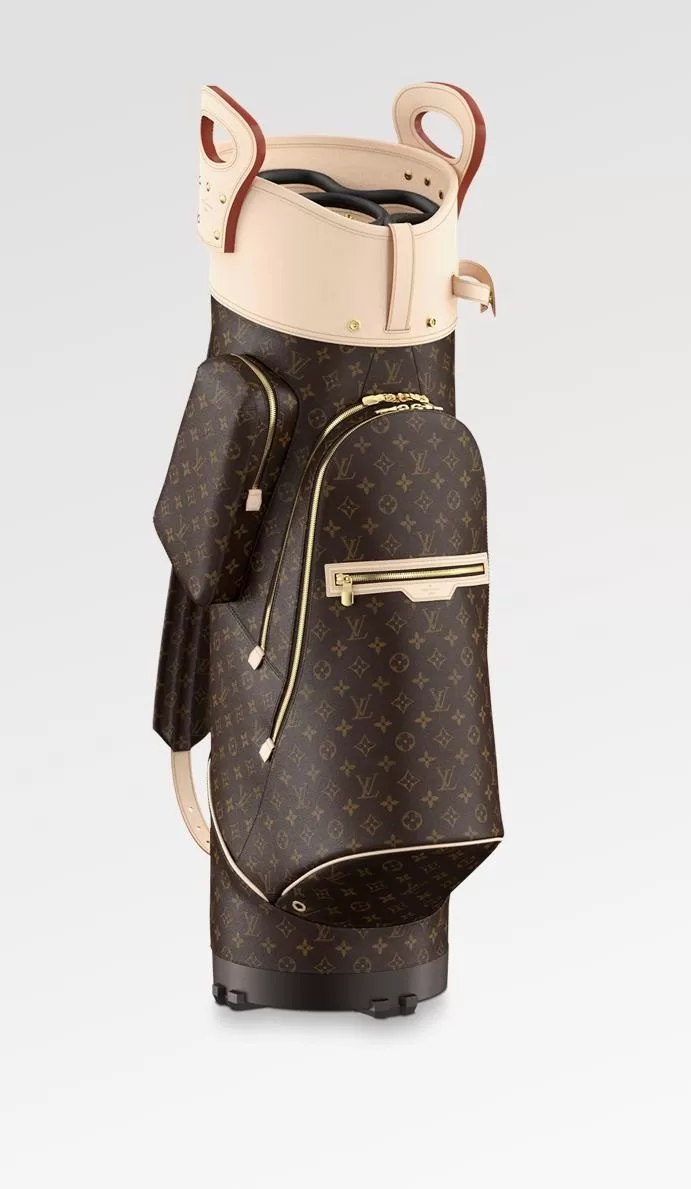 You've probably figured out that this bag will have a hefty price tag. The Louis Vuitton Monogram golf bag is made to order and costs $22,000.
4. Macdonald Classic Dark Chocolate & Mahogany
This is the second Macdonald bag to make our list and this one is more functional than #2 above. It carries a full set of golf clubs and has plenty of storage for your golf essentials (balls, gloves, tees, etc.).
This classic golf bag has a triangular carbon-fiber top with three sections; a supporting rod down the middle of the bag, and features the most comfortable shoulder strap you'll ever experience.
Each bag is individually crafted of full-grain leather and will cost you $1,295.
5. Art. 2500 Golf Bag 9.5" By Valigeria Grignola
The "Art. 2500 Golf Bag 9.5" is made from grained calfskin and equipped with numerous pockets to carry everything you need on the course.
Many details such as the umbrella holder, the padded shoulder strap, the tee holder, and the towel holder show that this bag was designed to be used on the golf course.
It also comes with a set of club covers and a waterproof fabric travel case.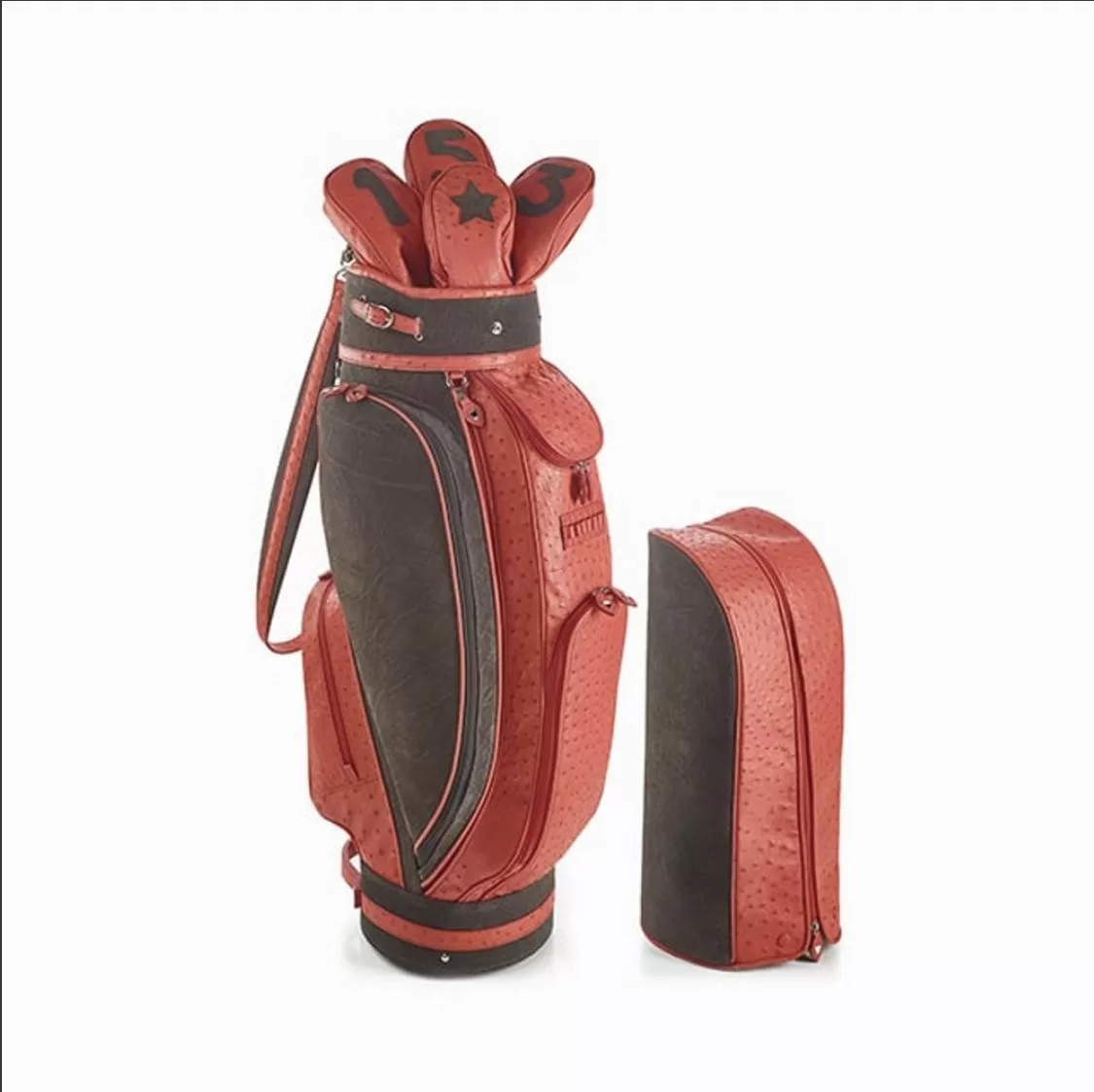 You may find this luxury golf bag to be a bit bulky to carry, but it works perfectly on a pushcart. It'll cost you just under $15,000.
6. Mackenzie Golf 8" Treated Canvas Mac
Beautiful, simple, and luxurious is how we would describe the 8" treated canvas bag by Mackenzie. We love how it looks and how it works.
It'll improve your afternoon on the golf course and be an instant conversation starter if you get paired with other players.
It's constructed with Nantucket-treated canvas and leather trim.
It has a large pocket for your golf supplies and is available in several different colors. It can be yours for $740!
7. G/Fore Transporter Tour Carry Bag
G/Fore is a relatively new golf brand that has disrupted the marketplace by providing high-quality products that look great and can be used by serious golfers.
The Transporter Tour Carry Bag is a luxury golf bag that you can use every day.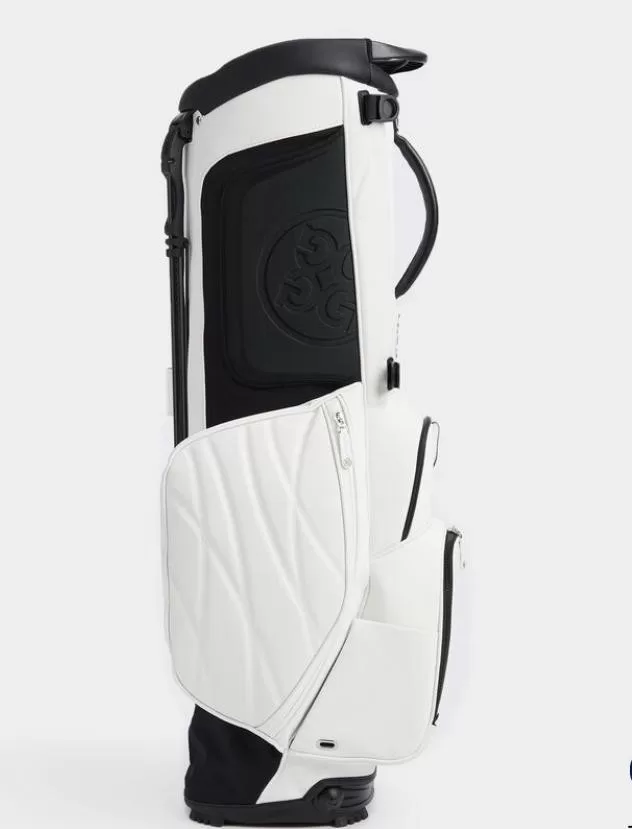 It has a 14-way velour-lined top for precise club organization and protection.
It has enough storage to be used on the PGA Tour and has a matching rain hood in case you get caught in an afternoon shower.
The padded shoulder strap makes it easy to carry. In the world of luxury golf bags, the G/Fore Transporter Tour Carry Bag is economically priced at $415.
8. Sun Mountain Men's Leather Stand Bag
Sun Mountain is known for making great golf stand bags and their Leather product is the most luxurious in their line.
Combining tradition with fashion, the Leather Stand Bag is sewn with the finest cow leather available.
Additional features include authentic carbon fiber legs, a high strength-to-weight plastic top, full-length box dividers, and Sun Mountain's patented Roller Bottom leg mechanism.
This is a great example of taking a functional bag design and adding luxury components. This bag can be yours for $669.99.
9. Terra Sunday Carry Golf Bag
The Terra Sunday Carry Golf Bag is an example of a luxury golf bag that anyone can carry around the course. It's made with lightweight Dura-Ballistic Nylon material and full-grain leather accents.
Weighing only three pounds, it's perfect for an afternoon 9 or a trip to the driving range.
The shoulder strap is super-comfy and the bag has enough storage to enjoy your day. The lowest price to make our list, is this bag will cost you $199.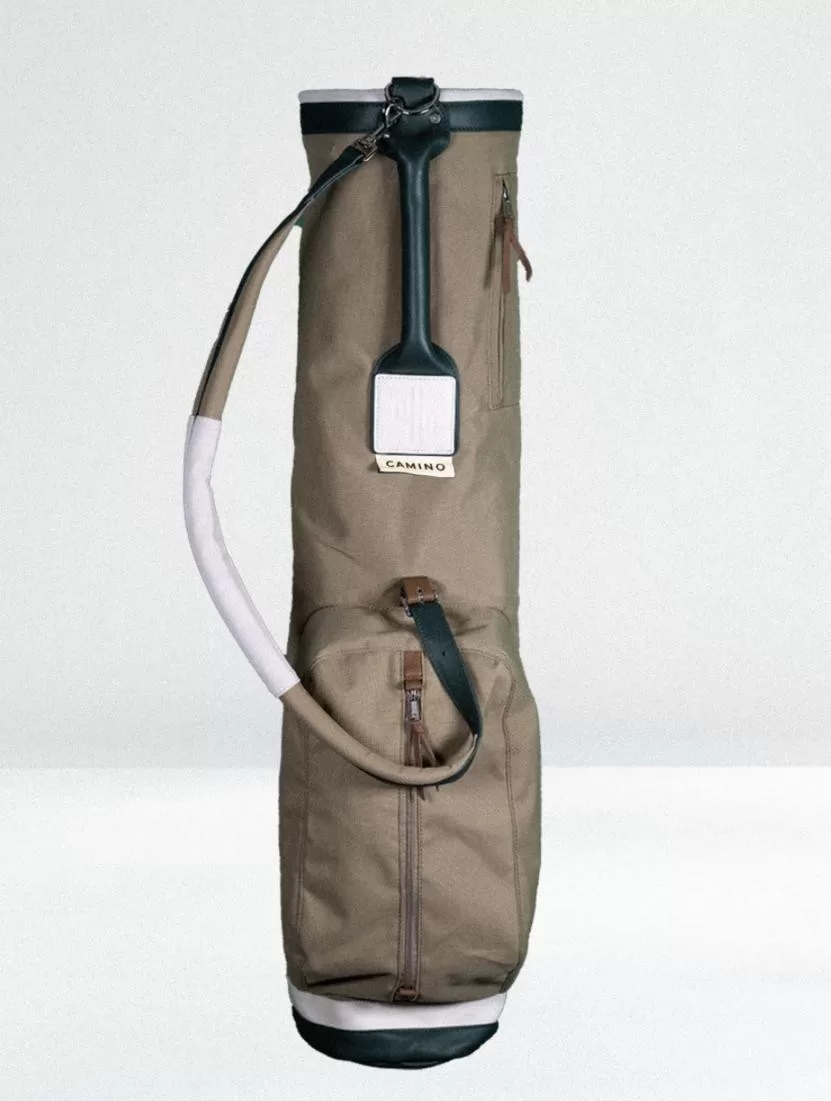 10. Taylormade British Open Tour Staff Bag 2022
We have to be honest — we're cheating a little big on this one. If you plan to walk with this luxury golf bag, you'll need a caddy, but it was simply too cool not to include.
This bag honors the sesquicentennial (150th) playing of golf's oldest major (The Open Championship).
As the championship returns to the home of golf, we rightfully honor the grand old family: Old and Young Tom Morris.
Their initials can be found on the bag handle, while the side panel features a tweed fabric inspired by their traditional Scottish garb.
You can play with this bag or place it in your "man cave" as a conversation piece. The price is $600.
Play Great Golf & Look Great While You Do It
Golf can be a frustrating game. It sounds simple — get the little white ball into the hole, but there are days when your Titleist seems to have a mind of its own.
Even on your worst day, you can look great with a luxury golf stand bag. You may not swing the club like a professional, but you can look the part with a bag from our list.
Good luck and play well!