Are you considering getting hinged gutters to get rid of debris from the gutter lines and avoid having to pay a professional gutter cleaning company to come rid your gutters of all that junk or worse… having to do it yourself over the course of an entire weekend?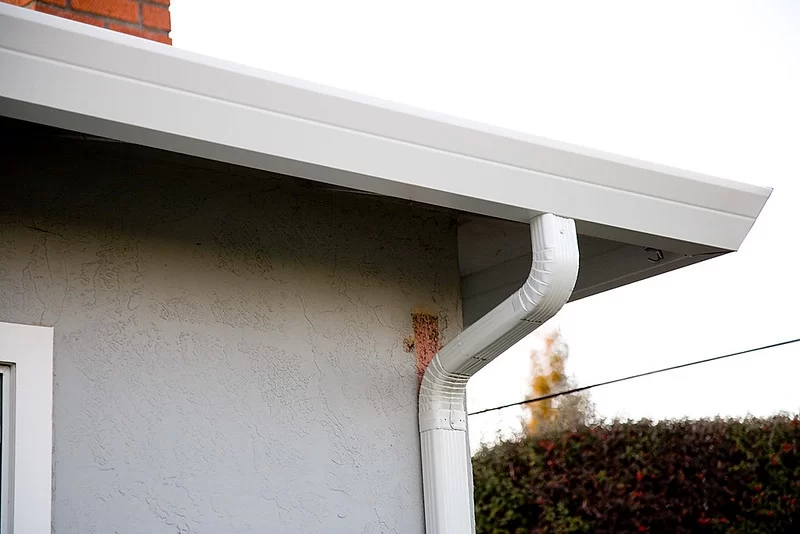 While the idea sounds like a homeowner's dream, there are a plethora of issues with hinged gutter systems that every pondering homeowner must take into consideration before investing in such a system.
But first…
What are Hinged Gutters?
Hinged gutter systems like FlipClean, are gutters that look like traditional gutters but attach at one point on the bottom of the gutter system by a hinge. It features a moveable gutter outlet that inserts itself back into the downspout after dumping the gutters out.
A long pole is used to hook the edge of the gutter basin front and pulled to dump out old leaves and other debris from the gutters. The pole also repositions the gutter back into its original position.
What's the Issue with Hinged Gutters?
There are many considerations to question on whether hinged gutters are a great idea for your home, but when taking into account all the possibilities of issues, the risk is not worth the reward.
If the hinged gutter does not work or malfunctions, the effects could be devastating to your home's foundation, siding, patios and decks, painted surfaces, fascia, soffit, and even your expensive flower beds racking up the repair bills for the homeowner. Let's dive into the issues with hinged gutters.
---
Read Also:
---
Wet Debris
On the occasion when the leaves, seeds, pine needs, dust, and dirt get wet inside your gutters because it rained while you were at work or out of town – before you got a chance to empty them, there's a great chance that the built-up debris won't evacuate the hinged gutters and has cemented itself there until manually cleaned.
Snow Storms
Some reviews instruct new hinged gutter system owners to leave their gutters unhinged when a snow storm is approaching to prevent ice damming, but once the snow starts to fall, it can put excess weight on the bottom of the unhinged gutter and cause a malfunction in the hinge mechanism.
Also, once the snow begins to melt, it has nowhere to drain but on the soil directly adjacent to your foundation which is the entire point of gutters (to prevent that).
If ice were to fall in your area and you decide not to unhinge those gutters, ice can prevent the hinged gutters from functioning as it ices both pieces together and can result in ice damming anyway.
Water and Snow Weight
Even if you decide not to unhinge your gutters during a major snow storm, because the gutters are attached using only one attachment point, there's a great possibility that the weight may be too much for the gutters and cause them to fall or malfunction. Rainstorms could be even worse for a hinged gutter system.
Lack of Sealant to Prevent Leaks
Hinged gutters are designed to unhinge in smaller sections – or you'd need to choreograph a fleet of people to dump the debris from your gutters every week or so during the spring and fall months.
The design does not call for sealant between gutter sections which can result in leaks down your siding or painted exterior surfaces causing massive and stubborn stains.
The downspout design has a downspout outlet that is attached to the gutter run so when pulled and unhinged, the outlet comes out meaning there's no sealant where the gutter meets the downspout either.
Gutter Material Durability
To withstand the weight of rain, ice, and snow (depending on your location), and the functionality of the hinged gutters (using a pole with a hook to pull at the gutter front), the material must be more sturdy than a common plastic or aluminum gutter. This means an added cost for the homeowner or, the potential of bending, breaking, or dislodging the gutter runs accidentally.
Water Speeds
When a massive downpour hits your home, depending on the pitch of your roof, water gains speed as it travels down the metal or shingle roofing material.
When it finally hits the gutters, it could cause the gutters to unhinge themselves and allow all that rain to penetrate your home – negating the entire gutter purpose.
Animal Safety
If you've ever cleaned out your gutters, you may already know that critters of all sizes and shapes find a way to make a home in your gutter runs.
With a hinged gutter, it's challenging to know if there is a bird's nest, a family of mice, or even snakes bedding down in those gutter runs and when unhinging them, you may find a face full of animals coming at you.
Final Thoughts
Hinged gutters can save you some money in theory, but if you are not prepared for the pertinent issues that may arise with a hinged gutter system, you may find yourself with expensive repair bills and the need to install more traditional gutters at your home.