There are more ways to get clean drinking water than just depending on the fridge's ice and water dispenser.
You can have pure and clean drinking water through a fridge inline filter. Below, we will discuss what you must consider before you buy an inline fridge water filter.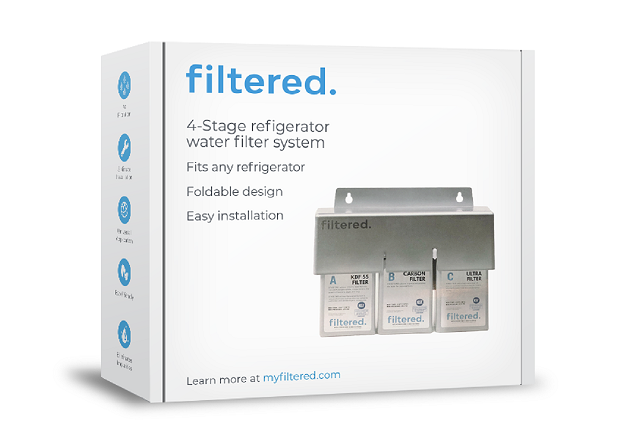 1. Choose a Suitable Fit
The most important step when buying a refrigerator water filter is to find a filter that is compatible with the model of your refrigerator. You can do this by knowing what kind of filter works best with your refrigerator.
If you purchase the wrong filter, you may end up with a filter that does not fit properly. It can result in leakage that may further lead to water damage.
On the other hand, you can also go with a water filter that has a universal filtration system and can connect to any refrigerator.
2. Filtering Capability
Every water filter has a filter that is measured in microns. The lower rating the filter has, the higher will be its ability to remove and catch contaminants.
Most inline fridge water filters depend on granular activated carbon to remove contaminants and particles from the water. So, please check out the micron rating while buying a water filter for your refrigerator.
---
Read Also:
---
3. A Cost-Effective Package
When you buy an inline fridge water filter, make sure to buy a cost-effective one. Pay attention to the quality of the filter and see if it has the right value. You can save time by purchasing increased quantities of filters.
If you replace the filter regularly, it extends your refrigerator's life and also reduces your likelihood of buying water bottles. At first, refrigerator water filters can seem to be expensive, but when you replace them on a regular basis, it helps in preventing build-up in the refrigerator.
4. Replacing at the Right Time
It is important to know when to replace an inline fridge water filter. Consider buying an inline fridge water filter, if you see these signs.
Is the fridge filter indicator light turned on?
Does the water dispenser dispense water slowly?
Does the fridge water taste bad?
Signs You Need a Refrigerator Water Filter
Most manufacturers suggest you replace the filter every six months, depending on use and water quality. If your system has a lot of sediment, it must be replaced frequently. In case you have a large family that requires a lot of drinking water.
Along with the above factors, check the monitor flow. If the ice maker produces only one or two cubes at a time, it can mean that you need a fresh filter. It is because the slowed production can be a sign of a blocked or full filter.
Frequently Asked Questions
1. Why Should I Replace My Inline Fridge Water Filter?
All refrigerators that have a water dispenser come with a filtration system that eliminates impurities so that you can have pure and clean drinking water.
Old water filters can have a build-up of contaminants that can cause a drop in the water quality resulting in an unpleasant taste or smell. Filters can breed bacteria if they have such build-up.
This can contaminate the drinking water rather than clean it. Replacing the fridge filter ensures safe, clean drinking water.
2. Why is It Important to Have a Refrigerator Water Filter?
Regular filter replacement is important to maintain their effectiveness and reduce bacterial contamination. An out-of-date or overused filter can be dangerous as the filter will not trap contaminants that will allow them to affect the drinking water. To keep yourself and your loved ones safe, it is important to replace your inline fridge water filter at the earliest.
3. My Refrigerator Water Filter Was Discontinued. What Now?
If your refrigerator water filter has been discontinued, you do not need to worry. It is due to the fact that there are universal water filtration systems that are available. These are suitable for any refrigerator type and can fit easily. For this reason, a universal water filtration system is your best choice if your refrigerator water filter has been discontinued.
4. What Are the Benefits of Getting My Refrigerator Water Filter Replaced?
Refrigerator water filter replacements are best for the reduction of sediment, odor, and chlorine taste.
5. Are Refrigerator Water Filters Easy to Maintain?
A refrigerator water filter needs to be replaced in about six months. However, buying an inline fridge water filter will enable you to have access to clean drinking water easily without inconvenience, as they are easy to maintain.
6. Does an Inline Fridge Water Filter Have a High Flow Rate?
The flow rate of refrigerator filters means their ability to filter water in real time when the dispenser gets activated. This allows them to dispense any desired volume of water at a given point in time.
7. Why Will an Inline Fridge Water Filter Be a Safe Option?
Inline fridge water filters can remove different types of contaminants that cause illness. Some water filters can filter out water-borne parasites, mercury, lead, asbestos, industrial chemicals, and pesticides. Drinking filtered water from the refrigerator will enable you to keep your loved ones hydrated and healthy.
If you want access to safe, clean drinking water, you can go for inline fridge water filters. They will help in filtering out the contaminants from the water. In addition, it helps to protect you and your family against water-borne diseases.
In case you start noticing that your water has a bad smell and taste, it is a sign that you need to change your refrigerator water filter. Choose the filter that has a universal filtration system as it is able to fit in any kind of refrigerator.
Moreover, if you notice any leakage or if the water filter has been discontinued, change it before it starts showing these problems.
This will help you to prevent water damage via leakage, maintain the cleanliness of the drinking water and have chlorine and contaminant-free water for drinking. Thus, replace your refrigerator water filters on time.