As pressure washing continues to be a popular choice for homeowners to rejuvenate their surroundings, ensuring safety during the process remains paramount.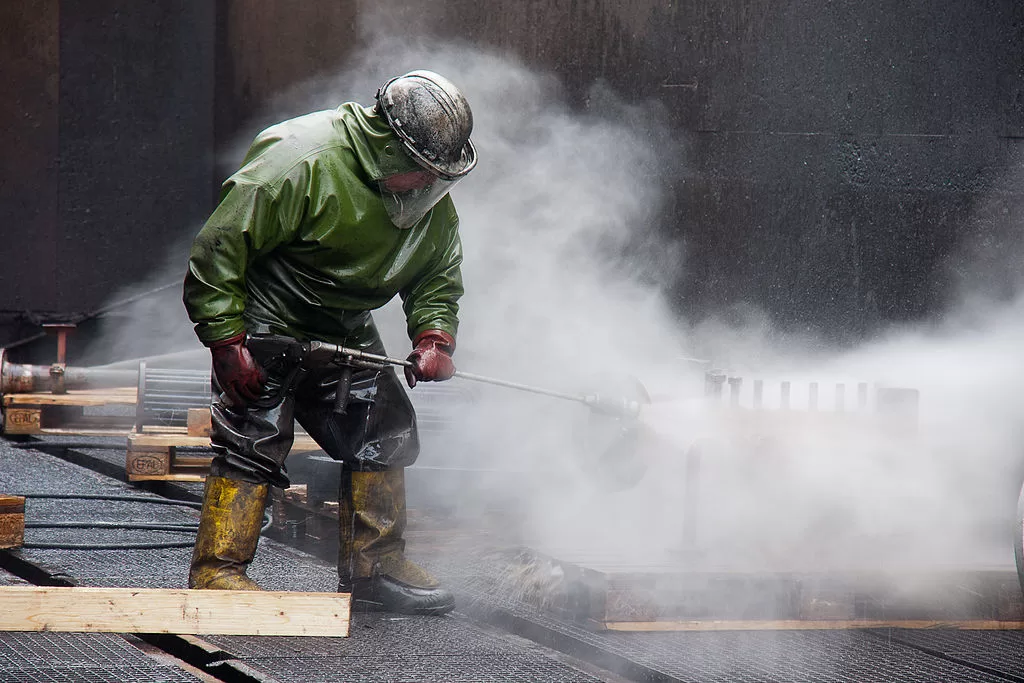 While the power of high-pressure water can produce remarkable results, it's essential to operate pressure washers responsibly to prevent accidents and injuries.
In this guide, we'll delve into 10 crucial safety tips that every individual should keep in mind while engaging in pressure washing tasks.
Pressure washing, an efficient and effective method of cleaning various surfaces, has gained popularity for its ability to restore the appearance of homes and outdoor spaces. However, it's essential to prioritize safety when utilizing pressure washers to prevent accidents and damage.
Why Safety Matters in Pressure Washing?
Pressure washing, a method admired for its ability to restore the appearance of surfaces, demands an unwavering commitment to safety.
The sheer force of high-pressure water jets holds transformative potential, yet it also carries inherent hazards if not wielded with caution. Understanding why safety matters in pressure washing is pivotal to a successful and incident-free cleaning endeavor.
At the heart of Pressure Washing lies the power of high-pressure water streams that can dislodge even the most stubborn debris and grime. While this force is the key to efficient cleaning, it also introduces the risk of injury if not managed correctly.
---
Read Also:
---
Directing high-pressure water toward delicate surfaces or even one's own body can lead to cuts, bruises, and other harm. Recognizing the dynamic between the forceful water and potential dangers underscores the significance of safety measures.
1. Wear Appropriate Safety Gear
Before starting any pressure washing task, ensure you're wearing the right safety gear. This includes safety goggles to protect your eyes from debris, gloves to shield your hands, and non-slip footwear to prevent accidents on wet surfaces.
2. Familiarize Yourself with the Equipment
Take the time to thoroughly read the pressure washer's manual and understand its controls and features. Familiarity with the equipment reduces the risk of accidental misuse.
3. Choose the Right Pressure Level
Different surfaces require different pressure levels. Start with the lowest pressure setting and gradually increase if needed, ensuring that you don't damage delicate surfaces.
4. Test in a Small Area
Before tackling larger areas, test the pressure washer in a small, inconspicuous spot. This helps you gauge the appropriate pressure and prevents potential damage.
5. Maintain a Safe Distance
Keep a safe distance between the pressure washer nozzle and the surface you're cleaning. A distance of 1 to 2 feet is generally recommended to prevent injuries and damage.
6. Beware of Electrical Hazards
When using electric pressure washers, be cautious with electrical outlets and cords. Keep them away from water and ensure they are properly grounded.
7. Avoid High-Risk Surfaces
Avoid pressure washing surfaces that could be easily damaged, such as cracked wood, loose shingles, or fragile paint.
8. Use the Right Nozzle
Different nozzles provide varying spray patterns. Use the nozzle that best suits the task at hand, ensuring a controlled and effective cleaning process.
9. Mind the Water Temperature
Hot water can damage certain surfaces, so be mindful of the water temperature settings on your pressure washer. Cold water is often suitable for most cleaning tasks.
10. Proper Storage and Maintenance
After use, store the pressure washer in a dry and secure location. Regularly inspect and clean the equipment, addressing any maintenance needs promptly.
FAQs
Can I pressure wash my car?
Yes, but use a wide spray pattern and maintain a safe distance to prevent damage to the paint.
Is pressure washing safe for all outdoor surfaces?
Pressure washing is generally safe, but adjust the pressure and technique based on the surface type to prevent damage.
Can I pressure wash my roof?
Pressure washing a roof is not recommended as it can damage shingles and create leaks. Opt for alternative cleaning methods.
How often should I pressure wash my home?
Pressure washing frequency varies. Generally, an annual cleaning can help maintain your property's appearance.
Conclusion
In conclusion, the significance of prioritizing safety in pressure washing cannot be overstated. The power of high-pressure water streams holds great potential for achieving remarkable cleaning results, but it also comes with inherent risks.
By acknowledging these risks and adhering to the safety tips outlined in this article, individuals can engage in pressure-washing projects with confidence and peace of mind.
Remember, a combination of proper safety gear, cautious practices, and a thorough understanding of the equipment can help you harness the benefits of pressure washing while minimizing the potential for accidents and damage. Safe pressure washing ensures that your cleaning endeavors are not only effective but also free from unnecessary risks.