Have you ever looked at the exterior of your home and wished it could regain its former glory? Well, the answer to that lies in the power of pressure washing.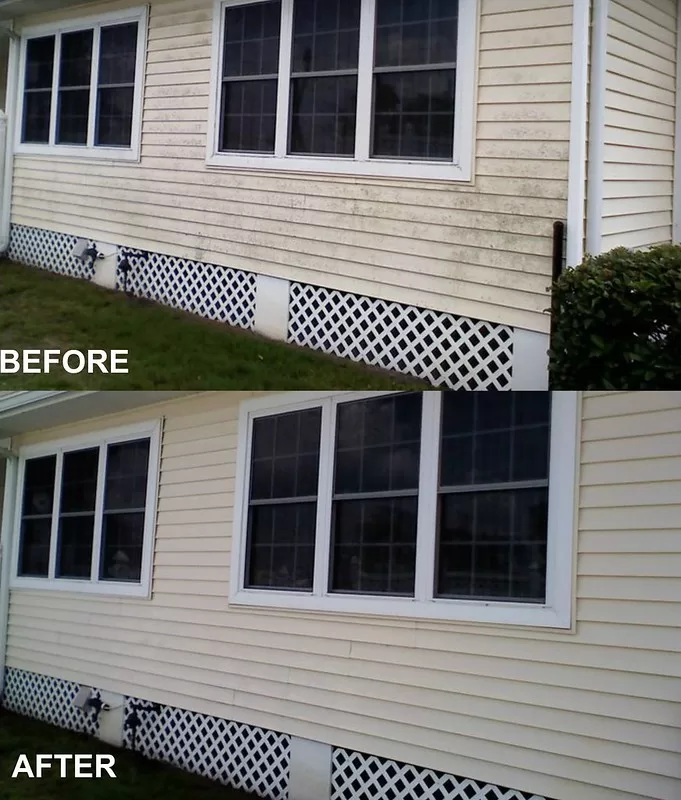 Whether you want to remove dirt, grime, or mold from your walls, driveway, or patio, knowing how to pressure wash like a pro can make all the difference.
In this guide, we will explore the step-by-step process of using a pressure washer effectively and safely so that you can transform your home into a shining beacon in no time.
Get ready to unleash the power of water and witness remarkable results as we dive into the world of professional-grade cleaning techniques!
1. Gather Your Equipment
Before you dive into pressure washing, ensure you have all the necessary equipment. This includes a pressure washer, extension cords, safety goggles, gloves, and appropriate clothing. Having everything ready beforehand will make the process smoother and safer.
2. Select the Right Pressure Washer
Choosing the right pressure washer is crucial to get the job done effectively. Pay attention to the PSI (pounds per square inch) and GPM (gallons per minute) ratings of the pressure washer. Higher PSI and GPM values are suitable for more stubborn dirt and larger areas, while lower values are better for delicate surfaces.
---
Read Also:
---
3. Choose the Appropriate Nozzle
Pressure washers come with various nozzles that offer different spray patterns. Use a wide spray pattern for gentle cleaning and narrow patterns for tough grime. Remember, using the wrong nozzle can damage surfaces, so choose wisely.
4. Safety First
Safety should always be your top priority. Before you start, put on safety goggles and gloves to protect yourself from debris and cleaning agents. Also, ensure the pressure washer is properly grounded and connected to a GFCI outlet to prevent electrical hazards.
5. Prep the Area
Take a few moments to prepare the area you'll be pressure washing. Clear away any obstacles that could hinder your movement, and cover plants or delicate items nearby to protect them from the high-pressure water.
6. Detergents and Cleaning Solutions
Using the right cleaning solutions can enhance the effectiveness of your pressure washing. Choose a detergent that is compatible with your pressure washer and the surface you're cleaning. Apply the detergent evenly and let it sit for a few minutes before you start spraying.
7. Pressure Washing Techniques
Start by holding the pressure washer wand at a slight angle to the surface. Begin from the top and work your way down, keeping the nozzle about 12 to 18 inches away from the surface. Move the wand in a consistent and overlapping motion to ensure even cleaning.
8. Dealing with Tough Stains
Stubborn stains might require a bit more effort. Consider using a rotating scrub brush attachment for your pressure washer or a higher concentration of detergent for those hard-to-remove spots. Adjust the pressure settings as needed, but be cautious not to damage sensitive surfaces.
9. Post-Washing Cleanup
Once you've completed pressure washing, it's time to clean up. Turn off the pressure washer and disconnect it from the power source. Empty any remaining water from the machine and hose to prevent freezing during colder months.
10. Regular Maintenance
Proper maintenance of your pressure washer will prolong its lifespan and ensure consistent performance. Clean the nozzles, hoses, and filters regularly. Check for any wear and tear, and store the pressure washer in a dry and safe place.
FAQs
Is pressure washing safe for all surfaces?
Pressure washing can be safe for most surfaces if used correctly. Adjust the pressure and nozzle based on the surface's material and condition.
Can I use regular soap in a pressure washer?
No, it's recommended to use detergents designed for pressure washers. Regular soap may clog the machine and affect its performance.
How often should I pressure wash my home?
Ideally, pressure wash your home at least once a year to prevent dirt buildup and maintain its visual appeal.
Can pressure washing damage my paint?
Yes, using too much pressure or a narrow nozzle can strip paint. Be cautious around painted surfaces and adjust the settings accordingly.
Can I pressure wash in cold weather?
Yes, pressure washing can be done in cold weather. However, avoid freezing temperatures, as they can damage the equipment and create safety hazards.
In Conclusion
In conclusion, mastering the art of pressure washing your home like a pro is not just about wielding a powerful tool; it's about understanding the nuances that lead to exceptional results. By following the expert techniques discussed in this article, you can transform your home's exterior from dull and dirty to vibrant and refreshed.
Remember, preparation, safety, and proper execution are key. As you embark on your pressure washing journey, keep in mind that with the right equipment, knowledge, and care, you have the ability to achieve professional-grade outcomes that will leave your home looking its best for years to come.