Home tuition is a type of tuition that takes place at the student's house.
Tuition is usually for an academic subject, skill enhancement, or exam preparation. For children, school-based instruction is no longer adequate.
As a result, an increasing number of parents are providing extra learning assistance at home in the form of tutoring.
According to records, most parents looking for home tutors have been steadily increasing in recent years. In this article, we will show you why students prefer private tutors.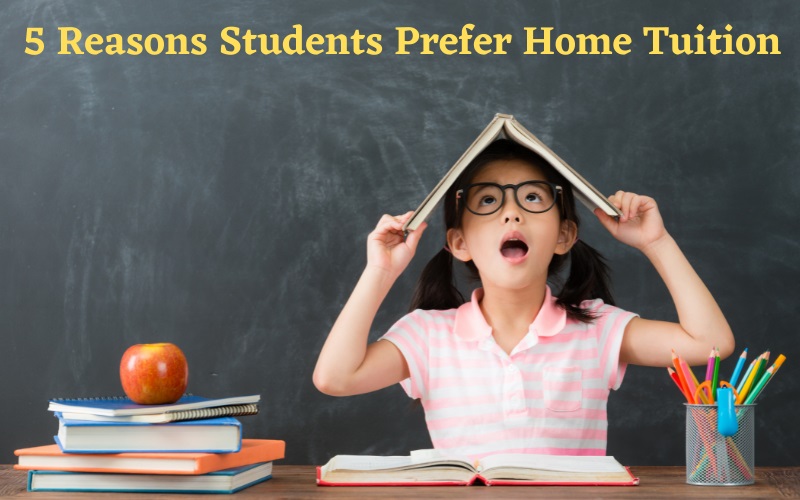 Home tuition or personal tutoring is the best way that enables students to get higher grades. Home tuition allows students to conduct one-on-one conversations with their instructor in the comfort of their own homes.
Home tutors can rapidly identify a student's weak topics and assist him in promptly correcting them, therefore boosting the student's school grades.
Reasons Why Students Prefer Home Tuition
Do you want to hire a private tutor to help your child? Home tuition is becoming increasingly popular among students, particularly those preparing for entry-level examinations.
You can take help from tuition agencies for quality home Tuition. The conventional school system has been criticized for the rise in popularity, which has shattered students' confidence and caused them to lag behind in class. Below is some reason why students choose home tuition:
1. Class Strength
There are many differences between learning in a classroom and one-on-one home tutoring.
Everyone understands that a lower student-to-teacher ratio enables children to concentrate better in class since there are fewer distractions.
On the other hand, teachers spend a lot of time punishing pupils in order to create a conducive learning atmosphere in schools.
Larger classrooms may save money, but they are less helpful to children. In reality, several research and evaluations have shown that smaller classroom sizes are better for children.
They are often unable to respond to the requirements of each student and must work at an average speed to finish the academic year's course.
---
Read Also:
---
2. Can Choose the Teacher of Your Own Choice
Every teacher has a specific reaction from the students. In a home tuition system, the one-on-one method allows students to form relationships with their teachers that would be difficult in a larger classroom. A teacher may have a significant impact on a student's perception of a topic.
It all relies on how effectively the tutor interacts with the student as well as how the student understands the particular subject.
Shy children feel more comfortable in-home tuition because they are able to speak freely without feeling pressured not to disgrace themselves.
3. Personalized Teaching
Do you know that every child has distinct learning needs?
It would be best if you taught them at a speed that allows them to achieve better results.
One of the most significant advantages of a competent home teacher is that they provide individualized assistance.
Tutors adapt their own teaching style, tactics, and strategies to the student.
4. Suitable Timetable
The most important benefit of private tuition, which even students acknowledge, is the freedom of study time.
Students can obtain a good night's sleep and avoid dragging themselves out of bed half-asleep, but they can easily save transport time.
Creating a schedule is simple and may be tailored to the teacher's and student's availability, allowing the student to participate in other extracurricular activities. A quality tutor also gives time-saving tips for making a good result.
5. One-On-One Attention
Every student holds a different skill set and has a distinct requirement. One child may do well with minimal attention, while another may require a bit more.
Home tutoring allows both teachers and students to spend time together one on one.
This allows the instructor to not only discover their student's weaknesses but also to keep them in control and away from distractions. Tutors teach key life skills to develop in your child.
Last Words
When children grow adults, some parents are no longer able to assist them with schoolwork, and they must battle to figure it out on their own.
Parents who are capable of assisting their children with schoolwork also struggle to find time for their children in their busy schedules.
Private tutoring appears to be a superior alternative in both situations, as well as better use of time and talent.
A private home tutor can help your child make a good result and build a good personality.
But finding a quality tutor is not easy. It is crucial to select a tutor according to your child's needs. Make sure that you are selecting the right tutor.