Mold is a type of fungi, and it can be found almost everywhere in your home, although it's undetectable most of the time.
Mold likes a damp, warm environment, so it will thrive in a bathroom if it's left unhindered. In this article, we will discuss six tips for combating bathroom mold.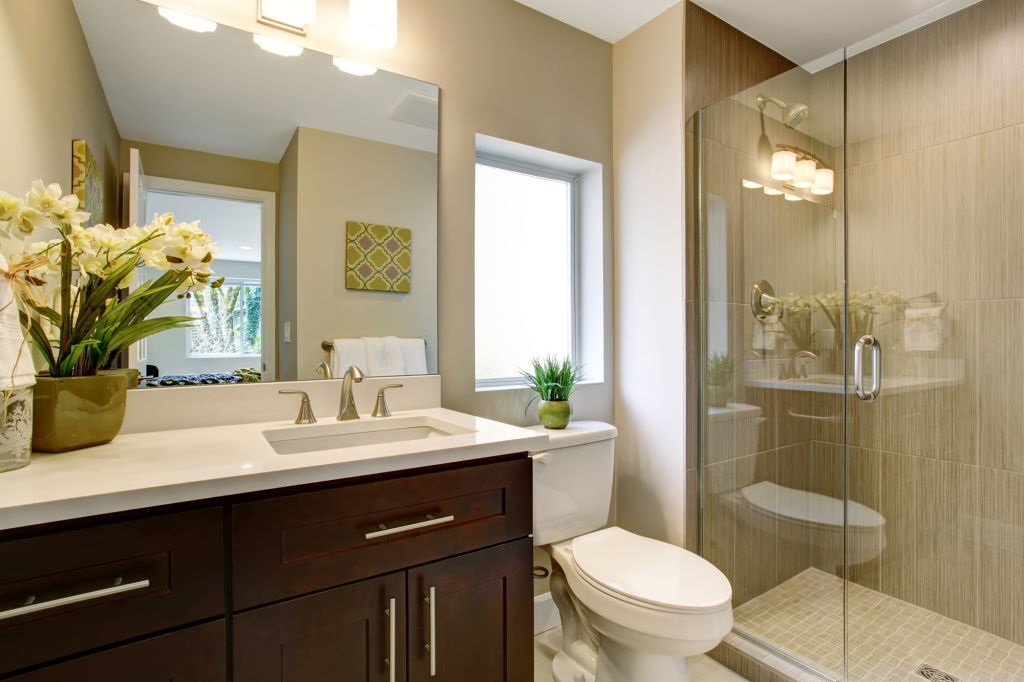 Is the Mold in Your Bathroom Harmful?
Yes, the mold in your bathroom can be harmful to your health (source). However, some people are more susceptible to mold than others. For example, people with chronic respiratory conditions can have those conditions aggravated by being around mold.
Other people who are sensitive to mold may develop respiratory problems and even experience skin irritation in the presence of mold.
Sometimes you may not notice mold in your bathroom right away. However, your eyes may feel irritated whenever you're in space.
You may also start to cough or sneeze. People who are exposed to mold in their bathroom may also develop nasal congestion.
The negative effects of mold are not limited to humans. If you notice that a pet in your household is wheezing, this could be a sign of mold exposure. However, wheezing could also be attributed to other health conditions.
Now that we know we don't want mold in our bathroom, let's check out some tips to combat bathroom mold:
1. Make Sure your Bathroom is Properly Ventilated
Bathroom mold reproduces via spores. These can be thought of as tiny seeds and are easily blown from one area to the next.
If mold spores enter an enclosed space and they're not promptly blown away by the wind, they will have the chance to thrive in that space.
Mold spores will thrive where they can find food, water, and energy in the form of heat.
If you keep your bathroom properly ventilated it will be difficult for mold to grow in that space, even if the area has one of the other essential elements for life, such as heat.
Related article: Does heat kill mold?
The best way to ensure that your bathroom is properly ventilated is by keeping the windows open, to allow air to flow freely at all times. If you don't have any windows, you can also use a bathroom fan while you're showering.
---
Read Also:
---
2. Wash Towels Regularly
Your bathroom towels should always be washed regularly. This leaves them looking good and smelling great. And this also provides you with a more relaxing experience after every shower.
However, there's another reason why you should wash your towels at least once a week. Mold will start to grow on towels that are damp because this provides them with a suitable substrate. Bathroom mold likes porous surfaces like fabrics and paper.
3. Limit Moisture Levels
You'll always find a little water in a bathroom. However, it's important to limit the amount of water that is present in the bathroom at all times. For example, ensure that water can drain quickly out of the tub after a bath.
Similarly, you should make sure that there aren't any leaks around your bathroom fixtures.
If you have a small leak in these areas, you may notice a small amount of mold growth around fixtures within a relatively short time. Also, check below the sink to ensure that you don't have a leak.
4. Use Bathmats
Bathmats improve safety in the bathroom because they provide you with a dry solid surface to step onto after you leave the shower area. They will quickly absorb moisture from your feet, preventing slips and slides.
Since bathmats absorb this kind of moisture, there won't be any water left to feed bathroom mold spores that may be on the floor tiles. In this way, bathmats help to keep your bathroom free of mold.
When you're purchasing bathmats, make sure you look for those that will dry within a short time.
Don't leave damp bathmats in the bathroom. If you do have damp bathmats, take them to a well-ventilated area, so that they can dry quickly.
5. Use Dehumidifying Plants
Some plants are very good at removing water from the environment that they're placed in. When you have these plants in your bathroom, they'll help you to control the humidity levels, thereby preventing the growth of mold.
In addition to that, all of these plants can be used to accentuate the decor in your bathroom. They'll make your shower area more relaxing.
You can turn your bathroom into a tranquil space that you look forward to entering in the mornings before a busy day and you'll keep it free of mold at the same time.
Cactus is a popular dehumidifying plant. You can get cactus in several forms and many of them flower when they're in the right environment.
If you have young children in your household, a prickly cactus may not be a good idea because a child might accidentally touch a cactus and get fine cactus hairs in their skin. They can be uncomfortable and difficult to remove.
Aloe vera is a good alternative for families with children. Aloe vera is a healing plant that can be used for natural shampoo and scrapes. Like cactus, it will naturally remove excess moisture from your bathroom.
6. Remove Condensation with a Squeegee
You may notice that mold tends to grow on the wall tiles in your shower and on other areas such as the shower screen.
This is because moisture condenses on these areas while you're showering. You may not notice it immediately, but it helps mold to proliferate in your bathroom.
You can prevent mold growth by drying these areas with a bathroom squeegee as soon as you finish showering.
This may not always be necessary if your shower area is properly ventilated. In those cases, it will dry out naturally within a short time.
If your shower area is not well ventilated, you will need to remove condensation quickly after you've showered. If water collects or pools for too long, 
even shower stalls and partitions
 can deteriorate.
If you don't do this, water will seep into the surface, creating a mold problem for you later on.
When you're drying the surface, ensure that you get in between the tiles as well because if you don't, bathroom mold will accumulate in those areas.