As its name suggests, a baby crawling mat is a floor covering with dual-purpose nature being a decorative carpet and a baby play mat simultaneously. That's because an infant crawling mat has a unique and simple design with super-soft coral fleece.
The inside of the carpet is filled with memory foam so as to make it fluffy and lightweight. Soft to touch and comfortable to sleep, the crawling baby mats come with 0.79 inches of thickness. Because of The soft and smooth nature, parents, as well as babies, fall in love with it. Its foldable nature makes it easy to store too.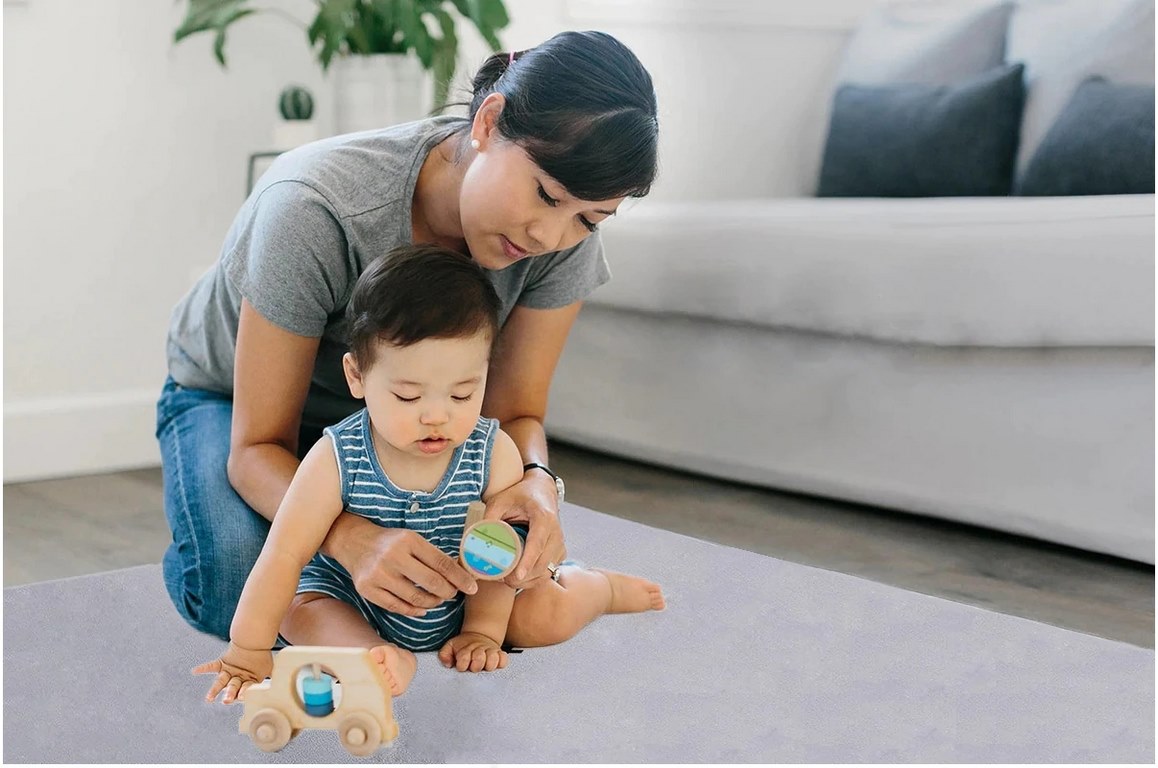 You can use this carpet not solely as a crawling mat but as a decorative item at home also. The carpet has a unique design with solid colors that makes it fit your home design smoothly. At the time when you buy this carpet, don't forget to choose the color that matches your furniture. In addition to this, the play rugs give a Japanese tatami mat look when covering the floor.
The soft carpet provides a peaceful asylum for your family to rest their body and mind after a hectic day. It is also a foldable play rug and can be a suitable one to carry on trips as it is easy to store.
After a hectic day, the carpet can be a precisely perfect place to rest. The multi-functional rug provides a tranquil refuge for the family to sit or lie down and can also serve as a good tummy time mat that's the first and the foremost kid's exercise rug.
---
Read Also:
---
This carpet uses a soft coral velvet fabric with no toxins to give you and your baby a soft feel. Your kid will love to play on this rug as it is breathable, non-shedding, Skin-friendly, and has no fading material. Hand-stitched edges don't let the mat unravel or fray. This rug has an Anti-skid design with high-quality material that prevents your kid from slipping or shifting.
Your kid's safety is always a priority. The non-toxic and non-slipping rugs are the safest place for your kid to play, as you can clean this piece of rug simply with a vacuum. What do you think about washing these rugs? Of course, the rugs are washable too. But don't bleach it! The rug comes with a waterproof bottom.
Creases, created by long-term compression and folding, are easily removable. That's only because of its great elasticity.
To sum up, this carpet is Good-looking, solid-colored, soft and comfortable for babies, foldable, light-weighted, non-toxic with high-quality material, and non-slipping with a waterproof bottom.
Also, it is easy to carry and store, multi-functional and anti-skid design, is simple to clean and wash, Crease free, has no unraveling and no fraying with hand-stitched edges, is skin-friendly, and is a tummy time fit; what do you need more in a baby crawling mat? Indeed, you and your baby will love to play on this smooth, fluffy carpet.