We all know that babies are so sensitive. As their immune system has not developed properly, they easily become sick.
That is why it is the prime responsibility of a parent to ensure the safety of the baby. And, baby's safety gears are made to ensure the safety of the babies.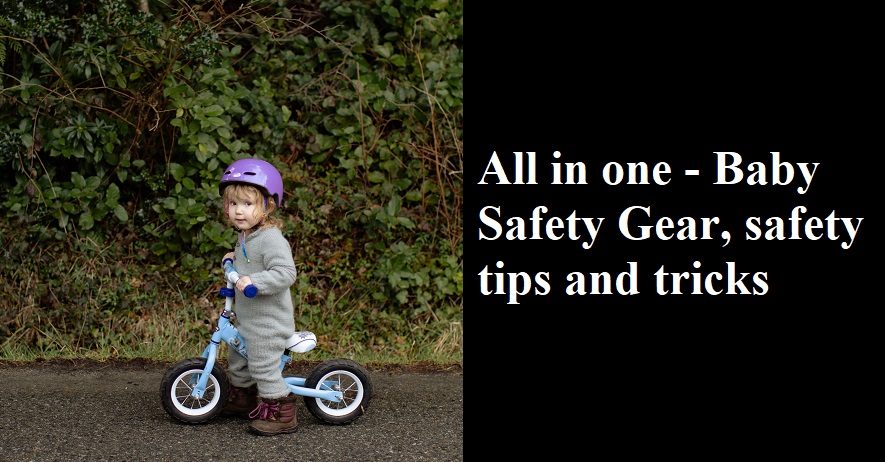 It is impossible for a modern father or mother to take care of the baby all the time. They have to do their daily household works. So, for safety purposes, parents can apply safety gear for their baby.
If you use safety gear, you can protect your baby and can do your other works at the same time. Thus, you can maintain your time also.
There are many safety gear for the baby such as baby carriers, bouncers, play-mats, seating equipment, walkers and so more. So, you may become confused about which is needed for your baby most.
Don't worry… Here I will discuss the most essential safety gears, their safety tips, usages, and so on. If you read it carefully you can select the most important safety gears for your baby.
Thus, you can make your babies' childhood safer and more enjoyable.
Some Important Baby Safety Gears, Safety Tips, and Tricks
Are you a parent and worried about your baby's safety and want to protect your baby?? Then it is only for you. You can learn a lot about the safety equipment checklist for your baby. Let's move on.
1. Baby Safety Gates
Baby safety gates can protect the baby from entering an unsafe room such as a kitchen, bathroom, or garage. It is generally 3-4 ft wide and 2.5 to 3 ft long.
You can easily install it and no need to hole on the wall or doorways.  It can also save your baby from falling into the pool or pond.
Safety Tips and Tricks:
You need to attach Screws and brackets to the gate wall. You should perfectly attach the gates on the doorways & staircases. We suggest using a pressure-mounted gate which is safe.
2. Baby Safety Helmet
According to Stanford Children's Health, about 12,000 babies, children have died of unintentional accidents; mostly bike and other accidents.
A baby safety helmet is the most important safety equipment for the baby while traveling to the bike. But, parents use it for other safety purposes too. Your baby may fall on the floor while running or walking.
Then his head can be injured.  If you use a safety helmet, it can give extra security to your baby's head.
A baby safety helmet is soft and flexible. It can easily set on the head. If you really want to use a safety helmet for the baby, please do choose the high-quality one.
Safety Tips and Tricks:
You need to make sure that the inner part of the helmet should be soft. If you put the helmet properly on the head of your baby, it cannot harm him and can save him from an accident.
But, please take the helmet out of the baby while sleeping. You have to ensure that under the ears the straps of the helmet should form 'V' shaped.
3. Knee & Elbow Guard/pad:
The child may fall when he begins to walk and learn to crawl. Thus, the child may get injured. His knees and elbows became sore and scraped. If you use a knee and elbow guard, you can save your baby from such types of injuries.
This guard is designed to conform to the body so that the baby can move with freedom.
Safety Tips and Tricks:
You must use a flexible, anti-allergic, and anti-slippery guard or pad. Please, do keep clothes under the knee pad not over. It should be a bit tight, but you have to ensure that your baby does not feel any discomfort.
4. Stroller Rain Cover
Baby is so sensitive to any uncertain weather. So, the baby may fall sick, if you cannot protect him from the sun and rain. That's why, while taking your baby in a stroller, please do cover it with an affordable stroller rain cover at least.
It gives the baby an extra shield and can save your baby from the harmful UV rays of the sun and make the inside cool.  Moreover, you can protect him from the dust or wind with it.
Safety Tips and Tricks:
This rain cover must be made of a nontoxic thin film. You have to buy that stroller cover which fits comfortably. Please, don't cover the stroller with a blanket.
5. Corner Protector
This corner protector is used at the sharp corner of the table, chair, or other furniture. It is made of foam which is soft and thin. This can protect your child from serious injuries while colliding with a table or chair.
Safety Tips and Tricks:
This corner protector must be soft and non-toxic. You have to fix it perfectly on the edge and sharp corner.
Conclusion
We try to provide the most useful safety gear and safety tips for your baby. Parents need to know the proper usages, tips, and safety tips of the safety equipment. Otherwise, you cannot give your child a safe environment.
An accident may happen at any time. So, you have to be fully prepared to protect your baby from any types of serious injuries. You can follow the discussed instruction above to give your baby a safe and comfortable childhood.