When it comes to giving your kitchen a touch of sophistication, laminate countertops have become a top choice for modern homeowners. These versatile and stylish surfaces have redefined kitchen elegance, offering various options that cater to multiple aesthetics and design preferences.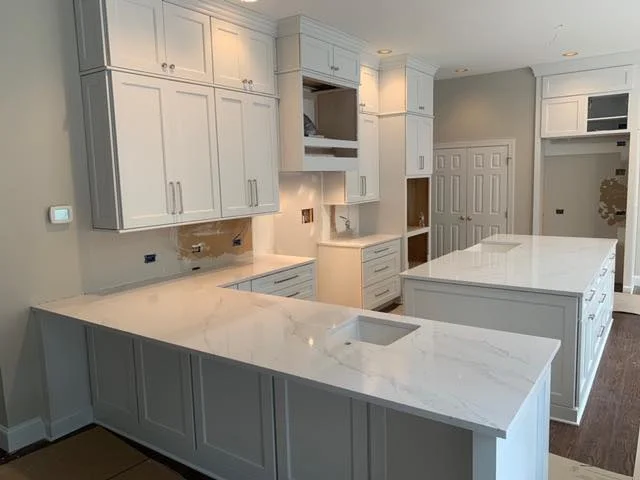 Delve into the world of laminate countertops, exploring the best laminate for kitchen decor to elevate the appeal of your contemporary home and make your cooking space great.
Marble Magic: Captivating Marble-Effect Laminates
Marble countertops have long been a symbol of luxury and refinement. However, natural marble can be high-maintenance and expensive. That's where marble-effect laminate countertops come into play.
These laminates beautifully mimic natural marble's intricate veining and textures while offering easy upkeep and affordability. They bring a timeless charm to modern kitchens, effortlessly elevating their aesthetic appeal.
Wooden Wonders: Authentic Wood-Look Laminates
For those who adore the warmth and charm of natural wood, authentic wood-look laminates are a dream come true. These laminates replicate natural wood's grains, colors, and textures, bringing your kitchen an earthy and inviting feel.
With many wood species and finishes, you can achieve the look of oak, maple, walnut, or any other wood type you desire. The best part? These laminates are resistant to stains and scratches, making them a practical choice for a bustling modern kitchen.
Sleek Simplicity: Solid Colour Laminates
Sometimes, less is more. Solid color laminates offer a clean, minimalistic aesthetic that perfectly complements modern homes' sleek lines and contemporary designs. Whether you prefer strong and vibrant shades or subtle and muted tones, solid color laminates provide a versatile backdrop for various kitchen styles.
Their smooth surfaces are visually appealing and easy to maintain, making them an excellent option for homeowners with a busy lifestyle.
Industrial Charm: Concrete-Inspired Laminates
The trend for industrial flare has taken the design world by storm, and now you can bring that raw, urban charm to your kitchen with concrete-inspired laminates. These laminates capture the rugged beauty of concrete, complete with its unique texture and tonal variations.
Whether you're aiming for an industrial-chic look or want to add a touch of contrast to a more traditional kitchen, concrete-inspired laminates are an innovative choice that adds an edgy flair to your space.
Luxurious Exclusivity: High-Gloss Laminates
If you want to create a high-end, luxurious ambiance in your kitchen, high-gloss laminates should be on your radar. These laminates boast a reflective surface that adds depth and glamour to your space.
They are available in various colors, allowing you to experiment with bold, contemporary palettes. However, remember that high-gloss surfaces may require more cleaning to maintain a dazzling appearance.
Natural Elegance: Stone-Inspired Laminates
Stone surfaces evoke a sense of natural elegance that's hard to replicate. Luckily, stone-inspired laminates capture the essence of natural stones like granite and quartz, offering the same visual appeal without the hefty price tag.
These laminates showcase the intricate patterns and rich tones of natural stones, making them the best laminate for kitchen enhancement and for those who appreciate the beauty of nature within their modern interiors.
Conclusion
In kitchen design, laminate countertops have evolved beyond their functional aspects to become critical players in enhancing the overall aesthetic of modern homes.
Which laminate is best for kitchen cabinets? There are many great options, from the captivating allure of marble-effect laminates to the industrial charm of concrete-inspired surfaces. These laminates not only redefine kitchen elegance but also offer durability and practicality for the demands of contemporary living.
So, whether you're aiming for a cozy rustic vibe or a cutting-edge urban look, laminates can help you achieve the cooking room of your dreams without compromising style or functionality.